 Meet Amplify, the London-based studio championing young creative talent...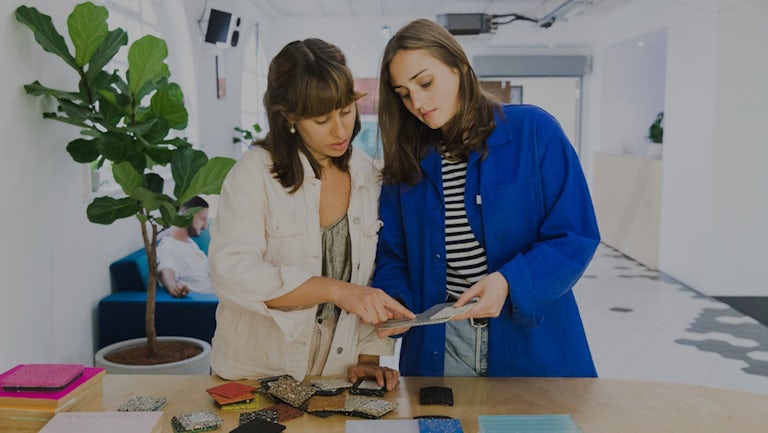 In the Studio With featured our brilliant creative team...
Published on 12th September 2019.
Nestled in the busy streets of London's East End, Amplify – with further operations in Sydney and across the globe – is a creative studio that's as energetic as its surroundings. Since Jonathan Emmins first launched the studio in 2008, the core team has expanded from six to 60, as well as growing a huge network of creative collaborators and partners. With executive creative director, partner and board director Jeavon Smith leading the growth, Amplify now boasts an eclectic mix of creative directors, strategists, planners, architects, 2D and 3D designers – all of whom are young, creative and come with mixed experiences and passions. Celebrating over a decade in business, Jonathan reflects on the studio's accomplishments, its incredible team and the company's core values.
Overview
Amplify was founded as a home for creative people and clients. We believe there's always a fresh perspective and a better way to do things. We take clients on interesting and exciting journeys, exploring possibilities at every turn. As equal parts geeks and hedonists, we pioneer the untraditional with the rigour of the traditional.
We're a real mix of people from different career backgrounds, with diverse passions outside of work. From a work perspective, we think across the mix and test ideas across channels. On a personal level we encourage and support the team's passions – whether it's leaving early to set up an event or taking a sabbatical to 'find yourself'. We know the happier we are, the more interested and consequently interesting people we will be. We also know we'll then bring in those inspirations and influences to better our work.
The reason we initially kept creative and strategy team small within the agency and was a fear of adopting a house style. I have seen a lot of agencies fall victim to this. They do an amazing piece of work, become famous for it, more clients ask for that kind of work, and suddenly you're doing a lot of similar work. As a strategist and a creative I want to be pushing myself and tackling tricky brand and business challenges across a breadth of briefs, sectors, audiences. We want to be agnostic with which parts of the marketing mix are used to bring an idea or solution to life.
As a company, we are excited and enriched by the culture that surrounds us. We want all our team members to be thought leaders and create platforms, evolving ideas through our blog Amplify Presents to leading research projects like FanCulture and Young Blood to share our insights on a bigger stage. Flexing our interests – both outside and inside the office – means we're always learning, challenging ourselves and bringing fresh ideas to our clients.
As an agency we do some amazing things and we do them together. We know that we're only as good as the talented individuals that choose to call Amplify home. We spend a lot of time together and we aim to make it as enjoyable as possible. We've got a family vibe. We're open. We have a flat structure. We're inspired by one another. We look after one another. We recognise individuals doing good stuff and we share and celebrate successes.
With all this in mind, we're also quite partial to hanging out – whether we're at the killer events we put on, taking cultural trips, having rave-ups or road-tripping to our summer and Christmas parties.
The Team
We have around 60 team members in London and 12 in Sydney, plus an extended family of freelancers, specialists and partner agencies – at busy times tripling the size of the core team. Our sister agency Seed has a team of 35.
We build around individuals rather than trying to put square pegs in round holes. If we meet someone we rate, we normally end up working with them at some stage or level. We're always meeting people. We use our values – creatively brave, fuelled by curiosity, culturally connected and executionally excellent– to find and appraise our team.
Each and every one of our team members count. That culture is sustained by everyone, from our mini-management team – all of the agency's under 25s (who sit in a committee that has direct access to the agency and the board), to our dedicated heads and business directors, all of whom have grown up with Amplify and define our culture.
We are constantly working with collaborators to keep our work (and us a team) as fresh and exciting for our clients, and this is something we remain committed to; it's part of our DNA. In fact, whether through how we work as an agency of initiatives such as Young Blood, our social mission is to connect with, enable and champion young creative talent.
Even though we rapidly expanded the team in 2017, we know that we can't achieve the scale, breadth and quality we want without our extended family of collaborators. They include freelance specialists and other agencies and through them we're able to act like an agency of 180+ people, rather than the 60 to 70. It means we are able to do everything from raves for Red Bull to Facebook's showcase event around the world.
In terms of the roles within the studio, they pretty much align with the industry; but that's not the case for the individuals who fill those roles. We value hybrids with mixed experiences and passions, as we feel that adds to their experience. For example Beth Anderton-Allen [a creative] is also a talented musician. Catalina Velásquez González [a 2D graphic designer] was a textiles designer in Colombia before she came to us, and brings a very different perspective. Even James, our studio manager, is an accomplished drummer in his own right (cue a gag about the studio never missing a beat!).
We're always on the look-out for young talent, and believe internships should be paid if we're to have an industry that fully reflects our society.
Whilst we deal with a breath of audiences, it's always the younger audiences we look to for inspiration, creativity, collaboration and to see what's next. In fact, it's our social mission to connect with, enable and champion young creative talent.
The Work
As for the highlights from the past year, we would call out a few projects, including Airbnb - Night at the Louvre, Spotify - WhoWeBe, Google Pixel 3 - Curiosity Rooms and YouTube Music - In Residence.
As an agency, we think you're defined not only by the good work you do but also the work you choose not to do. We could have quickly become the antithesis of what we set out to be as an agency if we had taken all of the briefs we've been offered. We needed to stay true to ourselves.
We were founded as a home for creative people and clients, and we only work on projects that we know will push the dial and make a real difference to our client and their audiences. This integrity has resulted in building long-term client relationships, and has also led to being awarded work without pitching.
When a pitch comes in, we have a rigorous process to check whether it's the right project for us, typically involving a partner, business director, strategist, creative and producer. Should we go ahead, this team will follow the project through, no matter where it takes us. We deliver complicated and technically difficult projects, but we're agile enough to make that happen.
In terms of work that isn't publicised, we're often helping brands and working on projects well ahead of launch and that demands absolute discretion. PlayStation was a founding client – for its major innovations such as PS4, PSVita and PSVR. We worked with them from 12 to 18 months ahead of launch, from announcements to supporting territories through to big launches and supporting retail partners. Some of our biggest clients also have a no promotion policy, and we respect that.
Environment and Culture
We've been in Shoreditch, London, pretty much since inception, even when everyone else seemed to be in Soho. It's changed a lot over that time. We took on our current building when we were only 15 people with the view that it would allow us to bring like-minds and collaborators in, and give us room to grow.
Over that time we've spread across four floors, alongside other exciting agencies and are a home for other talented agencies and regular collaborators. This including Inertia Studios (motion graphics), Make Associates (creative technology), Haus Pictures (content production), Warm Street (culture marketing) and 27 (creative direction). The space is constantly evolving and changing around the needs of the business and the team. Case in point, to keep the Studio on one floor we've redeveloped it twice in the last three years.
We offer flexible working, sabbaticals, a generous holiday package and an early finish in summer. As an agency we do things together – from our three-day Christmas holiday extravaganza to pub drinks – always with the aim to make work as enjoyable as possible.
Good work, fresh ideas and inspiration come from new experiences, so when one of our team wants to have one, we positively encourage it. If we can manage without you, you can go and grow yourself. And if you have a passion, whether it's making music or power knitting, we will support and champion you if you decide to take it to the next level. After all, those with culturally diverse interests make the agency what it is.
Meet Some of the Amplify Team
Jeavon Smith, executive creative director since 2017
Previous Employment: Jack MortonGraduated from Leeds University in 2005
"As executive creative director I oversee the creative output of the agency. Building a collective of multi-disciplined creatives who can craft rich engaging campaigns and experiences. In short, my job is to cause great work to happen.
"I studied broadcast journalism at the University of Leeds. On paper perhaps not a traditional gateway to the creative role I now occupy, however it was all about distilling information into an engaging story. Whilst there's more original craft in the thinking now, the fundamentals of a simple, big idea that's unpacked with great storytelling that captivates an audience is a crucial component of any great work."
Beth Anderton-Allen, creative since 2018
Previous employment: WeArePiGraduated from the School of Communication Arts 2.0 in 2017 and University of Westminster in 2016
"I'm a creative here at Amplify with a design and music background. My main role is conceptualising and creating immersive worlds and narratives for brands. Calling on design, storytelling and culture to create authentic and engaging experiences that give people the feeling of really 'being there'.
"[When landing this job], I had recently become a solo creative and my portfolio had been shared with one of the creative directors, who got me in for an interview.
"Showcasing your interests and projects outside of the workplace, through music or photography, for example, really helps during the interview process. It lets people get to know the real you, not just your work; they can see how this will feed into the work you create in the future."
Catalina Velásquez González, 2D designer since 2018
Previous Employment: freelancerGraduated from Central Saint Martins in 2017
"I joined Amplify as a graphic designer and, since starting, I have experienced collaborative work in many different ways. My role is to work alongside creatives and strategists to develop and design the visual and graphic language of a project.
"I have been freelancing for the past six years between Colombia and the UK. My portfolio showcases a set of varied projects and pieces, which explains my transition across different design areas like graphic, editorial, art direction, illustration and visual communication. I like to work with projects that provoke and explore different aesthetics and create new visual universes. That flexibility and variety helped me create enough interest to get the opportunity to demonstrate my abilities and then get the job."
Alex Wilson, head of content since July 2019
Previous Employment: Jack Morton, Sunshine, Wild ThingsGraduated from Leeds University in 2006
"I was once described as a 'Nomadic Hybrid Creative' who needed a home. And that is what Amplify has given me. A home and permission to use all my collective experiences, however random, to best perform my role as head of content.
"My role consists of working closely with all strands of the business; strategy, production, creative and accounts, to help answer our clients' problems and make the best work possible. But most importantly, my role is to help Amplify's live experiences move beyond a single moment in time, and hit a more far-reaching audience.
"Amplify has around eight people I either knew before or have worked with before. So that's a lot of people to either vouch for you, or kill your opportunity."
Read the full article here
Brand Experience Agency of the Decade