Beauty beyond the binary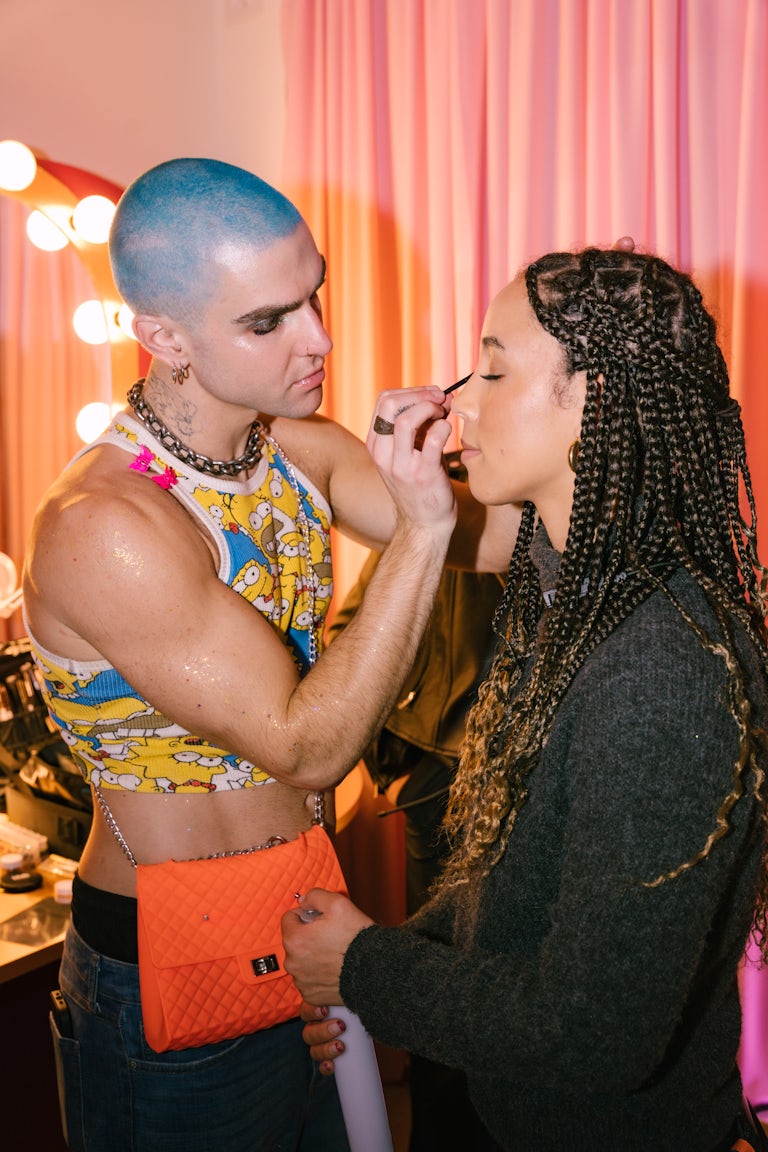 Welcome to the 
era of Beauty 3.0
A new era of beauty is upon us, and definitions of what beauty is and who it is for are changing.
This new landscape is all about challenging the status quo. In 2023, beauty is defined by how you feel and meeting the standard of your own expectations, not the ones that society has put upon you.
Beauty 3.0 is a gender-inclusive movement built upon core values of accessibility, diversity and inclusion. It rejects stereotypes and the brands who perpetuate them.
For anyone operating in this space, it's crucial that they understand the lay of the land and where the movement is heading.
This report explores what the culture of genderless beauty looks like for young people across the world and how we can connect brands to the world of beauty beyond the binary.
Youth are breaking the 
beauty rules
The rise of anti-beauty

2020 and the collective experience of the pandemic accelerated Gen Z's rejection of relentless perfectionism. In its place, they are embracing anti-beauty aesthetics that focus on self-expression, self-experimentation and joy.
Manifesting as confidence, not just aesthetics, this generation are driving a new understanding of what beauty means that is more about feelings and what's on the interior vs. the exterior.
Brands needs to go deeper and reflect this shift in the stories they are looking to tell, finding new ways to mirror the new meaning of beauty through strategies that define how their brand or product can facilitate Gen Z's mission to feel good.
71%

of Gen Z beauty consumers shared they prefer to always feel good vs. always look good - Klarna beauty report 2022

80%

of Gen-Z and Millennials said beauty is about confidence, not appearance - Dazed studio
Genderless beauty
has always been the HBIC
Gen Z are writing the next chapter
As the spending power of Gen Z increases, so is their impact on real inclusive change in the beauty market.
Engagements with content mentioning non-binary, transgender and gender-fluid beauty terms have increased by over 50% (Traackr)
The history of beauty is genderless
Modern culture and western beauty standards have entrenched stereotypes around what beauty should be but gender inclusive beauty has always been present in our world history. From black-pigment being used to create the elaborate cat-eye design in Ancient Egypt, to the rise of polished "metrosexual beauty" of 1930s Hollywood. The perceptions of beauty and gender have always ebbed and flowed depending on the cultural landscape and political agendas of certain time periods.
393%

Increase in searches for men's make-up on global beauty platform - 'Love The Sales.'

1/3

Of Gen Zers say they personally know someone who identifies with gender-neutral pronouns - Pew Research Center
Genderless beauty is for everybody
A community founded on
shared values
The global beauty community is becoming more inclusive than ever before, with more than two thirds of Gen Z welcoming content from beauty influencers of a different gender identity than their own.
People who purchase gender-inclusive beauty cannot be defined by their demographic. Whether they are a cis-gender man or a non-binary person, the importance of genderless beauty is recognising that people shouldn't be restricted to the archaic standards of gender to express their physical beauty.
United by a set of core values, brands need to reflect what matters to this audience.
Identity
Young people are driven by by their identity and seek experimentation, play and flexibility in who they are and how they present themselves to the world.
"Regardless of the gender it's being marketed to, scent is a way of expressing my individuality. I like to pick up unique fragrances that speak to me as a person and express a part of who I am"
Yusuf Ntahilaja (He/Him)
Creative Strategist
Creativity
In a sea of perfected curations of what beauty should be, young people are re-writing the definition through creative expression and experimentation.
"Beyond the idea of enhancing your features, make-up can enhance who you are. It can convey religious, cultural or hierarchal significance. People can other themselves from the entire human race through makeup. There are so many creative facets of beauty to pour into, no matter who you are"
Yshont (They/Them)
Model & Multimedia Artist
Authenticity
Young people can spot inauthenticity from a mile away, and creators want to collaborate with brands that have a deeper commitment to who they are and what they believe in.
"I think it's important to be gender inclusive but I feel like beauty brands are doing it as a trend. I worry that it'll go back to the way it was when it's no longer cool or fashionable."
Akeil Onwukwe-Adamson (He/Him)
Founder of Queer Bruk
2/3

Gen Z welcome content from beauty influencers of a different gender identity than their own - 
Kyra Media
Beauty brands are evolving quickly
Four things we can learn from brands embracing genderless beauty
1. Make-up is gender fluid
More than half of Gen Zers say that gender is non-binary and encompasses a spectrum. Brands like We are Fluide offer an authentic make-up space that is welcoming to all, amplifying the voices of gender-expansive identities and inspiring their consumers to showcase their beauty on their own terms.
2. Don't believe the gendered skin care hype
The long-held industry belief of men and women's skincare products addressing necessary gender-specific skin concerns is being challenged by a new inquisitive and increasingly gender-fluid generation of buyers. Brands like Fenty Skin are creating a new culture of skincare, where gender is not at the forefront of their marketing and adverts showcase men, women and non-binary people equally.
3. There are no rules to fragrance
Genderless scents were first popularised in the 90s by Calvin Klein's CK One but for the fragrance industry, genderless beauty is a trend that goes beyond the moment. Perfumery brands have a unique opportunity to target consumers who enjoy playing with different gender coded scents as well as consumers who enjoy sharing perfumes with their partners.
4. The West needs to play catch-up
The Asian market is at the forefront of inclusive beauty. Results show that post-pandemic, there was a 40% increased interest in skincare and 20% increased interest in make-up amongst Japanese men. The popularity of K-Pop idols has had a huge influence in this space and brands like Shiseido claimed that its male makeup line saw double-digit growth during the pandemic, headed by Japanese businessmen in their 40s.
40%

Post-pandemic spike in skincare and 20% increased interest in make-up amongst Japanese men
Our 4 key takeouts
Embrace beauty history
Gender-inclusive beauty is beyond a moment, it's a key part of human self-expression. There is no need to pursue it like you're revolutionising beauty, you're not. You're giving space to identities that have been rejected and seen as outsiders because of the way they want to express themselves.
"I really hope that this time around, it's here to stay for a bit longer, rather than something that comes through as a part of the fashion and then disappears."
Anna Butterworth
Avoid inauthenticity
Collaborate, involve and engage with the communities that champion gender-inclusive beauty. Embrace the varying sub-cultures that exist within gender-inclusive beauty from experimental Goth scene to the LGBTQ+ community.
"It's such an important thing to have the communities that you want to reach out to as a part of the process. That should be a natural thing for any modern business."
Beauty Matter
Beauty can go beyond the rules

How we present ourselves tells a story of how we see culture. Let your beauty brand be a part of the stories of a new generation. When accessing new ways to connect with a new generation do not be afraid to break your own format. Use the beauty community to co-create the IRL and URL experiences that speak to them, to bring more value to your storytelling.
Evolve the IRL experience

The IRL experience has always targeted cis-women and in 2023, beauty activations are still geared towards femme-presenting people. This means that cis-gendered men and masculine presenting people often only engage with beauty rituals in private or online. For brands to connect to this demographic, they should consider creating intentional safe spaces for men, non-binary and gender-expansive people to discover beauty in real life.
Brand Experience Agency of the Decade