Nest Pets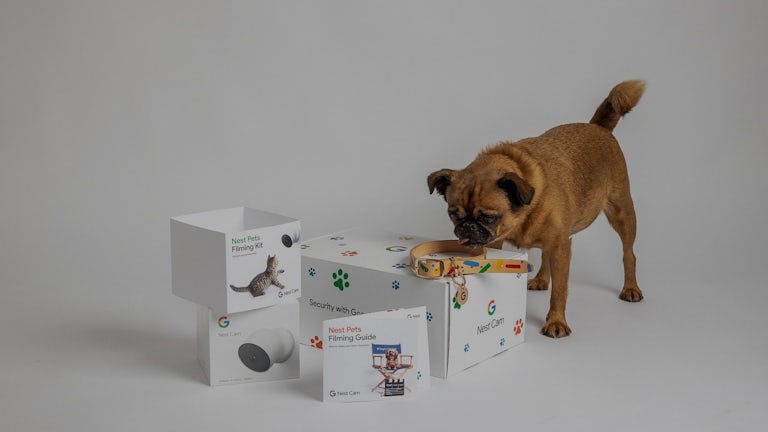 Amplify + Google partner with a new breed of influencer to launch Google Nest Cam…
Challenge
Amplify was challenged to deliver an influencer campaign that would fuel conversation and buzz among Google Loving Nesters for the launch of Google Nest Cam, in order to ensure a healthy top of funnel awareness layer ahead of a harder working ATL campaign.
Insight + Strategy
The security hardware category is rife with fear mongering.
In a sea of sameness - Google can stand out. Pet adoptions are up 70% during the pandemic. 86% of Google Loving Nesters are pet parents and videos and images of cats, dogs and other pets are shared 50% more than average video and images.
The Google Nest Cam features helpful intelligent alerts, including animal detection, so now pet owners can see what their pets get up to when no one is watching.
Partner with influencers and their pets and use the entertaining, lighthearted ways in which our pets behave when no one is watching to tell a more relatable, entertaining story about Google Nest Cam's intelligent alerts.
Solution
Nest Pets
Amplify launched Nest Pets, a new Google influencer community for pets, and invited the pets of Australian lifestyle influencers to join. Nest Pets influencers were welcomed with a pack containing everything they needed to announce their newfound fame and start creating and sharing content.
Each pack included the Google Nest Cam, a personalised collar and tag and a guide to help them get set up. All copy was written from the pet's perspective and the pack even featured a pet-sized media wall for them to announce themselves as a Nest Pets member. Packs encouraged sharing of the unboxing and product reveal, media wall content and authentic moments at home #CaughtOnNestCam.
We partnered with 34 influencers, carefully selected based on their potential reach to Google Loving Nesters and how naturally the irreverent tone of the pet content would sit with style.
As part of the campaign we collaborated with three paid influencers, including Matty J and Laura Byrne, to develop richer, entertaining content that demonstrated more of the product features.
Brand Experience Agency of the Decade