Westfield Showcases the Future of Sustainable Retail and Entertainment with Festival Created with Amplify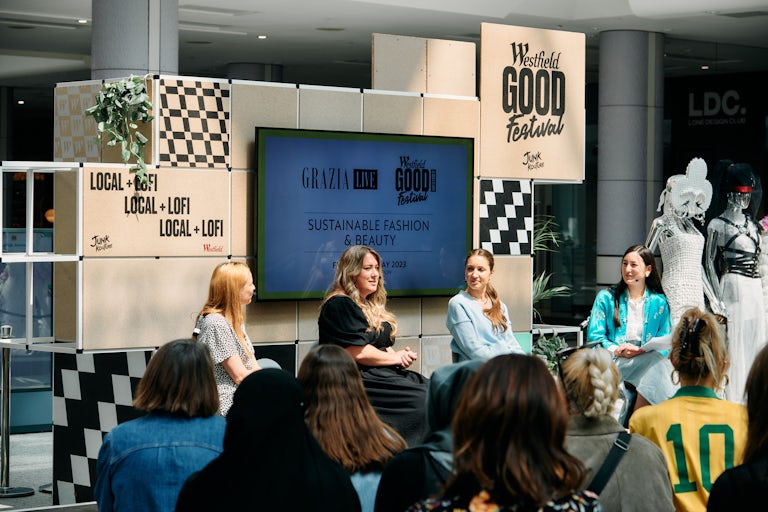 Amplify is working with Westfield to explore and highlight its sustainability, community and CSR approach in unexpected and engaging ways
Published by: Little Black Book
Date: 05/06/2023
Amplify has created an innovative and environmentally-conscious space within Westfield London and Westfield Stratford City that serves as a beacon for good. The space aims to not only demonstrate sustainability in practice, with an approach focused on legacy and transparency, but will also become a platform to experiment and reshape the way in which Westfield operates.
The space has been divided into four key areas, with the creative brought to life through a series of always-on and scheduled activations. They include Local + Lo-Fi, a multi-purpose entertainment stage curated by locally sourced partners and hosting a variety of talks, panels and musical performances with artists featuring Acast, Grazia and Grow Hackney.
Gastronomy For Good is showcasing food workshops and demonstrations focusing on sustainability from an array of different suppliers, including Kimchi Creations by Marytn Odell + Horizon Insects, while Mindful Market brings sustainable fashion to life. This area includes a swap shop run by Verte for the duration of the event, where the general public can exchange their own clothes for pre-owned items. A B2B CEO panel event on the main stage will discuss the importance of social value impact and how it is measured.
The Sustainable Studio is a dynamic maker space serving as a hub for creativity, sustainability, and innovation. Located at the centre of the experience space, it features a variety of activities and workshops on planet-conscious food, fashion and entertainment, in collaboration with Sophie Hird, The Football Fold and TRAID.
Sarah Fearon, Head of Marketing UK at Unibail-Rodamco-Westfield said: "At Westfield, we believe in the power of collaboration and innovation and Amplify shares our passion for creating impactful experiences that resonate with our community. Westfield Good Festival aims to inspire positive change and promote sustainability, bringing together like-minded individuals who are dedicated to preserving our planet. By joining forces with Amplify, we are confident in our ability to deliver an extraordinary event that not only captivates attendees but also leaves a lasting impact on the environment. From sustainable production practices to promoting eco-friendly brands and initiatives, we hope that our event will serve as a beacon of inspiration, showing that large-scale events can be both enjoyable and environmentally responsible."Westfield Good Festival is taking place simultaneously at both London centres from 26th May to 4th June 2023.
Jordan Dale, creative director at Amplify said:"Amplify jumped at the chance to collaborate with Westfield on this exciting and important stage of their journey. The aim with 'The Westfield Good Festival' is to create a platform, developing a blueprint for the future that highlights the importance of a sustainable approach to retail and entertainment. Through the festival, experiences and programming we're showcasing to Westfield's visitors how each and everyone of us can think and behave more sustainably. Individually and collectively we can all contribute to help build a more sustainable future.
To read the full article, visit Little Black Book.
Brand Experience Agency of the Decade