Spotlight: Kim Hyunji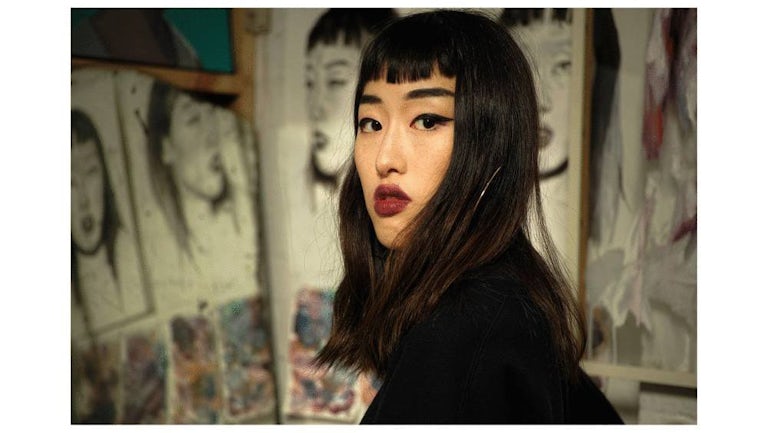 Our Australian Creative Director, Tim Baggott, continues the 'Culture + Creativity in a Crisis' conversation...
Tim has been speaking to a variety of Australian artists and creatives about their COVID-19 experiences and the role brands can play in supporting the creative community.
Who are you are and what do you do?
My name is Kim Hyunji. I'm a South Korean artist working predominantly with oil paints. I have been active in Melbourne and Sydney.
Have you collaborated with brands in the past?
Recently, I had collaborated with Adidas and JD sports for 'Home of Classics' campaign, and I worked as a talent with brands like Lee Jean, Dr. Dre, Hennessy, Karen Walker, Oscar Wylee, SUK workwear and paint brands like IronLak and GlobalColors from Australia.
Which brand did you do your first collaboration with?
The first brand I ever worked with was a designer brand called 'Jump from paper' which was from Taiwan. Being my first collaboration, I learnt a lot about brand marketing and building my image. It was great to learn that the image I've built as an artist could be beneficial to brands and help me get exposure as an artist.
How important were brand collaborations in helping you get to where you are today?
Brand collaboration is important to me as it gives me more voice and exposure to a wider range of audience that I can share my work with, and possibly lead to more collaborations in the future.
What did you have planned for 2020, pre-COVID-19?
I was planning to have a break and learn new skills, start my tattoo apprenticeship, build up my makeup/ body painting portfolio and move to Europe by end of 2020 to do masters.
How did COVID-19 affect those plans?
Since physical contact is unavoidable for tattooing and makeup, it affected my plan to practice new mediums. It has also affected my ability to go back to Australia, where I have worked for the past 7 years, and has also halted my plans for future study overseas.
What are you doing creatively during COVID-19?
I have been spending time reflecting on some of my old projects, which I can bring into my new paintings. I have also started researching and brainstorming for new projects.
Are you still working with brands during COVID-19?
It's a bit personal, but I'm back in my mother country as Australia has closed their border to the temporary residents while I was out. Means I lost access to all my art materials that I built up for years. So I've been contacting a couple of art supply brands I've been wanted to work with, proposed some content ideas that may work for the current quarantine situation and hopefully will help me to be back in the work environment.
How could brands collaborate with you right now?
Some ways brands could work with me right now could be with the creation of artworks featuring products, helping create digital campaigns with my paintings or even creating content for Instagram through modelling.
I think it's important for brands to be aware that they have power to support the creatives who aren't established or commercially successful yet, and to support those who try to keep their authentic voice without compromising. Getting insight and to discover creatives who need support during this pandemic.
Discover more of Kim's work on her Portfolio, follow her on Instagram or connect on Linkedin.
Brand Experience Agency of the Decade