Sony entices new players
after PS5 restock with global
#LiveFromPS5 campaign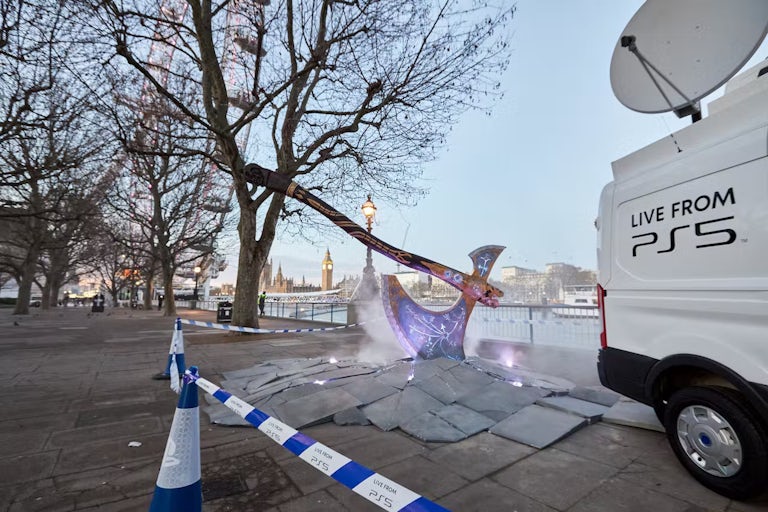 Sony mimics a breaking-news channel to showcase some of its better-known PS5 games, including by apparently smashing a giant axe into the concrete of London's Southbank.
Published by: Campaign
Written by: Imogen, Watson
Date: 31/01/2023
Sony Interactive Entertainment has embarked on a global campaign to invite new players to the PlayStation 5 platform, after overcoming console availability issues, due to Covid, supply chain delays and a global semiconductor shortage
Brought together by Adam & Eve/DDB and its production unit, Cain & Abel, #LiveFromPS5 turns to some of PlayStation's better-known PS5 games, including God of War Ragnarök, Ratchet & Clank: Rift Apart, Gran Turismo 7, Horizon Forbidden West and Returnal, to show players what awaits them.
Spoofing a breaking-news channel, the film flicks through various news stories – Spider-Man capturing criminals in New York, Horizon Forbidden West's Aloy rediscovering ancient lands and two eikons – creatures from Final Fantasy XVI – colliding in battle.
The newsreader tells viewers that "Experts are linking all these events to an increase in activity on PS5", alluding to the spike PlayStation expects now that there are more consoles to go around (it had sold 30 million as of December 2022).
The film has been brought to life by several global activations. Fans in London, for example, might stumble upon a clever bit of guerrilla marketing, featuring Kratos' weapon of choice in God of War, a giant Leviathan Axe, which has seemingly been smashed into the Southbank. It was created by Amplify.
The campaign was created by Richard Gayton and Darren Beresford. The film was directed by Henry Hobson through MJZ and involved more than 50 visual effects artists, 23 actors and 58 extras.
To read the full article visit Campaign.
Brand Experience Agency of the Decade