Sonos #ListenBetter wins 'Most Disruptive Campaign'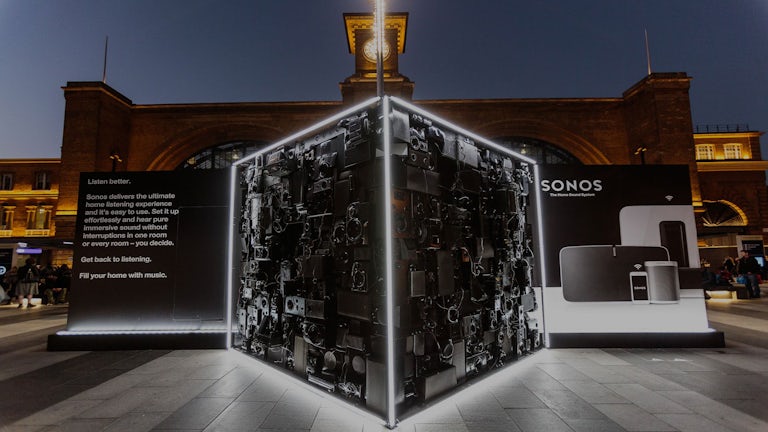 Amplify's wins Event Award's 'Most Disruptive Campaign' 2017...
To read the full announcement, head to Campaign for the article published 22nd November 2017.
WINNER
Amplify for Sonos - #ListenBetter
There have been amnesties aplenty in London, but the winner of this year's Disruptive Campaign award pulled off a first, with a speaker amnesty in one of the world's biggest cities.
Sonos and Amplify took to the streets outside King's Cross Station and encouraged the capital's residents and commuters to donate their unwanted speakers as part of a "Listening fails" amnesty.
The new Sonos PLAY:1 was given out in exchange to the first 300 consumers to donate their old speakers, as part of the brand's mission to get people to #ListenBetter.
Artists from local art collective MADE created a unique art installation with all the donated speakers, as a centrepiece for the campaign at King's Cross. Each speaker was sprayed gloss black and placed in a large cube, surrounded with LED lighting – a towering monolith representing London's collective "listening fails". The installation was estimated to have more than one million eyes on it during its three-day residency outside King's Cross Station.
Creating a stir on social
The campaign had an impressive life across social media, with more than 482,000 organic impressions, and over one million across owned and paid media.
Additionally, Amplify used Instagram Stories on Sonos' account to deepen the experience and give more fans access to the amnesty. This saw a nearly sixfold increase in engagement in comparison to Sonos' regular Instagram posts.
Brand Experience Agency of the Decade