Shygirl's living her best life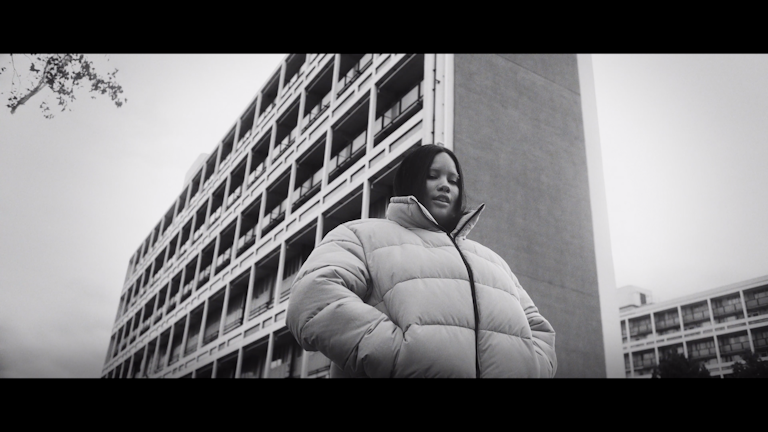 With the support of Dr. Martens' Tough as You campaign, the London musician is fulfilling her experimental creative ideas...
Published on 4th November 2019 by Katie Thomas.
It takes a certain kind of energy to work a dress that's made with blown-up pictures of yourself, and it's the kind of energy that Shygirl exudes by the bucketload. At a packed out gig at The Boot Room, Dr. Martens' intimate music venue in Camden, south London's Blane Muise aka Shygirl glistens on stage in her very own suit of armour — her most liked selfies on Instagram. Her look comes courtesy of friend and designer Max Allen, accessorised with a feathered collar, satin gloves that go over the elbow, shimmering eyeshadow and long pink nails. She pairs the dress with black platform DMs (the Jagger model), because, as she says when we chat over the phone, ​"You know, I like to be a bit taller than everyone else." Once her show begins, Shygirl sashays across the stage brandishing a huge fan, and custom Shygirl fans are handed out to the clamouring crowd.
Muise has only been making music as Shygirl for a couple of years, but, with the support of close friend and frequent collaborator Sega Bodega, she's recently made an impact in the realms of club music and leftfield pop. Her debut EP Cruel Practice, released last year on NUXXE (the label she runs with Sega, Coucou Chloe and which recently signed Brooke Candy), saw her labelled as ​"the Regina George of grime", and laid out a statement of intent — Shygirl is anything but shy; she is brash and sassy, she tells it like it is, and she has no qualms with embracing her sexuality, nor penning lyrics about troublemaking boys.
"I find a good home for my bad traits," Shygirl says, as we talk about the inspiration for new single BB. What are her bad traits? ​"Literally just boys" she laughs. After spending her teens with her head buried in a book, Muise describes herself as a late bloomer. ​"I'm making up for lost time now I'm in adulthood," she says cheekily. BB is the second Shygirl single of 2019, the follow up to UCKERS, a swaggering dancehall cut that marked her most pop-leaning release to date. BB started as an acronym for Bad Boys, but, with the affectionate connotations too, the project developed into an ode to everyone Shygirl shares her life with — her creative partnership with Sega, her friends, boys she's chatting to. ​"I have a habit of sharing pieces of me with people, romantically, who probably aren't the best for me," she admits. BB is about seeing the good in those bad times, about absolving yourself of regret, and enjoying life, no matter what.
The idea of opening yourself up to a romantic relationship that's detrimental to your own growth is something we are probably all guilty of at one time or another. ​"I don't know any girl who doesn't think the things I'm saying," Muise says. As a no-holds-barred voice for women who know what they want, Shygirl understands her position as an independent artist and a woman in the music industry, and admits that constantly championing your own ideas can be tiring. ​"No one wants to be a lone cheerleader in a crowd," she says, explaining that the support of DMs, and the synergy with her ethos as an individual with the objectives of their Tough as You campaign, has given her the freedom to express herself and be in control of her own ideas, whilst also working alongside a team of friends and creatives that are helping her to expand her vision.
To read the full article, head to The Face
Brand Experience Agency of the Decade