 Paris Hilton and Klarna host hot-pink 'House of Y2K' pop-up in LA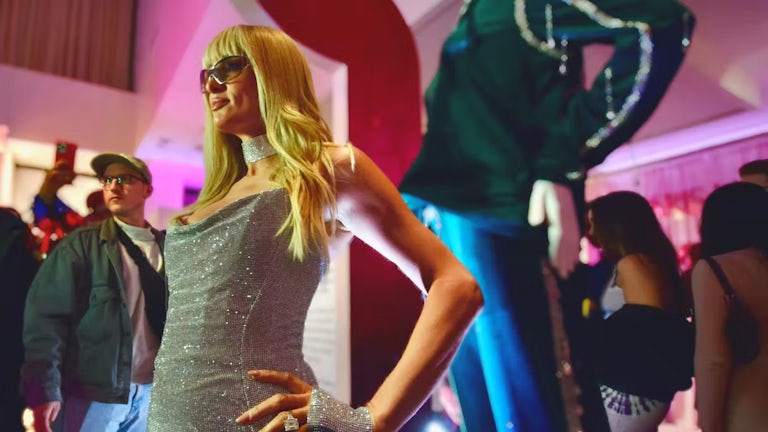 The chief executive of 11:11 Media displayed some of her most iconic Y2K fashion moments to highlight how far shopping has come in two decades.
Published by: The Drum
Written by: Audrey, Kemp
Date: 27/02/2023
Imagine a campaign that both champions the ease of modern shopping and the flashy fashion of the early 2000s. As Paris Hilton would probably say, "That's hot."
Such was the idea behind a pop-up party jointly hosted by the socialite-turned-business maven, her company 11:11 Media and Swedish fintech firm Klarna, called 'House of Y2K.'
The activation, which ran from February 23 to 24 at 8070 Melrose Avenue in Los Angeles, explored the evolution of shopping and trends from the 2000s through to today.
The pop-up was co-developed by Klarna's in-house team and brand experience agency Amplify. It was directed by Ukrainian Grammy nominee Tanu Muino, who is known for her work with Harry Styles, Cardi B, Lizzo and Lil Nas X.
It also kicked off the brands' joint global campaign, which went live today across social, digital, broadcast and out-of-home media. The campaign comprises two 30-second films starring Hilton, where she reacts to different Klarna product offerings with the catchphrase 'That's Smoooth.'
The majority of guests at the House of Y2K donned trends of the early aughts, including velour tracksuits, micro handbags, sarcastic T-shirts and spray-tanned bare midriffs, validating the hypothesis that fashion trends come back every 20 years. Among them were several celebs, including reality TV royalty Kris Jenner and Kathy Hilton, as well as social media sensations Tana Mongeau, Gigi Gorgeous and James Charles.
The pop-up offered its elite guests a photo booth, cocktail bar and a station to have their personal items rhinestoned. On the first floor were over 50 relics from Hilton's party-packed past, like the denim skirt suit she famously wore on The Simple Life, a 'Sliving' jumpsuit adorned with 250,000 Swarovski crystals and a T-shirt that says "I [love] shoes, bags and boys."
Co-founded in 2021 by Hilton and media industry heavyweight Bruce Gersh, 11:11 Media says it connects content, community and commerce for several sectors, including digital, web3, film, television, music and consumer products.
"Doing big things is kind of our thing at 11:11 Media," says Krystal Hauserman, chief marketing officer at 11:11 Media. "Our first order of business is probably shifting mindsets – not thinking about amazing collaborations as 'advertising.' Our secret sauce is helping brands create authentic, fun, joyful pop culture moments that build community and affinity and drive commerce."
To read the full article visit The Drum.
Brand Experience Agency of the Decade