Movies vs Content: Has Marvel Reached the End Game?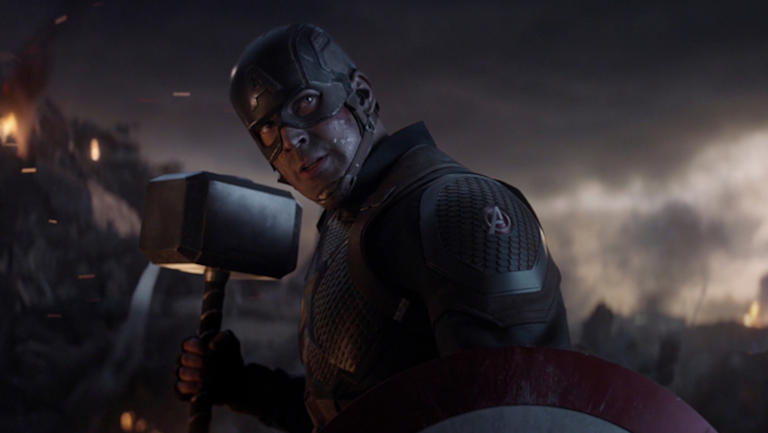 The deluge of Marvel shows and movies in 2022 has led to superhero fatigue. Has Marvel lost its midas touch with a relentless content churn, or is there hope for the next phase of worldbuilding? Amplify's ECD Alex Wilson reflects on the value of emotion over spectacle.
Published by: Little Black Book
Written by: Alex, Wilson
Date: 08/03/2023
There have been a handful of moments where I've had what can be described as a borderline religious experience staring at the silver screen.
Witnessing Mad Max Fury Road in IMAX for the first time.
Rising to my feet in spontaneous applause as Andrew smashes the shit out of his drum solo at the end of Whiplash.
Watching a then 55-year-old Tom Cruise actually performing a HALO jump, throwing himself out of a military aircraft carrier at 25,000ft in MI: Fallout.
Denis Villeneuve immersed me so deeply into the world of Blade Runner 2049 I never wanted to leave the cinema. I can still hear the rain falling around me in Dolby Atmos.
And then, there is Steve Rogers.
Stood, bloodied, beaten, but not defeated. Surrounded by 22 movies worth of loved heroes and side characters, brought together after decades of careful planning, cohesive narratives and emotional journeys. We had been waiting since 2012's Avengers to hear that iconic comic book mantra. With Thor's fabled hammer in hand, Rogers eyes up the galactic threat before him, and utters the words; "Avengers…assemble".
And for a brief moment, I finally understood how people see Jesus in toast.
"The Marvel Cinematic Universe surely cannot get better than this", I thought as I walked out of the final film of the Infinity Saga. Unfortunately, I was right.
The MCU, helmed by Kevin Feige was a cinematic and worldbuilding achievement that may never be seen again. Despite many studios and companies' attempts, they failed to see the real reason these films were such a success, one after another, year on year. Whilst not all were masterpieces the quality rarely dropped, they never failed to at least be entertaining and play a key role in the bigger story. Most TV shows have a filler episode, many books have a chapter that has to serve a connective purpose, but the MCU for around 20 films, could do little wrong.
But the core reason for success was its ability to get to the heart of the hero. Yes they all had a blend of humour, action and emotion, but the reason the movie theatre went into raptures when Captain America uttered those words, was not because it was Captain America saying them, but Steve Rogers. A man who has shown he will make the hard calls, put his life on the line for others and will never, ever back down.
And despite a few highlights (I'm looking at you Spiderman: No Way Home), the latest phase of Marvel output has slipped from what felt like landmark, cultural cinematic moments, into relentlessly dropped content. Awash with side characters, spin-offs, multiverses - mirroring how comic books have behaved for decades, but unfortunately the volume of output and desire to be releasing content every few weeks or months has diluted the level of care and quality of not only the Disney+ shows, but the once tentpole movie releases.
There are not many directors whose cinematic releases feel like a cultural event, Christoper Nolan, Quentin Tarantino, Martin Scorsese and Denis Villeneuve to name a few. And in recent years, in the span of only three films - Jordan Peele. These are all filmmakers with something to say, able to balance emotion and spectacle in ways that Marvel once did.
The MCU used to command the same attention with its movies using lesser-known indie or up-and-coming directors. Now unfortunately, despite some interesting directorial and casting choices, their shows and movies are starting to feel like just 'another' piece of MCU content that connects to a bigger story that at this point, no one really cares about. Certainly not to the same level as The Infinity Saga.
Even Greta Gerwig's Barbie Movie launched by a 2001: A Space Odyssey style teaser trailer feels like something likely to make a larger impact than the third Ant-Man movie or Guardians of the Galaxy: Volume 3.
More left-field superhero IP has taken the spotlight in recent years with Amazon Prime's The Boys and animated comic adaption Invincible, making huge waves in the last few years along with the likes of The Umbrella Academy and cult hit Doom Patrol. Although part of DC, Doom Patrol much like many of the recent cinematic releases such as Joker and The Batman, exist within their own self-contained universes.
We are experiencing a gentle break in the onslaught of MCU content, possibly good timing as audiences aren't connecting with the characters and movies as they once were, this may lead to a welcome respite and reset before the next phase. Despite Feige claiming audiences will never tire of superheroes, there is clearly some fatigue on show.
Although this chapter of Marvel storytelling has given writers and creators the platform into more politically, racially and culturally charged issues in their narratives, which can only be a good thing for amplifying diverse voices in the industry, the onslaught of 7 films and a dozen TV shows in the space of a year has legitimately pushed the needle from cinema and television to content. Audiences have been hit month on month by the next chapter of the Marvel machine.
Perhaps you can have too much of a good thing.
But for you fellow Marvel geeks out there, do not despair. There is always potential for Marvel to recapture the imagination of audiences. They continue to work with exciting directors and find new talent. But they will need to rediscover the personal touch, and treat their universe as less of a Disneyland ride, and more of a campfire moment.
​Alex Wilson is executive creative director at Amplify.
To read the full article visit Little Black Book.
Brand Experience Agency of the Decade