Let it Snow: Cocaine Bear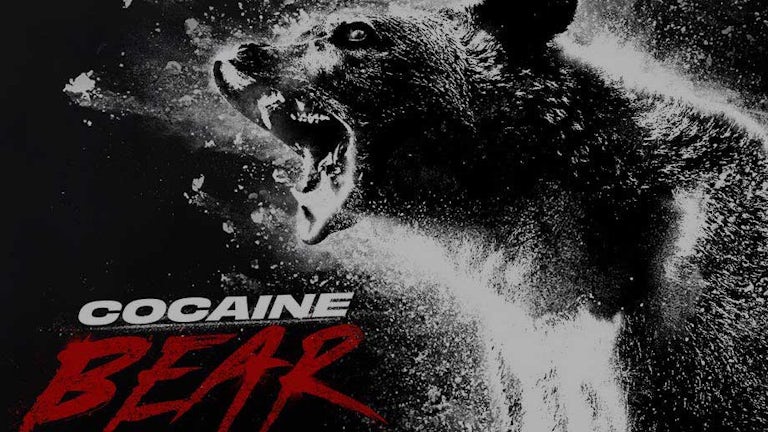 Amplify's ECD Alex Wilson takes a look at how the worlds between indie and big budget filmmaking are becoming blurred with the release of Cocaine Bear...
Published by: Little Black Book
Written by: Alex, Wilson
Date: 16/12/2022
If I were to tell you that a movie based on a true story about a black bear that ingested over 75 pounds of cocaine in 1985 is set to be released in early 2023, you'd probably have one or two questions.
The title itself however leaves no room for questions. Cocaine Bear joins the echelon of movie titles that unapologetically does what it says on the tin.
Snakes on a Plane. A movie about Samuel L Jackson fighting snakes on a plane.
Titanic. A love story aboard the Titanic.
Cowboys & Aliens. You get the idea.
In recent years, amongst all the debate of the death of cinema due to Marvel blockbusters and cinematic universes, we have also seen an effect which I have been referring to as a sort of 'A24ification' of the movie industry.
A24, the New York-based company began by acquiring and then producing a series of quality, 'against trend', low-budget movies that have led to them becoming a brand in their own right that holds a unique relationship and currency with its audiences. From The Witch (2015) to Ex Machina (2014), Uncut Gems (2019) and more recently Everything Everywhere All at Once (2022); A24 has played a huge role in bringing indie movies into the mainstream.
Cocaine Bear is not produced or released by A24. Nor by any other exciting up-and-coming studios such as Neon or XYZ Films, but by Universal Pictures. Best known for the Jurassic Park, Jason Bourne and Fast and the Furious franchises, along with the iconic Jaws (1975) and E.T. (1982), audiences would no doubt be surprised to hear the American studio was responsible for a move about a bear going on a narcotic fuelled rampage through Georgia.
But Universal have themselves tested the water recently, so much so that those paying attention to some of their recent releases may have seen this coming down the line. From helping facilitate Jordan Peele's move from actor/writer to director with Get Out (2017), Us (2019) and NOPE (2022), to middle-aged actioner Nobody (2021) and 2022 festive action-comedy Violent Night staring a bloody and bruised Santa Claus played by Stranger Things' David Harbour.
2022 also saw the Nic Cage vehicle The Unbearable Weight of Massive Talent released by Lionsgate, a movie which sounds like it shouldn't exist, with Nic Cage playing a version of himself, involved in a tale of kidnap, superfans, arms dealing and even making out with a deepfaked version of himself from the 80s.
Which aptly brings us back to Cocaine Bear.
Taking another leaf out of A24's book, Universal has leaned into the tone of the movie with its initial marketing and social voice, from featured key art of the bear silhouetted out of white powder with pun taglines such as; "Don't coke the bear" and "Get in line", to giving the Bear its own BeReal account.
Niche 'risky' titles and content will continue to attract audiences who are becoming more familiar with films that, until recently, were only associated with foreign or independent film, a paradigm shift Bong Joon-ho with Parasite (2019) and welsh-born Gareth Evans with his Indonesian action-thriller The Raid series were able to influence with their masterful creations.
And as the battles of streaming vs movie theatre, and indie vs blockbuster continue to be waged, I believe and hope we will start to see many more Cocaine Bears being released into our homes and cinemas. Not literally.
And for now, I leave you with the original coke bear. Less blood. More bubbles. Merry Christmas.
To read the full article visit Little Black Book.
Brand Experience Agency of the Decade