Everything We Love: The 2023 World Cup Is Putting the 'Beautiful' in the 'Beautiful Game'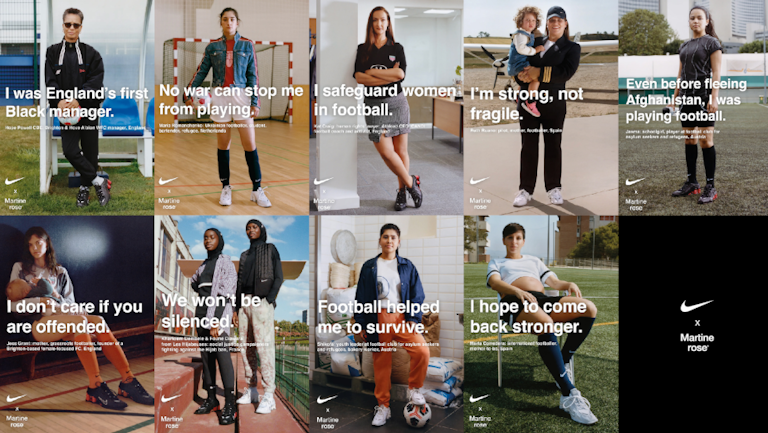 Amplify trends editor Seun Areoye looks at how brands including Nike and Prada are supporting the Women's World Cup
Published by: Little Black Book
Written by: Seun Areoye
Date: 09/08/2023
As someone who doesn't watch Love Island, it's been a pretty quiet summer for my TV. Since the Women's World Cup started in July, my TV has been on when I should be asleep, but it's been worth it as I've been watching and following, supporting the Super Falcons, whilst having a soft spot for Colombia and USA (who I got in the sweepstake, so fingers crossed). For the first time in memory, it feels like the women's game is breaking out of its bubble, and fans, like myself who aren't completely familiar with the women's game, are able to enjoy it because of the investment and visibility it's been granted. Whether it's on the pitch or off it, there's so much happening that's so exciting to see, and I've never been more invested.
Here are some of the moments from this World Cup, that shows how the game is growing (WITHOUT the 'help' of the men's game, which it certainly doesn't need) and the things that I've been excited to see.
Martine Rose x Nike USWNT and England Women's
If you haven't already seen the incredible collection, where have you been?
British-Jamaican menswear designer Martine Rose recently released an extensive collection, kitting out the USWNT and the Lionesses in her iconic style that blends her love for fashion and sport. In a move facilitated by Nike, sponsor of both national teams, the gender-free suits are complemented by glasses and also a range of colourways of her take on the Nike Shox MR4.
Both teams started off their campaigns with wins and have progressed through to the knockouts. They certainly both looked like winners as they entered the stadium, thanks to Rose, who's a frequent Nike collaborator.
Prada as official sponsor for the China Women's Team
It's great to see one of the largest fashion houses invest into the women's game, having the Chinese ladies match England off the pitch (although they weren't able to match them on it). There's always a 'chicken-and-egg' argument surrounding the women's game, brands hide behind the 'lack' of engagement to justify their lack of presence, whilst some argue that lack of engagement is a result of lack of brand presence.
Regardless of that debate, brands entering the space feels like a good thing, as they realise the sport is worth being a part of, and it certainly is, creating a more inclusive environment for football fans.
Linda Caicedo
The story of Linda Caicedo so far could serve as a movie itself…she's only 18. After beating cancer at age 15, she's played in three World Cups in the past 12 months - the u-17 and u-20 editions - and is setting this World Cup alight, shining bright in a strong Colombia team.
Whether or not this Colombia team goes far in the tournament, Linda Caicedo certainly will. After recently signing for Real Madrid, and seemingly able to overcome any adversity that throws itself her way, the sky really is the limit for the young forward and I'm excited to see how her career progresses over the next five, 10, fifteen years.
When life gives you lemons…
There are multiple stories of players and nations overcoming adversity this tournament. Take England goalkeeper Mary Earps, who's been fighting to have the production of a replica of her jersey produced, only conceding one goal in the group stages, or the Reggae Girlz (Jamaica), who had to crowd fund to cover costs of their attendance to the tournament, beating Brazil to go through to the knockout stage. Additionally, the Super Falcons (Nigeria), have been fighting the same struggles as the Reggae Girlz, prior to their defeat Nigeria had drawn attention as they managed to qualify out of their group despite being the lowest ranked team in their group.
Close your eyes Germany fans, as their draw with South Korea, and loss to Colombia meant they were dumped out of the tournament, failing to make the knockout rounds although they were expected to do so comfortably, especially after beating Morrocco 6-0.
In the past few years, the women's game has grown exponentially, and there's nothing that suggests that growth will slow down. With the WSL due to start in October, your dose of women's football will be back sooner rather than later, and it's about time you tuned in. Better yet, have you ever considered going to watch your local club? It's certainly an occasion worth attending.
To read the full article, visit Little Black Book.
Brand Experience Agency of the Decade