Crafting Conversations at Mobile World Congress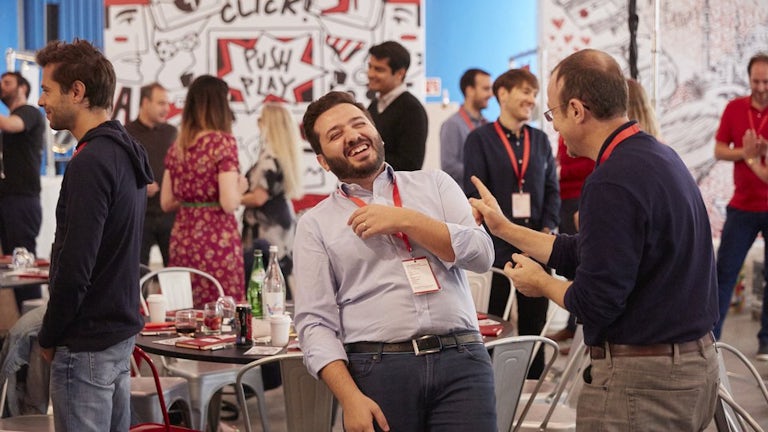 Stagnating Styles in a World of Innovation
Walking around the show floor at MWC earlier this year, as innovations and developments across the industry were showcased to a truly global audience, I was once again struck by what the expo has become. In so many ways the industry is moving faster than ever, yet can the same be said of the way that we are showcasing products and services?
Expo is an all-familiar term as it spans industries and continents to showcase all manner of things. However, when we look a little deeper and consider the etymology of 'exposition' the Latin origin is 'to expose, publish and explain'. As I moved from stand to stand it was clear that products were being exposed in all manner of ways - from robot arms to kinetic screens - yet all too often the 'publishing' was at the detriment of crafting explanation.
The Power of Simplicity
Great experiences should be capable of shaping brilliant conversations. Putting the audience at the heart and crafting a narrative that can be explored and shared on its own terms. There were so many messages and gimmicks across the show floor, when in truth the experience that resonated the most (a 60 second Sony product demo) had a simple idea at the heart - conveying the product capabilities in a real-world context, simply explained, even easier to explore with a clear reason to make me believe.
Make Conversation Great Again
MWC is driven by conversation and deals are often struck behind closed doors. But is a meeting room - however much Scandi furniture it features - enough to really catalyse great conversation?! Could it be more? Be it through architecture that's sole design intent is to catalyse conversation, through to reimagining the setting altogether. Less meeting room, more restaurant.
Shouldn't we be placing the same level of care around the experience design of our stands as we do the UX of our products? If we do then we should be placing brilliant conversations back at the heart of the work we're creating. Strip away the noise and instead go back to basics of what an expo is intended to do - expose, publish and explain.
To chat more about Mobile World Congress and / or other big events, give Jeavon, our ECD a shout here
Read Jeavon's Campaign article on 'Why experiential marketing is a must-have for Google and Netflix' here
See some of Amplify's B2B, exhibition + conference experience here
Brand Experience Agency of the Decade