B2C Thinking in a B2B World…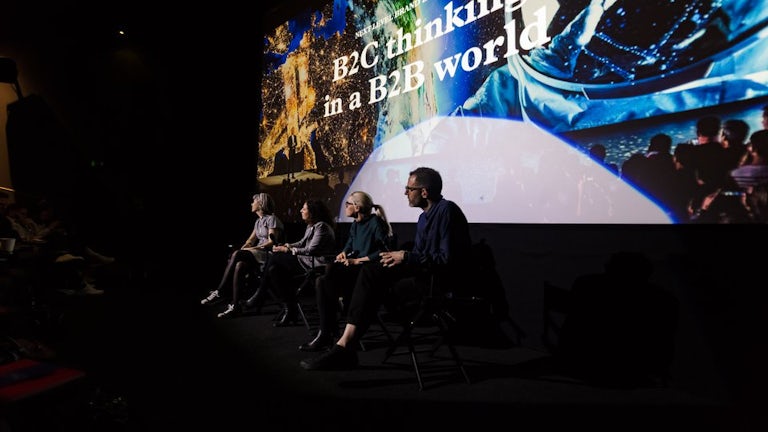 Sharing insights from our speakers
Experiences should be for everyone, whether you're a brand who wants to create an intimate experience or a business trying to break through the noise at the yearly expo. This was the starting point for our event 'B2C Thinking in a B2B World' held at Curzon Bloomsbury.
The B2B audience's ability to influence change and commercial value is often significantly higher than B2C, yet misses out on the respect and glory. For Amplify, the B2B briefs we've worked on have seen some of our proudest moments and most progressive pieces of work. As creatives and marketers, B2B is a true test of whether we're doing our job right. We're always asking: how far can we shift the dial, launch something where there was nothing, lead a real behaviour change, and shift units?
We brought together marketing experts Amy Brown (Google, Head of Creative Strategy), Sophie More (Brewdog, Global Head of Marketing), Isabelle Adams (PlayStation, Senior Events Manager) and Jeavon Smith (Amplify, Executive Creative Director) to think about how we can create spatial connections, tell the best social stories, and give our audience ownership.With ever-growing technologies, audience expectations are evolving. Business and brand pressures have increased as timelines grow ever tighter.
Reaching the right audiences...
73% of our Young Blood audience want to experience a brand or product before they buy
This is true across all sectors. The techniques previously reserved for the hard-to-reach and influential youth audiences are now just as relevant and accepted for B2B audiences, who are equally adept at filtering out messages they don't perceive to be relevant.
We believe in putting a real face on a demographic, whether B2B or B2C. Experiences are expensive. To justify them there has to be clear goals, not only in terms of deliverables but how they drive wider communications and influence behaviour change.
To do that you need to find, communicate, and work with the right audience and make sure you're measurements take in everything from traffic (e.g.: unique visitors, return rate, average visit length), to engagement (e.g. experience interactions, email shares, unique visitors), and conversion (e.g.: number of items sold, number of transactions). Beyond this, we also want to think about awareness, consideration and intent, to know what drove the audience to engage and who they were (e.g. post event surveys, gender repartition of attendees, average age, primary reason for visiting). Placing our audience at the centre means understanding their expectations.
New Perspectives: 5 Key Ideas
Experiences have become a paramount focus for consumers...
As they expect to experience a product before they buy – but how do we make sure the experience economy doesn't get oversaturated?
Reimagine the landscape...
Don't be driven by the current rules of engagement! Use different cultural arenas to go beyond the usual experience. Learn from other sector's curated experiences that are built around personalised passion points.
Experiences are content engines...
So stop thinking about experiences as just physical manifestations. They are as digital as they are physical and this turns them into centres of content.
Embrace the advent of technology...
As the lines blur, work is no longer defined by location, form or function. With the social lens turned on 24/7, it's time to trust the audience's ownership of the event.
Create spaces designed to be inhabited...
So they can become places where people can play and spaces where we can engineer meaningful engagement and measure it in real-time.
The landscape of events is changing and our audience's expectations mean we have to keep innovating. The event economy isn't just a great way to engage your B2B audience - as tech, social, and experiences become an ever greater (and more expected) part of our lives, they're paramount. Whoever said playing was just for consumers?
Continue reading below
for a more in-depth breakdown of these key ideas, with quotes and insight from the speakers on the day... or contact

tosh@weareamplify.com.
Insight 1: Create Inhabitable Spaces
Jeavon Smith, Executive Creative Director at Amplify, believes in creating spaces that imagine functionality at a new level. Making the space work for your audience means thinking about how it can help you tell a story. Modular design can allow you to shift gears and create different spaces where casual conversation, business deals, and demos can co-exist and inform one another. With modual thinking, Jeavon suggests that we can tap into space beyond physical location. Mapping real-time responses to the environment you've built can allow you to 'learn about the audience and adjust, in real time, according to the sensory variables'.
When it comes to cutting through the noise at large-scale events, Amy Brown's experience at Mobile World Congress came in handy. She told us this expo 'can be circus-level loud, with people hiding behind screens, and loudspeakers blasting. We cut through by putting users first. We actually let them play with the product untethered. Our aim was to create private moments and to make the space a little more intimate and human!'.
It's not just about square footage, it's about crafting content, creating longevity, and tapping into conversations. This mentality goes beyond a physical destination and steps into what is shareable. Which leads us to our next point, allowing people to take ownership of the content and curate it themselves.
Insight 2: Give Your Audience Ownership
The lines are blurring between digital and physical, work and home, business and consumer. It's time to start trusting our audiences and empowering them in the spaces we create.
Whether your audience is B2B, B2C, or a mix of both, once they have a feeling of ownership, they are far more likely to talk about you – so think about designing an experience narrative out of the environments you create. For Isabelle Adams at PlayStation, investing in in-depth audience research on a global level is crucial but on a local level, 'really it's about opening up conversations. Creating dialogue is so important - don't be scared to actually ask your B2B audience what they think works!'. If your audience feel like you take their feedback on board, they're going to feel like an integral part of the moment.
Each audience has their own unique blend of social and cultural knowledge, and we should trust their opinions. This is very true for Brewdog, where Sophie says 'B2B is at the heart of what we do. We work with customers, distributors, craft community, and our investors, the equity punks'. Their ethos of bringing people together can be seen in their most recent event Metro Mayhem, where a mix of consumers, trade and media were all treated to the same experience... it was all about community not customers!
Insight 3: Step into New Stories
It can be easy to get stuck in our ways. We know our audience, have our go-to spaces, and intimately understand the way things work for our companies. One way that Amplify try and tackle this complacency is to take inspiration from different cultural arenas.
We jumped on the chance to embrace new spaces and stories when we worked with YouTube Music at the venue 180 Strand. Best known for its programme of contemporary art, it allowed us to reimagine an iconic London venue in order to discover new music. We took this cultural context as our starting point to make worlds collide. We partnered with Pitchblack Playback to create an immersive audio experience, created a concept sneaker store, made a music documentary on UK club culture, and built a live performance space with a program of speakers and performers.
For Brewdog, Sophie puts it like this: 'We're always thinking: how can we flip everything we do on its head? We have to challenge ourselves to excite the people who make us great', which means thinking beyond the usual and finding inspiration in unexpected places. It's the hospitality industry that inspired them to 'use our bars as a way in, which can be intimidating if you're not into craft beer. We think about the people who work there as the 'way in', that first interaction and support from staff to break down barriers'.
Insight 4: Find Space to Play
Jeavon and Amy spoke about how during the Google Curiosity Rooms, the retail space became a place for people to play. Passersby popped in just to snap the surroundings – and then stayed on to explore the interactive space.
This turned the retail space into so much more than just a shop. Amy suggests that this strategy was about blurring the lines between everything marketing can do, retail is brand is digital is content... but she did prompt us to make sure the end goal isn't just Instagram!
Numbers and measuring engagement has to be an important element but for Amy, one of the best things was seeing people coming in off the street and staying around. A retail moment had become a space that people want to hang out in… which might even indicate how the high-street could innovate in the future. When we embrace play, we spread the love. These spaces may be witnessed by a few, but they are experienced by many, allowing the work to live on beyond the experience.
Brand Experience Agency of the Decade