 Amplify wins 'Major Agency' at The Majors Awards...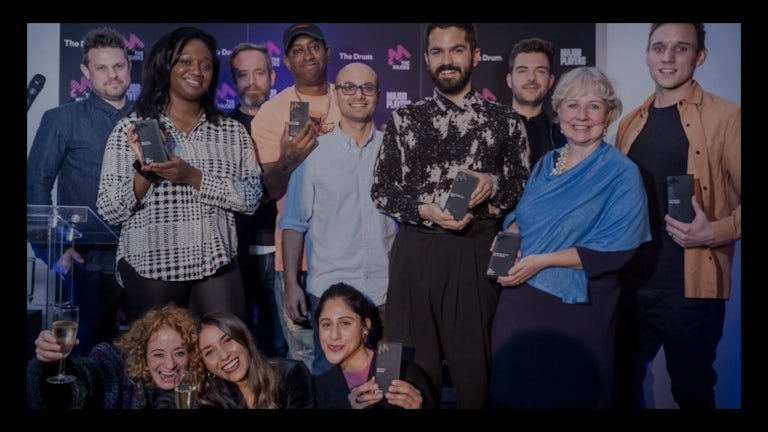 Amplify took home the 'Major Agency' award...
The Majors, in collaboration with The Drum, is all about celebrating the individuals and teams that make great work. Published on November 26th 2019.
The Majors took place at Protein studios with around 300 attendees from the creative, digital and tech industries. Now in its fifth year, The Majors was created in conjunction with The Drum to celebrate the individuals and teams who have spent the last twelve months creating standout work.
"There are many awards for businesses, but few that recognise the talents of the individual," said Allison Upton, marketing director at Major Players. "We wanted to create something that supports and highlights the brands and agencies, but mainly the people behind the scenes that often go unnoticed."
The night saw 13 winners across categories from innovation to copywriting, judged by UK creative leadership, with trophies handed out by comedian Tom Ward who is supporting Jack Whitehall on tour.
The award for Major Agency was presented to global brand experience agency, Amplify, while Island Records won Major Social Media Campaign for its work on the Giggs' Big Bad album release. Individuals from agencies and companies alike were represented – Matt Lambert won Major Business Developer for his work at TMW Unlimited and Mindful Chef won Major Start-up.
The Majors also feature a freelancer category, which, this year, was won by Jennifer Woodhouse. The number of freelance workers in Britain has reached over 2 million and makes up a huge part of the industry, contributing £275 million to the economy. Often freelancers work tirelessly on multiple campaigns across a range of clients and fall short on recognition. Awarding the hard work Athina Andrelos, creative studio manager at Deliveroo, who won the Major Brand award on the night, agrees. "I think tonight is really important in rewarding and just showing gratitude towards creatives and all the incredible hard work they put in. Because without their concepting, without their amazing ideas, brands would be nothing."
While ahead of most sectors, the creative industries still has some way to go with regards to diversity. By having more representative teams, the output will be better reflected in society and clients will offer a better product or service. Heather McCrae, managing director at the Ideas Foundation, a charity encouraging young people into creative roles, won the Major Diversity Champion award.
"Diversity isn't just about ethnicity, it's about economic background and geographic location as well. And that's one of the things we're doing so much about at the Ideas Foundation. We're working across the UK in Leeds, Manchester and Cumbria because young people don't know about the creative industries. And teachers don't know about it. In London it's all around you. And actually the creative talent, the students were working with, is just phenomenal," she said.
Read the full announcement in The Drum
Brand Experience Agency of the Decade