Amplify are Campaign's Brand Experience Agency of the Year 2017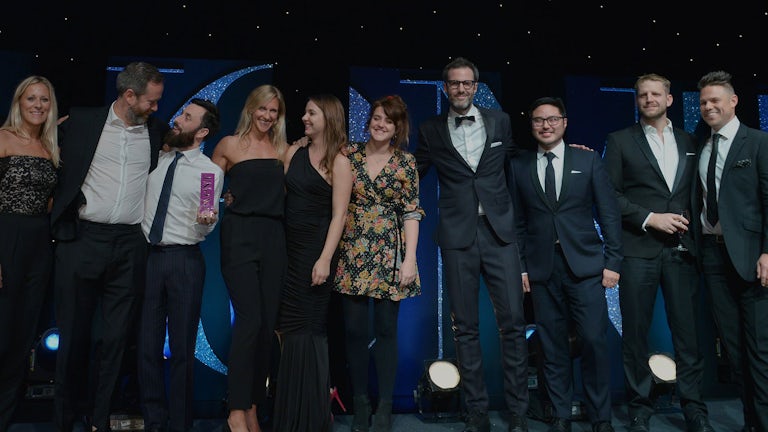 Amplify prove that large-scale events and creativity are not mutually exclusive...
To read the full announcement, head to Campaign for the article published 4th December 2017.
As Amplify approaches its 10th anniversary next year, it can look back on its 2017 performance with pride. Not only has it managed to show the world that it can produce large-scale events, but also that it can keep creativity at its core and continue growing as a business, making it a worthy winner of Brand Experience Agency of the Year.
There were plenty of highlights for founder Jonathan Emmins and his team, who delivered the agency's largest production at the Paris Games Week event in November. It created a stand for founding client PlayStation that took over an area of more than 3,500 square metres. The agency gave the space a glow with neon touchpoints, and hosted a live-streamed tournament as well as a VR experience for Netflix show Stranger Things.
Scale can often lead to some agencies falling short on creativity, but not Amplify. This year's highlights included securing Academy-award-winning composer Steven Price and Abbey Road's Grammy-winning producer Giles Martin to re-score the soundtrack for a Sonos competition winner's film.
Amplify's aim was to make the smart-speaker brand famous for enhancing the sound in film as part of the launch of the Sonos Playbase, a wireless soundstage. The film premiered with the soundtrack performed by a 58-piece orchestra to an audience of 200 people. The event closed with an interview and a live selection of Price's film and TV work.
Elsewhere, Amplify created "The Meeting Place" for bourbon brand Jack Daniel's. This was a Tennessee pop-up, with a "honky-tonk" vibe, serving whiskey cocktails and southern barbecued food, accompanied by live music. It was aimed at millennials in Birmingham, London and Glasgow.
The Rowntrees "Taste Tour", meanwhile, was a brightly coloured, factory-style pop-up, featuring a "sushi belt" of the confectionery brand's reduced-sugar products, bringing innovation to a classic sampling exercise.
Amplify hasn't fallen short on the new-business side either. The agency secured six new clients in Spotify, Netflix, Facebook, Instagram, Nestlé and MTV, which represents business worth £3.6m. Work for Spotify, featuring a gig around its "Who we be" grime playlist, kicked off at London's Alexandra Palace at the end of November.
This stellar year has brought 11% year-on-year growth for Amplify, taking it to a turnover of £12.8m. Headcount rose slightly, to 60. Among those to join was Jeavon Smith, the former Jack Morton Worldwide creative director, vice-president, who is now Amplify's executive creative director.
As part of Emmins' plans to bolster Amplify's youth marketing credentials, he bought a parity stake in specialist shop Seed, on the back of a two-year partnership. The agencies continue to run as independent businesses, but have the scope to work more closely on clients.
After nine years of hard work, Emmins has built up an agency that this year forced bigger rivals to sit up and listen.
Read more at Campaign Live.
Brand Experience Agency of the Decade