Amplify announces new global creative team structure, 12 hires + multiple promotions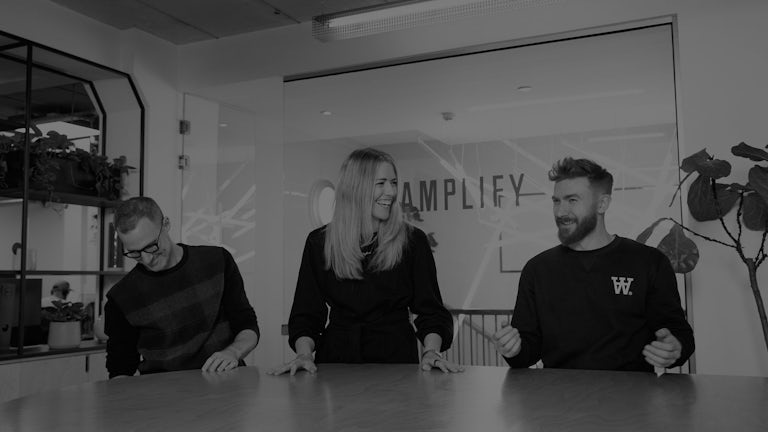 Published by: Amplify
Date: 01/01/2022
Amplify has announced a number of senior internal promotions and a raft of new hires, as the agency consolidates its position as a global creative force, specialising in experience and culture.
The agency has won 24 new business wins across their UK, US, Australian and French hubs in 2021, with its global work spanning from a TVC for Mitsubishi, a global live-streamed concert experience for Westfield and Lady Gaga, a global creators campaign for Pinterest Presents and groundbreaking live-action anamorphic billboards for Amazon's Wheel of Time.
As part of a restructure of the creative team, Jeavon Smith, formerly executive creative director at Amplify, becomes chief creative officer, and will be responsible for the agency's global creative output. Head of content Alex Wilson is taking over as executive creative director while Alex Smith has been promoted to creative operations director, from her previous role as operations director across content and broadcast. Founder Jonathan Emmins becomes global chief executive officer.
A total of 11 new hires have also joined the agency, spanning areas such as design, content and creative, ensuring Amplify has a breadth of talent across its expanded footprint. The new creatives joining Amplify maintain the agency's belief in bringing together diverse blends of talent, skills and passions as they come from institutions such as the Old Vic, through to traditional ATL agencies and include winners of Cream 2021.
The hires join at an exciting time for the agency, as it produces a growing portfolio of innovative work with global brands, including Airbnb, Amazon, Converse, Epic, Lego, Pinterest, PlayStation and Netflix.
Jonathan Emmins, founder and global CEO: "Amplify's campaigns have always been created 'with' not just 'for' our brand's target audiences. For that reason, and fearing an 'house style', Amplify initially resisted having an in-house creative team. Instead we chose to spend time collaborating with those creatives and communities. Jeavon's appointment as ECD in 2017 recognised that strategically and creatively our best work was originating from within the four walls of Amplify but our spirit of cultural collaboration not only lives on and but through Jeavon has been taken to the next level. His appointment as CCO is a reflection and testament to Jeavon's endless energy and his commitment and mission to 'pioneer the new' and 'break formats'. His ability to find, mix and guide unusual blends of talents is second to none and this shines through Amplify's breadth of creative work which we believe represents what modern marketing should stand for, for today and for tomorrow."
Jeavon Smith, CCO: "We strive to bring ideas to life through the lens of culture, as we look to build worlds and break formats. Narrative design sits at the heart of the work and we have an incredible collective of creatives who bring engaging and entertaining stories to life. Our channel-agnostic approach calls for a new structure to the way that we work. We're now at a point where the two disciplines of experience and culture need to come together, a testament to the work we have done, the exciting projects we are delivering now, and how the teams across the agency are coming together."
Promotions
Alex Wilson - Executive Creative Director (formerly Head of Content)
Alex Smith - Creative Operations Director (formerly EVP Ops / Head of Live)
Vicky Baker - Creative Director (formerly Associate Creative Director))
Sandra Suchocka E Silva - Design Director (formerly Senior Designer)
Catalina Velasquez Gonzalez - Senior 2D Designer (formerly 2D Designer)
New Hires
Rob Berry - Design Director (formerly architect / RCA / Design Museum)
Scarlett Montanaro - Creative Director (formerly CD at Revolt / Guest Lecturer UAL)
Jordan Dale - Creative Director (formerly ACD at Above + Beyond)
Ben Seary - Creative Director (formerly CD at Revolt / freelance)
Tom Davis - Creative Director (formerly CD at Unit 9)
Dan Harris - Associate Creative Director (formerly ACD at The Face / Mixmag / Kerrang + Film Director / Photographer)
Bea Wilson - Senior Creative (formerly Bristol Old Vic / Royal College of Art + Performance)
Aaron Taylor - Senior Creative (formerly Creative at Leo Burnett / Brand. Mktg Manager at YouTube)
Jimmy Nicholls - Creative (Graduate / TheOr / M&C Saatchi)
Bryn Walters - Senior Creative
Ali Munro - Creative (Graduate)
Catarina Neves - 2D Designer (Graduate)
Brand Experience Agency of the Decade