State of Play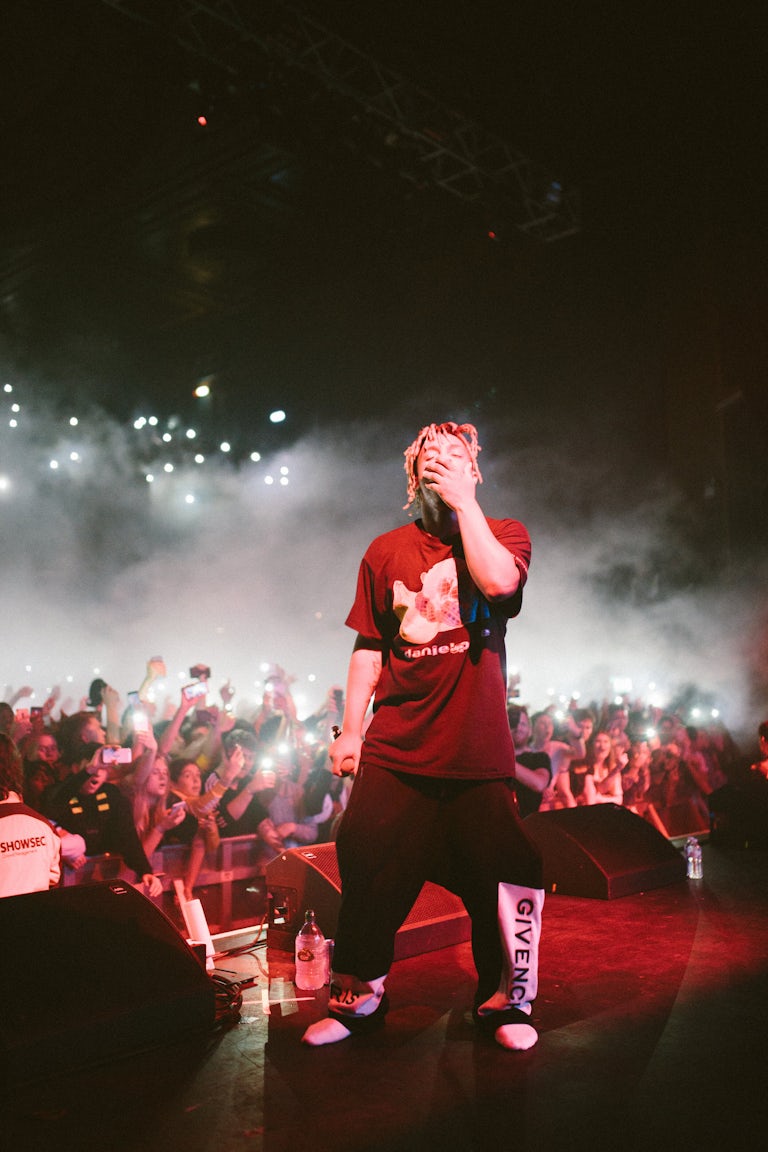 What is life without the soundtracks that push it forward?
Music in Motion
At once collective and deeply individual, music offers itself as a uniquely emotive experience, unlike any other form of culture. Like the world around it, music is always in motion, reacting to the socio-political, cultural and technological currents that shape our lives. As a result, the industry, the artists that fuel it and the ways in which we discover and interact with music are constantly in flux.
Against this backdrop, a new wave of pioneers have come to the fore. Independent and innovative but faced with new challenges and obstacles, they need support now more than ever to unlock what's next.
The masses now dance to the sounds of social, but they're also on the hunt for ever-more intimate experiences. Looking for ways to rediscover the joy and emotion music can bring.
And against this backdrop, technology is breaking down the barriers between artists and their audience. Opening up new roads for wherever music will take us next.
This is the state of play.
C is for Change
Nothing was safe from the wrath of COVID-19. The music industry couldn't simply press pause, but by no means was it business as usual. As we disconnected from the physical world, adopted and quickly grew tired of the digital one, a new set of platforms, people and behaviours emerged. Many began to look to music as a way to reconnect.
Covid shone a light on a new subgenre of artists. Usually categorised as "bedroom pop stars", the likes of PinkPantheress and Sainté were able to emerge from the pandemic with a strong fanbase that they found, nurtured and grew online. These artists are characterised by a uniquely individual, multi-faceted and authentic approach to their craft that has seen them build passionate social communities around them as much as their music.
Their Instagram 'dumps' and candid social videos offer fans access like never before, providing a welcome antidote to polished pop stars that has resonated with a new generation of introspective music fans. As a result, visually led and community first channels like TikTok, Discord and Instagram are increasingly becoming the new frontiers for music discovery. In 2022, there is an estimated 4.7 million self releasing artists, up 31% since 2019.
TikTok takes over
Having only just come to terms with the rise of streaming, the industry is now playing catch up with a new disruptor.
The primary source of music discovery for 80% of its users, TikTok is propelling artists into the limelight and empowering them to take ownership of their own journeys. Take Unflirt for example, an artist with only a handful of self-released songs to date, who has already amassed over 3 million streams thanks to the popularity of her song 'Crush' on the platform.
Assisted by the algorithm, some artists are dropping record labels all together, working with distribution for singles but opting out of deals that tie them down long term. Take Central Cee for example, arguably the UK's biggest rapper with over 20 million monthly listeners on Spotify, who still remains unsigned and fiercely independent.
These new fan behaviours have shifted power directly into the hands of creators, forcibly evolving the artist-label relationship. This disruption has been felt so acutely that some major labels have been outed by their artists, including Lewis Capaldi on a number of occasions, for forcing them to make TikToks to market their music. In doing so, they've misunderstood that one of the primary reasons fans flock to the platform is for authentic connection with the artists they love, opening up a fuller and richer understanding of who they are as creators and people.
80%

of TikTok users say its their primary source of music discovery
The intersectionality of music culture
Visual, short form social has allowed artists to embrace and share all aspects of who they are, fuelling the cross cultural evolution of music. The new artist isn't simply a musician, they're creatives, making music as just one of their outlets.
Music has always intersected with other parts of culture, but for today's youth audience in particular, the lines are increasingly blurred. Driven by the fluid identities of artists and their fans, music can no longer be thought of as an isolated passion point.
The crossover between music and fashion is one we're constantly privy to. Take Lancey Foux, East London musician, who's not only known for his genreless music, but also for his flamboyant style, having modelled for the likes of Givenchy, A-COLD-WALL*, and many others. He's part of a class of musicians who are jumping in and out of the boxes they're placed in, exploring all their interests without allowing the idea of being a 'musician' to hold them back.
As well as constant crossovers with fashion, the world of sport is increasingly colliding with music. Whether it is Memphis Depay releasing albums, Fred Again teasing his song 'Rumble' via the England national team or Mason Mount's celebration being an ode to Stormzy's 'Hide & Seek', there's an ever present connection between the two. Dave's 'Thiago Silva' and Headie One's countless football lyrics are proof that it is definitely a two way relationship, with musicians in adoration of sports players, and vice versa.
Gaming too is an area of culture that increasingly intersects with music. Artists like JME, Big Zuu and KSI are all musicians who are outwardly displaying their love for games. Whilst many of their consumer base might not expect to join them on a stage any time soon, it feels more relatable that they might see them on the pitch of FIFA, or the battlefield of Call of Duty, and allows for multiple touchpoints and more accessible ways to connect with a wide audience.
Keeping live alive
Despite these success stories of artists finding their fanbase and exploring new avenues of expression, the current state of play is one where artists and industry alike require real support to survive.
Yet, while live music faces these difficulties, it is increasingly becoming a vital way for audiences to experience music and connect with their communities as they seek out sensorial experiences post lockdown. While live streams and content will continue to connect fans to the culture they crave, nothing will beat the visceral, emotive sensation of the real thing, making live music the primary cultural activity for 55% of under 35 YO music fans in the UK.
Rocked by the pandemic and continuing to navigate economic difficulties, live music has had to contend with clubs and venues closing en-masse, inflation and countless logistical hurdles of touring in the current climate. As a result, despite the fact live music has traditionally been an economic lifeline for artists, we're now seeing a host of cancellations from Little Simz to Arlo Parks and Disclosure. The viability of touring in a recession, in a post Covid-context where insurance is a near impossibility and the mental health effects are front of mind, has simply become unsustainable for many.
Audiences want to re-connect with their favourite artists, favouring environments where they feel like their presence matters. If we take PinkPantheress' first concert after her absolute domination of the TikTok music scene, she performed in a 300 capacity venue, which is absolutely nothing compared to Wizkid who sold out the O2 (15,000-20,000 capacity) three times. At the time of both of their tickets going live, PinkPantheress' (10.3m) monthly listeners sat above Wizkid's (9.2m), proof she was capable of doing a much larger venue. Yet, rather than capitalise on her popularity, she opted to give a select group of her biggest fans the intimate, exclusivity they crave.
Money, Money, Money
In the absence of key revenue streams, faced with a broken streaming model that sees 90% of streams on major platforms go to just 1% of artists and a fractional payout for those that do make up the numbers, the new wave of creators are increasingly looking to direct-to-consumer models.
New platforms have risen to facilitate this, like the revenue sharing model offered by Bandcamp which gives artists the ability to sell merchandise, limited physical releases and digital ownership of their music directly, cutting out costly middle men in the process. Tech innovation is also opening up new roads to revenue. NFTs are enabling new ways for fans to support the artists they love.
Whether it is releasing exclusive music, like producer MssingNo's collaboration with artist Natalia Stuyk or those exploring how concert tickets could work as tokens on the blockchain, simultaneously serving as memorabilia, the key to unlocking additional experiences in venues and a fairer, more transparent revenue sharing model.
Bacardi's recent collaboration with high fashion designer Nahmias offered up another innovative solution in this space. Creating the world's first 'wearable album', they transformed fans into promoters, as a QR code subtly embedded in the design linked people through to further ways to support the three artists involved in the collaboration, London's BenjiFlow, Chicago's Ric Wilson and Berlin's K.ZIA.
Brand collaborations are also increasingly a way in which artists can generate much needed income. Central Cee's collaboration with Corteiz, London based streetwear brand, pushed his album to the #1 spot in the charts as it brought together two strong fanbases, and allowed them not only to support Central Cee and get a copy of his album, but also get an exclusive limited edition '23' Corteiz tee.
Supporting the scene
However, in isolation these are by no means solutions that will safeguard and protect the next generation of pioneering artists. Highlighted as one of the key areas of focus in the This is Music 2022 report published by UK Music, investment in new music, whether from brands, organisations or the government, is vital to unlocking the potential of the new wave of talent.
That support doesn't have to be purely financial either. Besides writing cheques for artists, there are opportunities for support to come in the form of resources, mentorship, access and opportunities that help diversify and sustain new talent.
Sustainable Sounds
Particularly important is ensuring that support is targeted in a way that can help address key imbalances in the industry and ensure the future of music is as diverse and sustainable as possible. Unfortunately, sexual harassment and racism are rife in the music industry and according to a new report from the Incorporated Society of Musicians, discrimination is getting worse.
Likewise, there is an appetite and need for music to be a force for change, embracing the responsibility and power of arts to make a difference, addressing its sustainability and impact on the planet as well as society. 82% of music fans care about the environment, which is more than the general public.
Demoncratised creativity
The music industry is moved forward by innovation. In part, this comes from the visionary thinking of artists, but it also relies on those creators having access to the means of expression and dissemination that will allow them to bring those visions to life.
New advances in technology are making the creation and promotion of music more accessible, opening up new forms of expression in the process. Generative AI is undoubtedly one of the biggest advances in this space with platforms like Dall-E2 affording fans and artists alike the opportunity to create visual worlds around music. Finnish artist JAMBO recently used this technology to create an artificially generated music video for his song 'MAAILMA', a process made possible by tech where ability ability or access to funding might have otherwise prevented him. Developments in this area continue at pace, with signs that we may see a wave of AI generated music in the near future.
Ever the innovator, TikTok also recently weighed in with new platform functionality that puts the power of music creation in the hands of its users. StemDrop will give fans the opportunity to remix tracks by their favourite acts, not only bringing the two closer together but also empowering creativity in socially connected youth audiences.
The metaverse is another frontier that holds near unlimited potential for music. While we continue to admire the achievements of milestone experiences like Travis Scott in Fortnite, others are looking at ways in which these kinds of interactive, digital concerts can become more accessible. Whether it's Spotify Islands in Roblox or Yabal who are looking to facilitate gamified gigs and create the space for artists to perform live as avatars in virtual venues, digitally accessible experiences that offer something different and unachievable IRL will continue to connect artists and fans in new ways.
Web 3 is certainly a key focus for the industry, with music label Capitol already running Hackathons that look to solve industry issues surrounding Web3, and Warner Music group hiring a Senior Director of Metaverse Development to prepare for the anticipated collision between music and the metaverse.
Where next?
As music adapts to the current climate and a new wave of pioneering talent comes to the fore, it's clear that some level of support is needed to facilitate and protect the culture for the future. For those looking to step up and play that role, being present is no longer enough. Being active is a necessity.
Whether providing unforgettable live experiences that connect artists with their audiences, supercharging creativity through innovation or supporting emerging talent with much needed access and opportunities, music needs action and assistance now to unlock whatever it is that we play next.
Brand Experience Agency of the Decade