Ultraboost 20
 Global Retail Launch
Amplify launch adidas Ultraboost 20 
in stores across the globe...
Challenge
adidas Global challenged Amplify to develop the creative direction, activations and
elevated retail designs to launch Ultraboost 20 in flagship stores across the world.
We needed to highlight the product benefits for runners and communicate the
brand's partnership with the International Space Station (ISS), new TFP technology
and 'Goodbye Gravity' theme.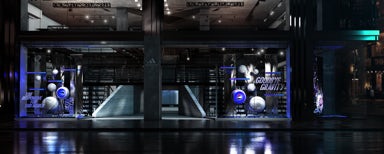 Insight + Strategy
The Ultraboost is a sports performance running shoe tailored to customers with specific running needs, but due to its great looks is often considered a lifestyle shoe. By developing their new TFP technology and combining this with Boost sole, adidas developed the most advance Ultraboost running shoe yet. We needed to ensure customers in flagship stores engaged with the shoes through in-store trial and education in a highly styled, fun and interactive retail experience.
The campaign needed to drive awareness around adidas' International Space Station partnership and encourage trial and purchase with runners through a retail experience that excites, educates and informs.
Solution
'Goodbye Gravity'
Ultraboost 20 was launched in flagship retail stores around the world through a series of unique spaces where runners could learn more about the Boost and TFP technology.
For runners, running is a pivotal aspect of their daily routine. They feel empowered through running and take strength from the energy it derives. They look for running products that will improve their performance and are interested in exploring new product features and the science behind them, especially in the context of their own personal run. Before they buy, they need to understand how running products feel, look and move on the foot.
We created windows and interactive spaces for Ultraboost 20 in retail stores that communicated what 'Goodbye Gravity' meant to these customers regarding personal progression and opening new running possibilities. As customers entered the store, they were welcomed by eye-catching window displays communicating the ISS partnership and campaign space theme. Entering the store, they stepped into an activation space that displayed products in a 'space lab' environment - complete with testing pods that enabled customers to get hands-on with the TFP and Boost technology.
A bespoke animation that nodded to the Boost and TFP technologies in an intergalactic atmosphere was displayed throughout stores on large LED digital walls. In addition to this main space, we developed a 360-degree running pod experience that made customers feel as though they were running in a zero-gravity environment through looped galactic content.
Global

Flagship and tiered store execution

4

Trial activations executed in Paris, Milan, New York + London

Hero

Bespoke retail content extended the campaign beyond retail environment
Brand Experience Agency of the Decade