Hugo House
Amplify + Hugo Boss create a multi-channel content engine at Coachella...
Challenge
HUGO is HUGO BOSS' Gen Z-focused label. Despite having a huge impact online, the brand struggled to connect with the audience meaningfully. So when HUGO decided to launch a major campaign at Coachella Festival 2022, it chose Amplify to create a brand experience that would gain notoriety not only at the festival but also in culture and social media. The campaign needed to tap into the power of live music and social media to create a series of branded moments that only HUGO could make.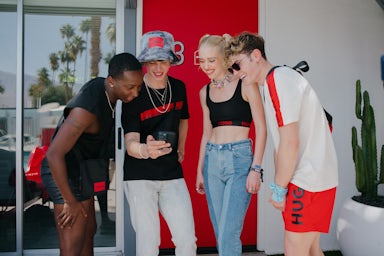 Insight + Strategy
Building a content engine
Coachella was returning after a two-year hiatus, resulting in an increased need for brands to be seen and heard in this space. Since 2019, a rise in authentic creators on TikTok has led to hyper-engaged audiences consuming imperfect and genuine content. Brands that can harness this in a meaningful manner can break the format of traditional festival campaigns and gain a more significant share of voice.
To capitalise on the global Gen Z audience that Coachella attracts, and create meaningful content for Hugo, Amplify created a multi-channel content-first campaign. The campaign leveraged Gen Z creators, and their audiences, by giving them a platform to create content in a way that was true to them.
Solution
HUGO House
Hugo House, a content creation campaign that took over a hotel in Palms Springs, was created to provide a space encapsulating the brand and its refresh.
Amplify created an engaging and joyful space that was true to the Coachella landscape, and one that provided a platform to create content at every turn, with surprise-and-delight moments for the creators, along with areas to interact with the brand, and engage their audiences.
Seven core global Gen Z influencers were selected to stay during the first weekend of Coachella and were given a VIP experience starting from when they touched down in Los Angeles all the way through to their departure four days later. Over the weekend, creators like Markell Washington, Chloe Cherry from Euphoria and Benjo Kroll descended on the house, ready for a weekend of fun and style.
Personalised VIP experiences
The personalised rooms gave the guests a space to unwind, and a 24-hour chef provided them with a VIP experience, along with luxury shuttles that transported them between parties and places. In addition, we invited several TikTok and Instagram creators and influencers down
to the space to style themselves ahead of their Coachella trips. Influencers like the Old Gays, Harry Tate and What's Poppin came to the area, chose their outfits and left to head out to
the festival.
15x

more organic estimated impressions

1.3B

impressions

$2.91M MIV

in 6 days

19%+

increase in online conversations
Crafting experiences 
into online content
From an owned media perspective, daily episodic content was created, giving the house
a narrative and a Big Brother-style feel, ensuring that stories were being crafted that kept
Hugo's social audiences engaged and wanting to know more.
Brand Experience Agency of the Decade