UEFA Champions League Final 2022
Amplify + PlayStation kick off the UEFA Champions League Final...
Challenge
PlayStation's sponsorship of the UEFA Champions League 2022 final presented a unique opportunity for PlayStation to host their business executive audience and meet with them in-person. But this group is traditionally hard-to-please, having experienced several hospitality activations over the course of the tournament. PlayStation wanted to create a brand experience that would celebrate the partnership whilst looking ahead to the future of football.
Insight
Our audience is fatigued from the hospitality experience, they are looking for a refreshed approach that will offer them a new and exciting experience.
Strategy
Given many of the guests have been to UCLF with PS in the past, we knew we needed to refresh the experience. We took cues from the host city, Paris and the stadium to celebrate the uniqueness of the location.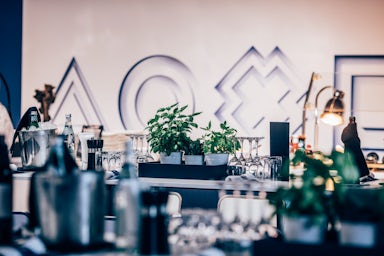 Welcome Party and Champions Village
The welcome party took place at Andia, a South East Parisan. A high-end, private, trendy and exclusive Parisian-feeling venue to act as the backdrop for a PlayStation networking event.
The venue was decorated with elegant flowers and candles to create a little oasis for our special guests, talent and influencers. Approximately 250 guests attended a fun-packed evening and enjoyed the beautiful garden of Andia. Guests could enjoy drinks, canapes and bowl food to the sound of a local band and trendy Parisian DJ. Forr dessert the famous Popelini Choux buns made with bespoke Playstation brand blue and white icing colours made their appearance and were loved by the guests. An interactive photo booth was available for the guests to capture and share their moments.
The Champions Village, a premium hospitality lounge experience near the stadium venue built excitement for the Final at the most prestigious football event of the year.
For the Champions Village, we reimagined the typologies of Football through the PlayStation lens of Play Has No Limits to create a playful yet beautifully considered & premium hospitality environment.
The space was designed to maximise the footprint for dining and enjoying the pre-game hospitality and superior food that was on offer.
Guests were entertained with live-streamed football content, and local DJ talent and could get hands-on with a PS5.
661

guests entertained

90.9%

of guests rated their experience at least 4/5

650+

guests entertained
Brand Experience Agency of the Decade