The World of Sportswear
Amplify blur worlds to launch adidas' NEW product 'Sportswear' globally...
Challenge
Amplify was challenged to launch new 'Sportswear' product category in a unique way.
It represented a new beginning within the brand's sporting heartland so our objective was to shine a light on the category's positioning to the next generation.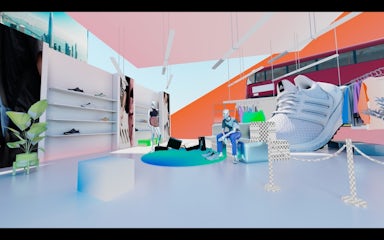 Insight + Strategy
Gen Z is currently creating their future, they don't need to be defined and certainly
won't be constrained. Unlike their predecessors, Gen Z don't move between IRL and digital worlds, but live in both simultaneously. So with physical product not available, we reimagined the category launch of Sportswear in a virtual world.
Solution
The World of Sportswear
With physical products not available, we reimagined the category launch of Sportswear in a virtual world. Capitalising on CGI and 3D we challenged ourselves to do something different with this launch, taking our audience on a virtual tour of the new Sportswear range with a series of creative experiences to bring the new product range to life.
Three consumer moments:
Sportswear Virtual World
An immersive CGI film with an abstract and unapologetically edgy look and feel with viewers travelling through the three different lifestyle occasions, exploring the new range.
FW22 Capsule Catwalk
A first for adidas, we created a digital catwalk to reveal the official first 12 looks of the Sportswear Range, building 3D models that were then dropped into relevant lifestyle settings.
A Sportswear Digital Hub
We built a bespoke virtual platform for markets to use on an ongoing basis to showcase the new product category and deep dive into the product story behind the range.
4

audiences

2,600

global attendees

World-first

virtual catwalk
Brand Experience Agency of the Decade