Gin Palace
Amplify ensure Sipsmith stands out from the crowd…
Challenge
As a pioneer of the current gin renaissance, Sipsmith wanted to break through the crowded festival landscape with a visually impactful activation to cement its position as a leader in the category.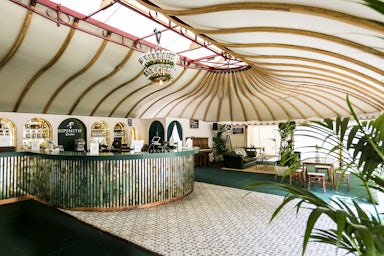 Insight + Strategy
London Dry Gin first emerged in the Victorian era, but by the 1700s the government curbed Londoners' unrelenting enthusiasm for gin by introducing large taxes – leading to a decline in brewers, quality and popularly. Since its inception in 2009, Sipsmith has led the new generation of gin distillers and played an instrumental role in overturning the Gin Act of 1751, paving the way for its current growing popularity. Sipsmith's distillation process is based on traditional methods incorporating modern twists and these were the brand tensions we want to reflect in the activation.
To reflect Sipsmith's 'old meets new' appeal we reimagined an opulent gin palace for a new generation of gin drinkers that, although resplendent with Victorian iconography, feels thoroughly contemporary thanks to cutting-edge design notes.
Solution
Sipsmith Gin Palace
A distinct, ownable and premium festival presence inspired by the gin palaces of the 1820s. Debuting at Tom Kerridge's 'Pub in the Park' festival in Marlow, with a focus on food and experience festivals, the activation ran across 14 UK festivals and events in Bath, London, Tunbridge Wells and Port Eliot as well as Wilderness and The Big Feastival. Designed to accommodate up to 120 people at a time, the palace was housed in an elegant yurt-based structure, steeped in Sipsmith's signature aesthetic. To reinforce the brand's modern retro appeal, the design saw premium mirrored fascia bars surrounded by luxurious Victorian touches. Once inside the palace, festival-goers revelled in a raucous jazz party, enjoyed bespoke cocktails and sampling, and were able to join 'The Art of the Martini' and 'Shake Up' masterclasses.
2000

Masterclass Attendees

105k

Drinks Served

20k

London Cup Samples

192

Gin Flight Attendees
Brand Experience Agency of the Decade