World's Smallest Phone Launch
Amplify + Google create the Worlds Smallest phone launch...
Challenge
Reimagine an experiential and personalised press launch experience to showcase the latest Google Pixel 4a and hardware products to an audience of national press.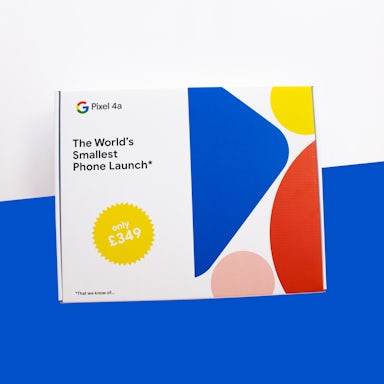 With lockdown restrictions in place...
...we had to come up with a concept that would break the monotony of digital experience to entertain and get the attention of the media.
Strategy
We looked at all the key beats of a traditional phone launch and then reimagined them as a phone launch in isolation, adapting the experience to match the moment. Unlike a typical press event, this one needed to be the most fun a journalist could have while working from home.
Isolation launch show: Without being able to create presentation content, we created a moment of experience to show you the key features.
Do: Without interactive sets for you to explore, we created the cues that make trying the new key features super simple.
Review: Without the party in the room, we provided the mini treats that bring the celebration of a phone launch to wherever you are.
The World's Smallest Phone Launch
A unique press onboarding – The World's Smallest Phone Launch was an essential kit of 'less' to tell the press everything they needed to know about Pixel 4a.
100+

Google superfan competition winners

100+

press and tech influencers

4.3M

views via one tech influencer alone
Brand Experience Agency of the Decade