Google Pixel 6 Launch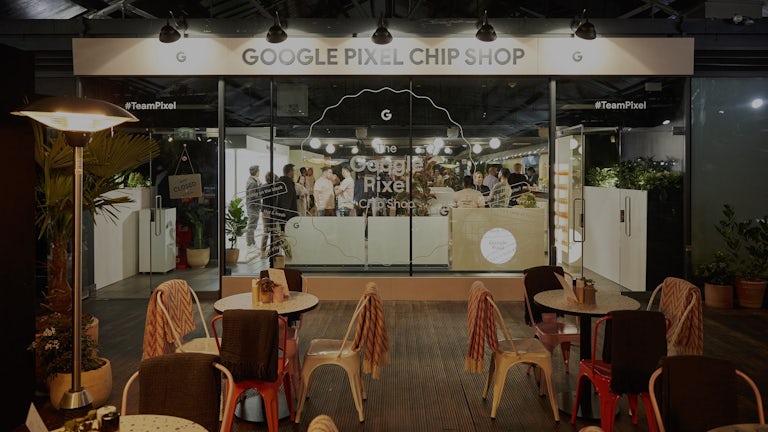 Amplify + Google launch Pixel 6 at the first IRL event for #TeamPixel in almost 2 years...
Challenge
Amplify and Google created Curiosity Rooms to make the everyday more extraordinary, with an ambitious series of 36 events programmed over five weeks. Within this timespan, we were challenged to create stand-alone events that would tap into one of our audience of 'future bosses' key passion points, food, fashion and tech.
Insight + Strategy
Powered by Google's very own Tensor Chip the Google Pixel 6's feature set is truly groundbreaking. From its new advanced camera system with Magic Eraser and Real Tone, to Live Translate and 24 hour battery life, Pixel 6 is the best of Google, built around you.
When you have so much to explore in a new device, having first hand access to Googlers to show you the power of your new Pixel as well as opportunities to try it for yourself are key to unlocking its potential. Especially after the experience of the pandemic, we needed to create a moment where #TeamPixel could come together to celebrate and rediscover the possibilities of Google Pixel.
Curate an experience that brought Pixel 6's features, as well as the chip that makes it all possible, to life in ways that would surprise and delight #TeamPixel. Provide hands-on moments with their new devices that would inspire them to discover its potential, capturing and sharing their experience along the way. Weaving in moments of celebration, entertainment and one-to-one access to Googlers, the experience needed to bring #TeamPixel back together again to rediscover their passion for Pixel.
Solution
The Google Pixel Chip Shop
The Google Pixel Chip Shop reimagined the quintessential British chippy as an immersive playground where #TeamPixel could discover the Google Pixel 6's amazing potential. Heroing some of the device's standout features, including Magic Eraser, Real Tone, 24 Hour adaptive battery and Live Translate, each was turned into an interactive experience designed to showcase the device and encourage content capture. Over the course of the evening, #TeamPixel explored everything Pixel 6 has to offer, got expert advice from our Googlers and enjoyed performances by rising YouTube Music star Tamera, all with a poke of chips in hand.
1.2M

estimate #TeamPixel reach

5 weeks

from brief to live date

100

posts from #TeamPixel
Brand Experience Agency of the Decade