 E3 Launch
Amplify bring Rebellion to the world's biggest gaming show...
Challenge
Amplify were challenged to bring Oxford-based games developer Rebellion State-side and create a press room which stood out from the crowd.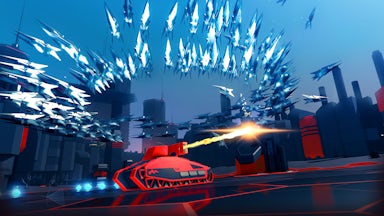 Insight + Strategy
Everyone whose anyone descends upon the LA Convention Centre to hero the latest games in front of the world's gaming press – we knew we needed to have an edge.
Create an exciting and engaging space where press could intimately get to grips with Rebellion's upcoming venture into the world of VR – a stylised and dynamic virtual tank warfare game, Battlezone, as well as acclaimed upcoming shooter Sniper Elite 4.
Solution
Rebellion E3
Amplify created a space tailored made to represent both the Rebellion brand and hero the individual tone and technical requirements of their gaming releases. We also reflected on the needs of journalists, bringing power-bank coffee tables and step-and-repeat branded interview spaces, as well as soft brand touch-points and key artwork framed and displayed around the room.
The Press Room was not only the ideal space to gain private coverage and developer interviews, but also a comfortable press hub to wind down between a hectic schedule of conferences and the bustle of the show floor, with beers served in the afternoon.
Brand Experience Agency of the Decade