Kingfomarket 2022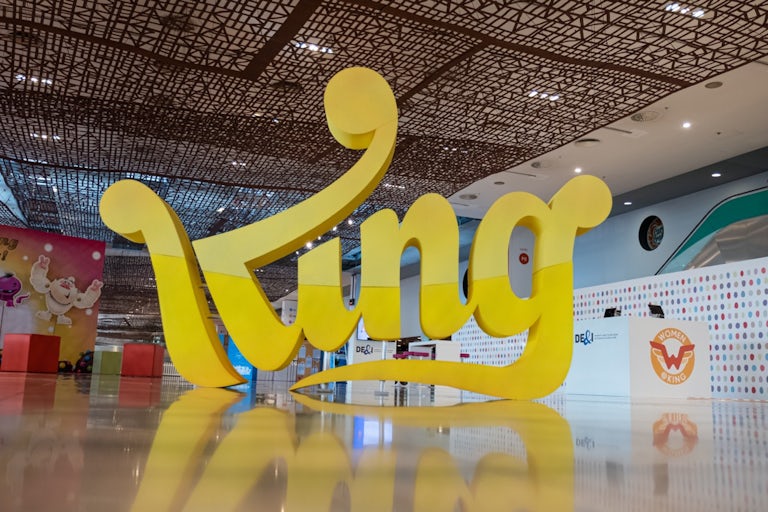 Amplify + King make the world playful...
Challenge
A mainstay in the calendar of every 'KINGster', KingfoMarket is a much-needed opportunity for the global team to come together to connect, celebrate and inspire each other through play.
However, the KingfoMarket paused when the pandemic hit.
Following an unprecedented period of isolation, 'KINGsters' needed connection and positive interaction like never before. Without a unifying moment for 'KINGsters', we needed to find a way to breathe new life into the team, bringing them together to press reset and rediscover the joy of play.
King believes in the positive impact play can have on our lives. Play connects, rejuvenates and inspires people of all ages. But, whilst play is at the heart of everything that King does, we needed to harness its power to re-unite and re-inspire 'KINGsters' everywhere, which was no mean feat when many 'KINGsters' hadn't come together to play for over two years.
How do we create an experience that celebrates the power of play?
Strategy
We distilled the King brand values and mission into a unifying concept and rallying call for the experience with our strategic red thread; 'Making the world playful'. By applying the same approach King takes to its games and products, we designed the experience to inspire the team about the company's vision while simultaneously immersing them in the benefits of play.
Making the world playful.
The brand experience celebrated 'KINGsters' old and new and encouraged networking, sharing knowledge, and ultimately, play. We built the experience around three core principles; every touchpoint became an opportunity to connect, discover and have fun,
A PLAYFUL WELCOME:
The event opened with a high-energy drumming performance, setting the tone for two intense days of play.
Incredible guest speakers from Hollywood A-listers, Olympians, DE&I thought leaders and radical futurists kept 'Kingsters' inspired. Guest speaker Larry Kasanoff CEO of Threshold Entertainment Group and creator of the Star Trek and Star Wars franchises as well as Mortal Kombat and Bobbleheads. Larry has built his empire on the foundations of playful innovation, so there was no better person to deliver the closing speech.
THE WORKSHOPS:
15 interactive content sessions brought the content principles to life. The sessions mixed up 'KINGsters' cross-functionally and allowed them to tap into each other's skill sets to ensure they're aware of the value of the 'Kingdom's diverse landscape.
'Making'
'Making' sessions educated 'Kingsters' on game technology's craft, experimentation and innovation. In these sessions, 'Kingsters' learnt the who, what and how of making games to stay ahead of the curve. We programmed workshops with game makers, designers and developers to ensure that 'Making' was the core focus.
'The World'
'World' sessions focused on gaining a deeper understanding of the world outside KING and even outside games.
'Playful'
'Playful' sessions focused on giving a voice to 'Kingsters'. Sessions connected teams, and had fun along the way.
A PLAYFUL GOODBYE:
KING couldn't sign out without a big song and dance.
'Kingsters' relished in their own whole-character, and leant into the amazing world of characters KING has built. They came dressed full of character and colour to celebrate their individuality. The highlight was live performances from DJ Cuki D'Light, Rudimental and many activities for 'Kingsters' to enjoy after two amazing days of learning, networking and play.
Brand Experience Agency of the Decade