Nikefoundation: The Girl Effect
Amplify help the Nike Foundation give young girls a voice...
Challenge
Amplify were challenged by Nike Foundation and the Girl Effect to help influence international development policy.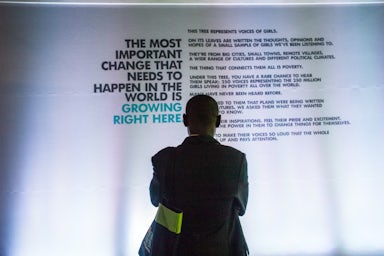 Insight + Strategy
There are 250 million impoverished, adolescent girls across the world and these girls' voices are the least likely to be heard. We know an individual story can be a powerful thing, so if they could tell their stories, an impact was more likely to be made. We needed to bring the stories of these girls to life in a single instance and leveraging that effect by sharing it with the people who have the most influence to improve conditions.
Solution
The Girl Tree
An installation 7 metres across, installed at The Women Deliver Conference in Kuala Lumpur to represent the Girl Declaration, a call to action to put girls at the heart of the development agenda.
250 girls' voices and wishes were recorded from seven developing countries, amplified by specially created video content. Each message shared their hopes and aspirations – providing a powerful experience, compelling delegates to take action and endorse the Girl Declaration.
Brand Experience Agency of the Decade