CES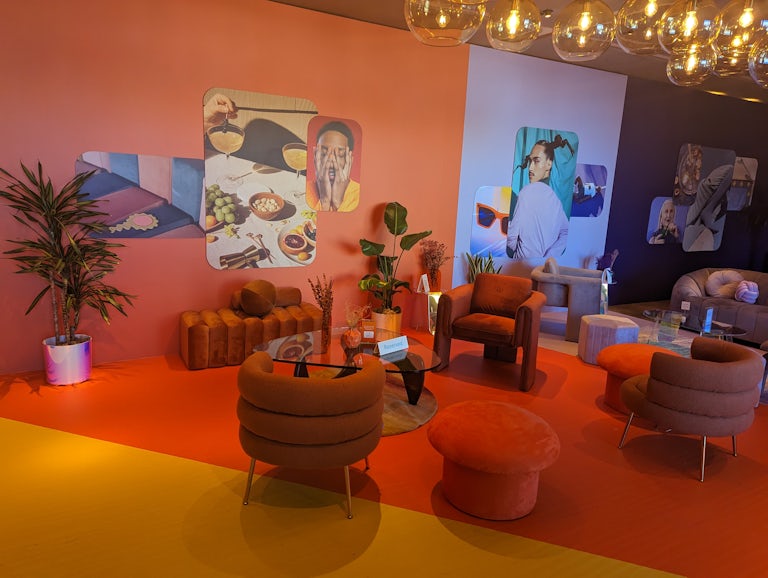 Amplify + Pinterest create a space at CES for Pinterest to engage partners and showcase the power of Pinterest Predicts...
Challenge
As CES returned to center stage in Las Vegas, Pinterest wanted to create a space that showcased their Predicts tools to advertisers and brand partners.
Insight + Strategy
Pinterest is a unique kind of platform. It's an inclusive, nourishing, safe space on the internet for consumers, creators and brands with an abundance of inspiration. But Pinterest is also a place where people go to plan their life, and as such is a key trend prediction tool for brands and advertisers, allowing them to engage with future trends in a way that no other platform can offer.
We needed to effectively engage partners and potential advertisers of Pinterest giving them an exclusive window into the future through Pinterest Predicts.
Solution
Pinterest Predicts @ CES
Amplify created an immersive calming haven away from the mania of CES that invites brand and agency partners to step into the future and discover the incredible power of Pinterest Predicts. With our guests being able to grab a bite to eat, book a meeting room, or simply come and hang out, the space provided a window into the world of Pinterest.
To mirror a consumer's journey on Pinterest, we created a space that allowed our guests to discover the world of Predicts as they stepped through into our space, grab a bite to eat and relax in our colour inspired lounges.
We wanted to inspire them through the design and textural scenic elements of the space. From the colour coordinated lounge areas, to our key messaging board, the entire space was tailored to inspire our guests to the world of Pinterest.
Finally we wanted our guests to take action by inviting them to take part in a workshop with our hero creator, Kerin Rose Gold. From sunglasses to keyrings, we inspired our guests to customise their own swag with different jewels. From the shards of color, to the love of mirror balls, we channelled Kerin Rose Gold's vibe into the workshop space in a Pinterest way.
In addition to the space we created three key bookable trend led meeting rooms. From the world of Mushrooms, to the elegant world of paper passing through a beautiful world of fringes. Our three rooms brought to life three of 2023's key trends, giving brands and advertisers an engaging and experience-led space, bringing to life the colourful world of Pinterest.
The space also acted as a key space for Pinterest sales team to engage key partners, contacts and advertisers keen to understand more about Predicts and the future product roadmap of Pinterest.
3

days

1.5K+

Brand, Agency and Key Advertisers engaged
Brand Experience Agency of the Decade