Striking Angles
Amplify launch the latest SUV from Lexus, with the help of some lasers and will.i.am.
Challenge
In order to widen its reach to affluent and style-conscious millennials, Lexus needed to broaden the way they were engaging the audience. Amplify were challenged to launch Lexus' latest SUV, simultaneously exciting and educating this younger audience about the brand.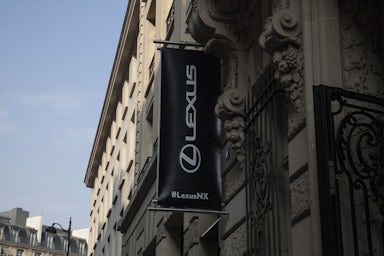 Insight + Strategy
Lexus has built a stronghold with an affluent but more mature, European audience. In order to target millennials, they wanted to be as bold in their marketing approach as they were in the design of the Lexus NX.
Extend the concept 'Striking Angles', the inspiration behind the NX's bold design, throughout the campaign, with the aim of getting consumers to look and engage with Lexus differently.
Solution
will.i.am presents Striking Angles
Amplify firstly placed the car into a new context by leveraging a multi-levelled collaboration with global icon will.i.am, who designed a bespoke version of the Lexus NX. Test drives with Oculus Rift and giant installations by Hellicar and Lewis also heightened a moment designed to create stories for European and lifestyle press, for which we put a complete media infrastructure in place.
Secondly, we brought the event to Paris Fashion Week to innovate a week ahead of the more traditional Paris Motor Show. With 650 media, fans and VIPs in attendance, we treated the reveal like a music video. will.i.am spoke to the audience about the collaboration and his vision for the design, before performing live.
Finally, the 'Striking Angles' theme was continued by creating a multi-faceted experience in three parts, throughout one night. We went into after-party mode with a stunning 3D VJ set by Novak, featuring a huge stage set-up, with bespoke visuals and triggering sound, lighting and lasers.
200

journalists attended from key titles including Esquire, Grazia, Vanity Fair, Mens Health and The Sun

149M

Twitter impressions

15

markets with media attendance
Brand Experience Agency of the Decade