Sneaker Clash
Amplify get colourful with Converse...
Challenge
Amplify were challenged with transforming a grey world through the power of Converse colour.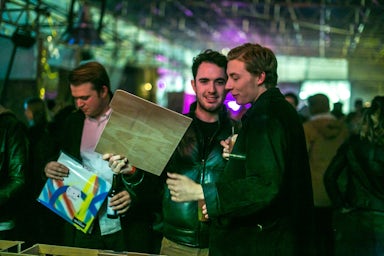 Insight
Converse is committed to changing the world through creativity – and bringing young, creative men along for the ride.
Strategy
A global approach, to build communities with creatives, and set colour and Converse at the heart of cities.
230

Influencers + media attended

61K

engagement on Facebook + Instagram

1.6M

online impressions
Sneaker Clash
Amplify created a global response, from London, to Berlin and Austin.
UK: Artists Remi/Rough and System X were commissioned to clash colour at the derelict Old Vinyl Factory, the former home of EMI Records, to create London's largest mural. 230 VIPs, influencers and media were invited to a launch party in a bespoke industrial-themed temporary venue, featuring sets from New York label DFA as well as a vinyl 'clash box' that guests could create bespoke record sleeves. to continue the colour clash, six student art collectives battled each other at grey sites across London.
Germany: In Berlin we transformed fans' personal photos into pieces of colourful artwork by letting 12 artists clash their individual styles on top to create over 190 completely original and personalised pieces of art.
US: We let festival goers at SXSW get hands on at #CHUCKHACK. We gave away 652 pairs of pristine white canvas Chucks, customised during a series of bespoke workshops run by artists, including the godfather of graffiti - Futura. #CHUCKHACK had queues around the block and became one of the most talked about activations at the festival.
Brand Experience Agency of the Decade