F8
Sharing Facebook's vision with the world…
Challenge
Work with Facebook to develop their global event vision guidelines and then bring this new vision to life at their biggest annual event – F8. This included designing the keynote stage and festival experience for the two-day developer conference at the San José.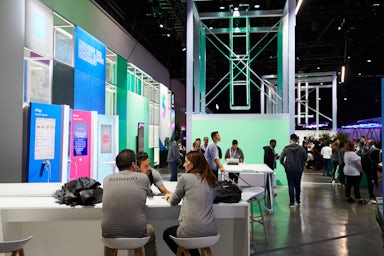 Insights + Strategy
Facebook's mission is to bring the world closer by making it more open and connected. They do this by creating communities both online and offline.
Consumers and developers are moving predominantly into consuming content in portrait/mobile mode, yet all keynote presentations and broadcasts continue to focus entirely on standard landscape approaches.
Working with specialist build partner FGPG and tech partner FN Tech over several years, we created a series of mobile-first, dynamic approaches to the keynote stage, providing differing canvases for speakers. In parallel, we created a festival hall space that encouraged conversation between developers and Facebook's products and services, including Instagram, Oculus, Messenger and Workplace.
Solution
F8 Keynote
Every year, we looked to created a never-before-seen approach to the keynote canvas using elements like flexibility and movement, whilst ensuring each speaker had a fluid, ever changing way of presenting their content to a physical and digital audience of millions.
Festival Hall
Amplify designed a festival space that promoted sociability, whilst placing Facebook's key products and services into those conversations, so developers and products could meet seamlessly, in context. Developers could explore these offerings whilst also engaging in conversations with Facebook and their own peers.
Partner Brands
A core central element tied the space together, this varied every year from a social cafe to a world first art installation. This provided the social core of the festival hall and from there, different areas radiated around the space allowing exploration of Oculus, Instagram, Messenger, Spaces and more of Facebook's key products and services, optimizing areas to gather and relax.
Brand Experience Agency of the Decade