4DFWD Retail Toolkit
Amplify + Adidas responded to the high expectations of a tech-first audience, providing dynamic credible retail experiences which mirror the advanced design of the 4DFWD product...
Challenge
Heineken tasked Amplify with crafting a global brand experience to launch Heineken Silver. Aimed at Gen-Z, a target audience that notoriously doesn't drink beer, the multi-market activation needed to drive PR and hype for this category-defining product launch.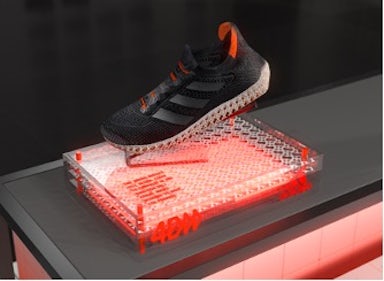 Insight
In today's world, very little feels within our control. With so much working against us, progress can feel harder than ever. Leaving most of us feeling emotionally and physically stuck, yearning for life to move forward.
In running this is the same. Regardless of level or experience, progress is hard, and the feeling of progressing even harder.
Progress though is what motivates us and keeps us going, in life and in sport / running.
Strategy
The running community strives for a sense of progress, seeking game-changing technological benefits and innovation to take them forward.
4DFWD retail needed to respond to these high standards expectations of a tech-first audience, providing credible experiences which mirrored the advanced design of the product.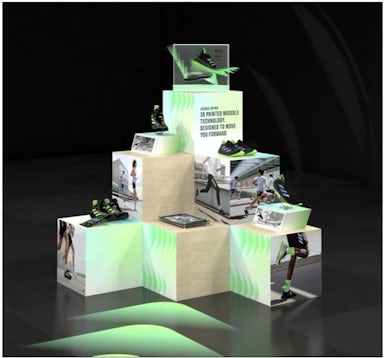 The Idea
The retail design connected adidas 4DFWD with audiences in two ways; rationally and emotionally.
Rationally, we championed the adidas 4DFWD midsole innovation, illustrating the technology and its benefits by taking people on an intuitive journey.
Emotionally, the design offered a tantalising taste of progress by turning retail stores into running community hubs and retail touch points into motivational platforms.
TAKE IT FORWARD.
We wanted runners in retail to soak up the feeling of progress with every step they took in store.
The environment was designed to bring to life the forward motion benefit of the adidas 4DFWD shoe - capturing motion in the moment through dynamic displays with angled finishes that reacted to movement, and dramatic, fast-paced video textures that created a visual link to the product benefit (forward motion) while a scientific testing aesthetic linked to the digital design of the shoe.
The retail experience started with vibrant reactive windows that instantly caught the consumers eye whilst educating them on the unique compression movement of the adidas 4DFWD midsole.
This visual journey continued in store through intuitive physical builds featuring pulsating neon arrows, gameified experiences that revolved around rewarding members and staff + consumer activations designed to appeal to different kinds of runners and help athletes of all levels to take it even further forward.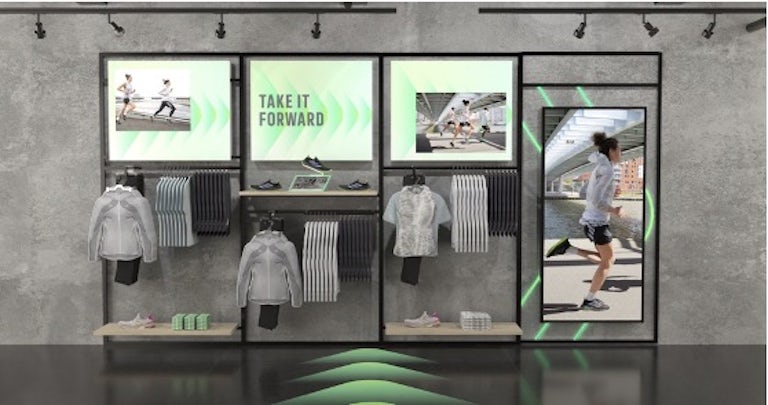 Brand Experience Agency of the Decade