Renew Labs Fitzroy
Amplify + Converse inspires consumers to extend the life of their sneakers through creativity.
Challenge
Amplify was challenged with the design, build and programming of the first permanent Converse Renew Labs in the world.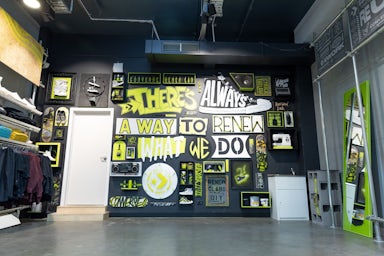 Insight + Strategy
On average, every person discards an average of 32 kgs of clothes and shoes each year, and almost 85% of this waste goes directly into landfills where it accounts for almost 10% of the landfill space. Converse believes that by repairing and refreshing shoes, we can show our commitment to change and align to the values of younger generations.

A 2020 study by Converse global found that of their consumers interviewed:

90% believe it is up to brands to address environmental issues.
65% believe that brands are better positioned to create change than governments.
88% say that they would like to work with brands to help them become more sustainable.
Direct interaction with brands and their products is essential to connecting with Converse Australia's audience. Young Australians aren't at the point at which they all want experiences over material things, but they do want a certain amount of ceremony around their decision-making to purchase journey. More than just a product or service, they want a story to tell and content to share - they want a reason to come together, to feel connected to each other, their global community and the brands that represent them.
Develop a collaborative space for customers and creatives to contribute to Converse's mission directly, allowing them to be a part of the solution and strengthening the brand's relationship with its consumers. Ensure the aesthetic of the space communicates the Renew Labs philosophy by utilising sustainable materials, methods and partners across all aspects of the design and build.
Solution
Renew Labs Fitzroy
Converse Renew Labs, Fitzroy is an experimental retail experience built on the idea that there is always a way to renew what we do. Through a test and learn approach and a variety of touchpoints, the store demonstrates how creativity, co-creation and inclusive ideation lead to a more sustainable future for the world.
This first-of-its-kind concept store in the heart of Melbourne is a centre for self-expression that hosts intimate creative workshops, engaging consumers to customise their Chucks with patches, embroidery and eco-friendly dyes, alongside opportunities to refresh with cleaning, repair and renew services.
Centred around the Converse Renew product range and a business model that's purpose is to extend the life of Converse products, Renew Labs challenges the status quo. Building on the brand's circular design principle that guides Renew products: 'Each shoe leads the next in reducing its impact on the planet'.
The experimental space embodies a shift in the way to think, plan, operate, and adapt to changes in retail. Converse All Stars, Converse's global community of creatives that drive progress through grassroots initiatives, will play an ongoing and active part in the Renew Labs journey as we collectively test, and learn to create positive change.
Artists and contributors including Tamara Leacock, Joshua Space, Callum Preston, Precious Plastics and TreadLightly used their mediums to transform the store. As a purpose driven initiative, the opening in Fitzroy was a symbolic choice - a space to come together for environmental specialists, All Stars, and consumers who share a unified vision.
In construction of the store, Amplify utilised locally sourced materials that were upcycled, recycled, or repurposed, many of which were found in Converse's warehouse and office spaces. Local creative Joshua Space installed planters crafted from 100% recycled post-consumer plastic waste, whilst Callum Preston channelled his understanding of youth culture and street art, to create a mix-medium feature wall, entirely from reclaimed materials and objects, that doubles as a display unit for Converse Renew products. Precious Plastics developed alternative machines and technologies for breaking down waste. The construction of the shoe shelves in Renew Labs has inspired a permanent change in the way footwear will be displayed in Converse stores throughout Australia.
Converse Renew Labs, Fitzroy was designed to be a perpetual work in progress, with learnings informing positive changes to the store and the development of future Renew Labs stores around the world.
Brand Experience Agency of the Decade