Front Left
Amplify + Spotify give the Indie Mixtape a live identity…
Challenge:
Amplify were challenged to transform Spotify's Indie Mixtape from a playlist to a live music platform and champion Australian artists.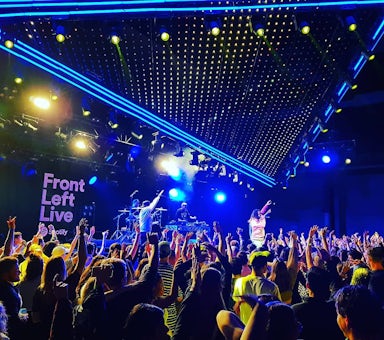 Insight + Strategy
The Indie Mixtape contains many different genres and subcultures. This allows audiences to discover a variety of new music. However, this also means it has no specific cultural identity.
We needed to give the Indie Mixtape an identity based on a unifying factor: live music. Use the vernacular of the gig experience to "meet you front left of the stage" and unify the ideas and genres together. Show that Spotify is the facilitator that brings people closer to ALL the music they love from the platform by bringing it to the live gig/festival experience.
Solution
A free live music event in the iconic Carriageworks venue, for 1,000 people featuring a diverse group of artists (established and up and coming) including: King Princess, Cosmo's Midnight, Baker Boy, Hatchie, CXLOE and Kota Banks & Dallas Woods.
We worked with Spotify to help them become a culture brand by transforming a virtual playlist into a physical brand experience celebrating an eclectic mix of genres and artists from homegrown to international talent.
A lighting rig, that took inspiration from the Spotify "play" button, doubled as both a stunning, instantly recognisable design feature and a functional, necessary part of the stage and performance setup.
1000

Attendees

17.6m

Reached

33

PR pieces produced

40+

Social posts from artists
Brand Experience Agency of the Decade