Designed To Shine
Amplify + Canva empowers Sydney Mardi Gras to shine...
Challenge
Canva has always proudly supported the LGBTQIA+ community internally and, in 2022, kicked off a three year partnership with Sydney Gay and Lesbian Mardi Gras. Amplify was tasked to develop a creative platform that connects Canva to Pride and Mardi Gras–then bring the platform to life across the parade, Fair Day and OOH placements to raise brand awareness and drive usage of the platform throughout the period.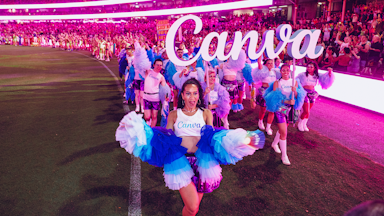 Insight + Strategy
Design and creativity have been integral to Sydney Mardi Gras since the beginning. With historical roots in protesting, Sydney Mardi Gras has featured eclectic poster designs and creative performances which evoke the values and experiences of the Australian LGBTQIA+ community. This ethos still rings true today as the Sydney Mardi Gras continues to be a celebrated space for self-expression and connection.
Amplify partnered directly with some of the LGBTQIA+ community's best creatives to deliver authentic, collaborative experiences that celebrate Canva as the world's most inclusive visual communications platform and showcase how its 500,000+ templates empower people to express ideas and unleash their creativity.
Solution
Designed to Shine
The creative platform "Designed to Shine" is a vehicle for self-expression that demonstrates Canva's belief in the transformative power of design for everyone, by empowering people to express their pride and support throughout Mardi Gras.
At Fair Day, the Canva Drag & Drop Studio, named to reference Canva's easy-to-use interface, invited festival goers to "shine" by getting creative with curating and capturing looks. Drag Queen Karen from Finance and Jack from House of Silky welcomed guests into the studio where they were treated to a glow up, a range of accessories, from ruffle sleeves to wigs, and the chance to have their picture taken.
987

Drag & Drop Studio attendees

3200

branded fans distributed

333%

Increase in LGBQTIA+ template usage on Canva
For the Parade, 40 Canva employees joined more than 5,800 marchers for the first time ever for a performance dedicated to self expression. Taking place at Sydney Cricket Ground, members of House of Slé Eliam Royalness and Taimania Foa'i choreographed a vogue routine to perform during the 45 second performance period and while Drag Queen Domino Trixx and performance artist Brendan de la Hay hyped up the crowd with a freestyle performance. The parade costumes had extra flair, provided by Brendan who is also a talented fashion and costume designer.
Finally an OOH campaign focused on diversity, inclusivity ran for four weeks across transport sites, billboards and digital screens around the city.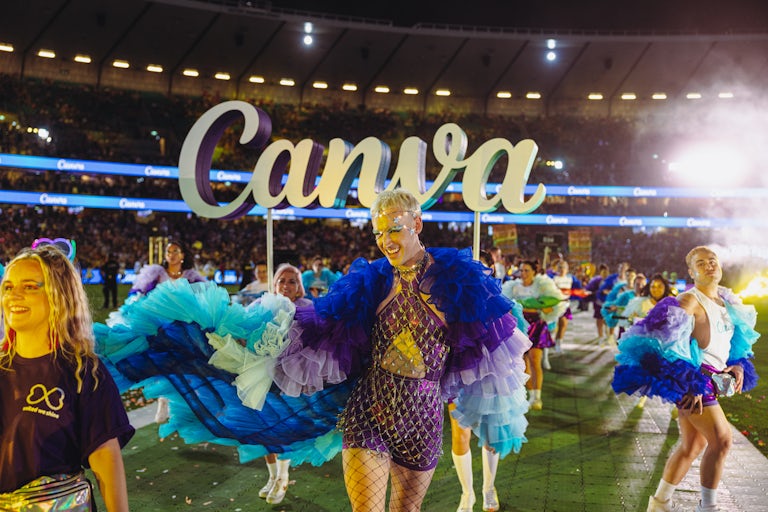 Brand Experience Agency of the Decade