Advertising Week APAC
Amplify + Google launch inaugural headline sponsorship of Advertising Week APAC...
Challenge
Amplify were challenged to showcase Sydney to Googlers from APAC attending a 3 day conference.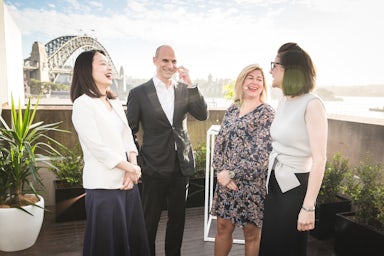 Insight + Strategy
Conferences are hard work and the daily schedule can be rigorous. But what the guests really want is to enjoy, experience and learn about their host city too. It is a chance to explore the culture, food and landscape of a new place.
Showcase the best of Sydney and integrate Australian culture into each event. At the same time keep some focus on the product by infusing highlights from various Hardware campaigns throughout the schedule.
Solution
Google Advertising Week APAC.
Google Hardware introduced Sydney to the APAC attendees with a uniquely Australian experience. As well as managing the production, creative and logistics of the 3 day conference for 150-200 attendees, we also managed food, breakouts and activities.
Attendees were treated to a curated Australian themed menu at Google HQ and officially greeted with a Welcome to Country ceremony to open the conference. A photo backdrop consisting of a low light art installation brought to life Pixel Night Sight at the Awards Dinner held at the Art Gallery of NSW.
To see the sights, the Googlers were invited to a luxury yacht sunset cruise around Sydney Harbour with photo opportunities of our iconic skyscape.
In order to take a flavour of Australia away with them, they were given curated gift bags which included a framed photograph by local Bondi photographer and Pixel influencer Uge Tan (shot on Pixel 3) along with a variety of sweet and savoury Australian treats.
150

people each day

200

person welcome dinner

80

women at the Women in Hardware breakfast
Brand Experience Agency of the Decade