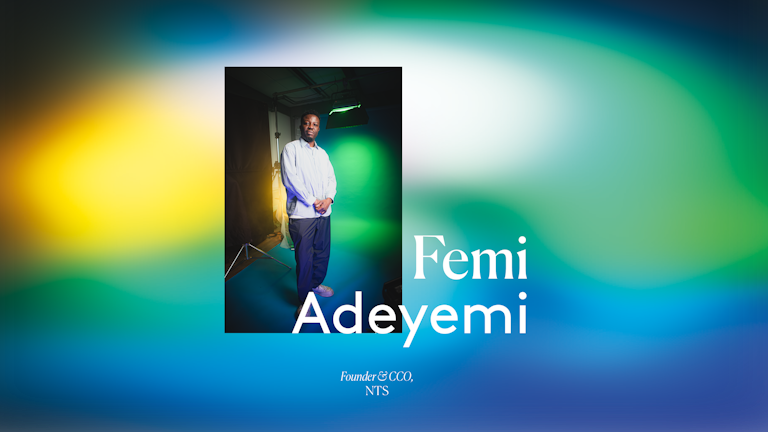 How does a good day begin for you?
A perfectly brewed coffee, a solid gym session,a hearty breakfast, perhaps?
Words by Seun Areoye,
Trends Editor, Amplify.
Whilst all of these outcomes are subject to many-a-variable, there's a consistent way that music lovers worldwide are beginning their mornings: by tuning into NTS. Whether you're a casual listener in Tokyo, or a daily discorder in Montreal, the platform - founded by Femi Adeyemi - serves as a 24-hour, seven days a week companion fuelling discovery and fandom in equal measure.
Learning on the job
Simply a disgruntled music fan, I decided to make a change. When I say I actually listen to everything I truly mean it. So when I saw that I, like so many other talented musicians, weren't getting the airtime they deserved, I built a platform for those who just couldn't make it onto the mainstream airwaves.
Now, as someone who didn't have above-average technical skills, building a radio station was a challenge. But I realised if I leaned on my friends, my passion, and some good old posters stuck around London, I could build something that not only I needed but so many others needed too.
It wasn't easy to begin with, but I understood why I was doing it. With £3,000 and a dream, I began renting an empty studio in (pre-gentrification) Dalston, put out some flyers, and before I knew it, I had 50 or 60 people who wanted to take space on our programme. Whilst I had started this for slightly selfish reasons, before I could really understand what was happening, all of these signups proved to me that this thing I was building had legs.
By any means
I started in Hackney, not only because it was cheap (that is not a typo, this was over a decade ago) but it already had the essence I was trying to capture. Everyone was
hustling. Whether it was the barber next door, or the butcher across the road, there was no way anybody was not going to succeed, so I felt like I was in good company. Additionally, it was reflective of everything I was trying to create: a hub of diverse sounds, with a multitude of layers and stories that could connect with absolutely anybody. So the foundations were already there.
Whilst the pirate radio model of charging for a space on the platform was working just fine, it just wasn't enough to keep the lights on. I didn't need that whole office space, so I sub-letted the rest of it and kept a tiny corner with desks just to keep the dream alive. As well as having this radio station, I had to become this office manager, ensuring that I was there at 7am every morning to open up, even if I'd been out until 5am ...

I'll tell you a funny story just to show you how seriously I took the hustle. It's 2018, and we've got a stage at Notting Hill Carnival. If you've ever been, you'll know that trying to stream anything from a place packed with millions of people, with a complete reception blackout, is pretty much impossible. But where there's a will, there's a way. My partner Sean and I went to a flat across the street from our stage and simply asked if we could pay to use their internet. They agreed so we bought a 100m long ethernet cable and streamed directly, using wired connections in the place where the only connection you could get was with the person you might end up dancing with.
And there's no place like home, all these years later, we're still here, right in the same studio it all started - although we have multiple homes now.
The music comes first
There's only one way to define our fanbase. Not by age, location, occupation. Simply put, our fanbase is obsessed with music. Where we have people from every corner of the world tuning in, the thing that bonds them together is the music. Nothing else. There's a big, shared energy that is born from the urge to dig deeper, to learn, to share, to boast about the artists and the music you know that nobody else in your circle does.
And we've got here by following a simple rule: there are no rules (cliché I know). But there really aren't. When we invite individuals onto our airwaves, they play whatever they want. It's the foundation of discovery because we all have that secret weapon that we know will turn a passive listener to one that's locked in, that'll have them reaching for Shazam before we transition to the next track.
When you have a fanbase as dedicated to something as ours, it's inevitable that people and brands will want to endorse that, share it and ultimately be a part of it.
Building communities through collaboration
I've always placed importance on the need to be present physically, although we're an online radio station. Whilst we've got a community of people we'll never be able to physically meet, it's nice to think they know where to find us.
Aside from the 600+ DJs that are part of the NTS family, there are many brands we've collaborated with, celebrating the wealth and strength of our community. It all started with Carhartt, who approached us three months after we launched. They understood, even then, what we were creating. Twelve years down the line, we're still working together, exchanging ideas. We work with all sorts of brands, gaming brands, alcohol brands, clothing brands. If a brand wants to speak to the obsessive music lover, they know exactly where they can find them. Whether it's simply a radio show, merch or an event, every time we collaborate with brands it's an open con- versation – never us being instructed. We want to ensure that everything we do reflects well on our solid audience because, remember, the music comes first.
The future is bright
I found an old notepad of mine from 2011. I've done a lot but at least 12 of those ideas haven't been done, so the job is far from finished. There's a bigger world out there
and I can't wait to get lost in it.
That's why I started all this, in pursuit of discovering everything that's unknown to me – it always makes for a great story. Everything I do distils down to understanding the story. Whether I'm playing Final Fantasy VII in my spare time or building out our offering as a record label, the process is the prize – the gift that keeps on giving.
Keep reading whilst I write new chapters.
Explore Femi Adeyemi's World
.
Brand Experience Agency of the Decade