Wednesday: cultural phenomenon or creative red flag?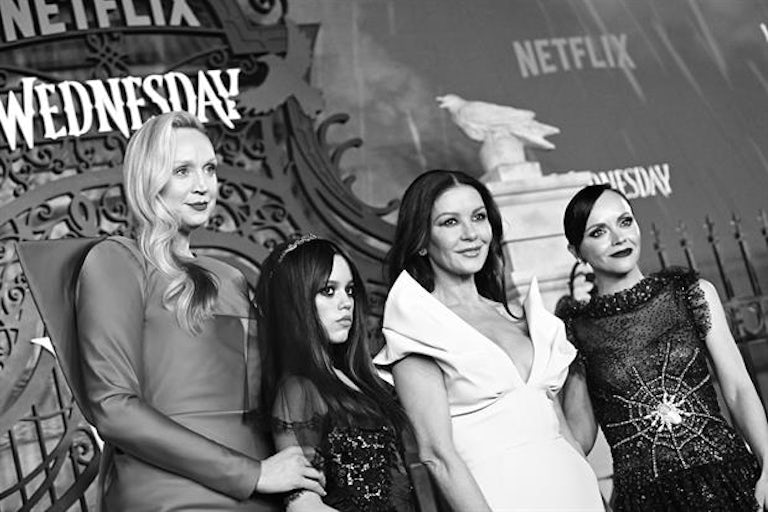 Why we should all be wary of the current Netflix content model, and not just because of an imminent goth revival...
Published by: Campaign
Written by: Alex, Wilson
Date: 25/01/2023
In early January, Netflix dropped the season two announcement for its surprise smash Wednesday to the TikTok trend track a remix of Lady Gaga's Bloody Mary.
A track made famous not by the show itself, but by the viral dance sensation that has catapulted the show's cult status into the stratosphere.
Even Lady Gaga has got in on the act, with her tribute accruing more than 13 million views.
Star of Wednesday, Jenna Ortega, has explained on the promo circuit that the dance was conceived more or less on the spot, which only adds to the charm and story behind its viral success.
The "Oh my goth" aesthetic trend (accurately identified by Pinterest last year), has led to a whole new generation being exposed to goth fashion.
There is no doubt that the fashion and dance phenomenon has contributed to the show surpassing more than a billion hours-worth of views in its first three weeks, catapulting it to the second-most watched English-speaking show on Netflix, but there are also other ingredients at play.
Ingredients that could raise a red flag for those looking to create and consume original content in the future.
Netflix has a bit of a history of taking big wins like this and doubling down on what it thinks led to its success, hanging its marketing hat on similar-shaped content to strike while the iron is hot.
Streaming, it seems, is starting to follow some of the trends of the industry it sought to usurp with its very existence: the cinema.
Almost every blockbuster or tentpole release is a continuation of existing IP, whether that be sequel (Avatar: The Way of Water, Scream VI, John Wick: Chapter 4), cinematic universe expansion (Ant-Man and the Wasp: Quatumania, Guardians of the Galaxy Vol.3), adaptation (Dungeons & Dragons: Honor Among Thieves, Super Mario Bros) or live action remake (The Little Mermaid).
Getting original productions green-lit is broadly left more to the indie studios, such as A24 or Neon, with only a few leftfield risks taken by some of the larger corporations. Case in point: Cocaine Bear.
Streaming is an opportunity for creators and original programming to get a platform and audience; Apple TV has leaned into shows like Severance and limited series Blackbird. However, such monumental success for Wednesday, a show that focuses on what was essentially a supporting character in an ensemble cast, which made its debut on TV in 1964 on the ABC network in The Addams Family, may well encourage those algorithms and researchers to follow suit and focus on bringing stories to life for background or cult characters that may not warrant it.
Disney was guilty of this in 2022's T
he Book of Boba Fett
. A spin-off show about a character who, at best, "looked cool" in the original
Star Wars
trilogy and seemed to die in a pretty comedic and ungraceful way.
The show gave the character an overly serious and very competent nature that made little sense to the canon of the universe, and was written more to appeal to people who grew up imagining a far more credible character than actually existed in George Lucas' universe.
But for every Boba Fett there is an Andor. Considered to be one of the best shows of the year and certainly one of the best expansions of the Star Wars universe.
It landed with little hype, but Andor strove to say something. Mean something. It wasn't just a mass-produced piece of media featuring iconic characters guaranteed to pull an audience, like so many of the Disney shows. Instead, word of mouth grew and the genuine quality of the writing and performances won out.
Which brings us back to Wednesday. As a show, it's perfectly serviceable television. The involvement of Tim Burton and his long-time collaborator Danny Elfman certainly elevates the on-screen quality, along with a star turn by Jenna Ortega as the titular character.
But in truth, the cultural impact it has had through "the dance" and goth resurgence, helped by costume designer Colleen Atwood's pitch-perfect wardrobe choices, far outweighs the quality of the writing or impact of the narrative.
We shouldn't ignore nostalgia as the ongoing marketing tool it is: the 1990s Addams Family movies were fairly popular, so there was an existing millennial audience, the same that responded so well to Stranger Things and Top Gun: Maverick, as well as a new crop of fans captured by the aforementioned viral dance.

Type 'Wednesday' into YouTube and you get the Netflix own channel of said dance scene with 40 million views. Nothing of the themes, challenges, context of the show.
Nothing beyond a viral moment of impact, featuring a song that, much like Kate Bush's Running up that Hill, hit the top of the charts as a result of its association with the show.
Ultimately, season two will prove whether this character and story has narrative legs, and not just more of the same, striving to top "that dance scene" with another iconic moment. The hope is, though, that Netflix takes calculated risks on original IP, gives a platform to new talent and doesn't delve into the archives of cult favourites, finding forgotten characters to post rationalise a prequel or turn into a spin-off.

On a final note, Wednesday's ingredients don't guarantee success. The reimagining/alternative take on 1970s cartoon Scooby-Doo, part of the "Scoobiverse" if you will, is HBO Max's Velma, which is widely considered by critics and audiences alike to be "the most hated show on TV".
Mindy Kaling voices Velma in the character's origin story, which suggests she founded the Mystery Inc. However, it has received criticism for its tonal missteps, mean-spirited humour and, ultimately, a misunderstanding of the core of what the show meant in the first place.
If these characters and themes were perhaps applied to an original show, without relying on knowledge of the IP, perhaps it could have found some success.
Alex Wilson is executive creative director at Amplify.
To read the full article visit Campaign.
Brand Experience Agency of the Decade