 Translating 2D brands into a 3D world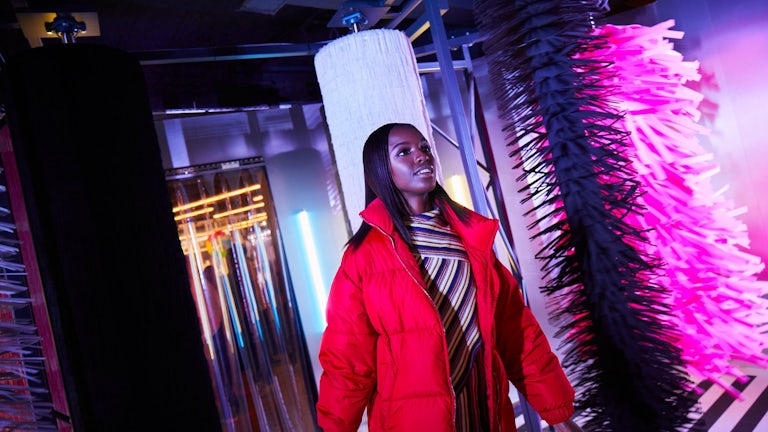 Jeavon Smith, Amplify's executive creative director, originally shared the insight below with Field Marketing's Brand X, 9th October 2018.
There's a creative review that we run in the Amplify studio where at a certain point on a project we lay out the experience and environmental design on a table, then systematically go through and remove all of the logos and brand marks in order to ask a simple question – do you still know it's them?
Reviewing creative through this lens isn't new, but we're finding that it's becoming more of a focal point in our critiques to gauge how the experience makes the audience feel, as we're often working with brands who don't naturally have a tangible, physical articulation in the real world.
Take Netflix. It has become so established in our daily lives that it now informs social behaviour, redefining the 'water-cooler moment' and the social influence of sharing the latest show with friends and new acquaintances alike. But how does the brand look and feel as an experience? What brings its library of outstanding content to life?
Likewise, how do giant brands like Facebook or Google live beyond the screens we typically engage with them on?
We're finding this is an increasingly important question for our clients as experience becomes one of, if not, the most valuable forms of social currency for our audiences. Louis Vuitton's new artistic director Virgil Abloh believes that 'Expressing wealth isn't the coolest thing right now. It's expressing your knowledge.' And, without a doubt, that social and cultural knowledge is shaped and defined by experience.
So, how do we look to craft experience brands and translate them from an often flat 2D world into a live experience context?
Define your architectural direction. From design that 'holds' the audience to encourage conversation and create a sense of community, through to playgrounds and landscapes that invite individual exploration, architectural language and material selections have a fundamental role in evoking key brand characteristics and sentiment.
Ensure your style has substance. Detailing and styling that creates a movement towards behaving like a lifestyle brand can soften and humanise interaction with a brand. However, aspirational Scandi-living (whilst beautiful) is now becoming a familiar go-to for tech brands and runs the risk of becoming experiential wallpaper. Instead, we look to think about creating spaces that overtly trigger emotional responses from our audiences and let them project their own memories on to the environments we design.
Shape the narrative. Experience design weaves a narrative out of the environment to craft a truly engaging story. Leveraging both tactile and technology-led moments enable the audience to leave their mark and embellish the experience. Once they have a feeling of ownership, they are far more likely to talk about it.
Make the moment unmissable. Intrinsically shareable moments become a seamless extension of our digital worlds. Populate them with social and cultural knowledge to drive engagement, and design them to be socially-native, so they can be captured in portrait for Insta Stories and Snapchat.
Make sure it lives beyond the space. We all remember 'that' moment from a particular gig or experience. Curate one key takeout that people will remember beyond a single moment in time and ensure it amplifies out into the wider world.
More than ever we need to craft great environmental and experience design to translate big ideas and brands into truly memorable live experiences. The reason? So that if there were no logos, you'd still know it's them.
Brand Experience Agency of the Decade