Review: Paris Games Week 2017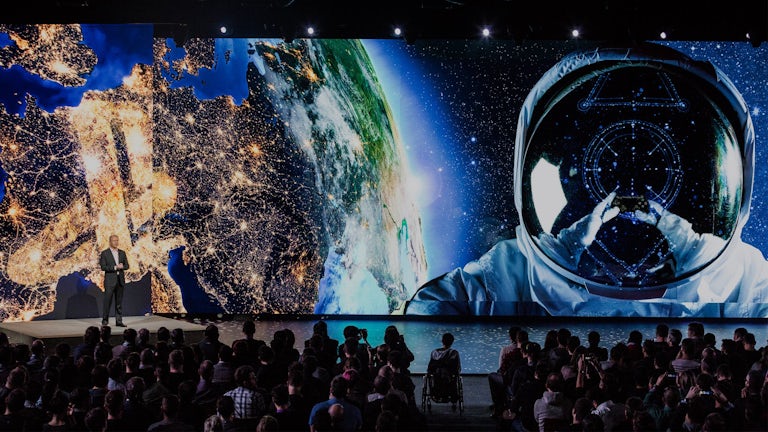 Paris Games Week takes place every year at Porte de Versailles, where over 300,000 people come together to experience the world's most talked about gaming products. Paris Games Week is one of the industry's biggest video game events to date, boasting over 60,000 square meters of exhibition space.
But, what makes Paris Games Week special is the noise and the overwhelming screams of avid gaming fans jumping from stage to stage as each booth fights mercilessly for their attention. Paris Games Week is more than just a show floor, it's the perfect hotspot for publishers to push to their new products.
PlayStation: Media Showcase
To kick things off early, PlayStation delivered their Media Showcase at the iconic La Grande Arche in Paris. Two days before Paris Games Week, this was PlayStation's big opportunity to show their international audience, including millions of fans watching at home what they were made of. The result; two hours jam-packed with announcements, new trailers, and big, big moments. Right the way from the reveal of Sucker Punch's Ghost of Tsushima to the gruesome trailer for The Last of Us: Part II, this Media Showcase demonstrated exactly why PlayStation is THE place to play in 2017.
Several new trailers and world exclusives were showcased on a larger than life LED screen including Call of Duty: WWII, Insomniac's Spider-Man, and God of War. If there was one thing on PlayStation's agenda for the showcase though, it was to establish an emotional connection with the audience.
A new look into Quantic Dream's Detroit: Become Human kept the room eerily quiet, whilst beautiful new gameplay for Shadow of the Colossus sparked a feeling of nostalgia among the 1000 industry influencers in the room.
Something that's often overlooked during these huge moments dominated by AAA content is the importance of indie games, but such was not the case with this year's showcase. With PlayStation's commitment to independent studios highlighted by Jim Ryan, Head of Sales & Marketing for SIE Europe, we saw plenty of indie content during the show. New trailers for Blood and Truth and Megalith showed us that PlayStation still has big plans for VR . Meanwhile, Polyarc's much-anticipated VR platformer, Moss was given a release date of February, with The Hong Kong Massacre and The Gardens Between also pinned for next year.
The Show Floor: PlayStation
From one adrenaline pumped experience to another, crowds quite literally ran into Paris Games Week on 1st November. At a time when PlayStation 4 outsells the Xbox One (three units to one in France) Paris Games Week has never been so important to PlayStation. With over 3700sqm, PlayStation dominated the show floor, revealing some of the hottest upcoming and exclusive games including Detroit: Become Human with live Android actors you could interact with.
You could try out the latest PlayStation VR and PlayLink titles, as well as the newly announced Shadow of the Colossus remake. Also on the PlayStation stand was EA's Star Wars Battlefront II, enticing fans in with a giant X-Wing Starfighter, which hung above the area and was also home to a private live streamed guest match for gaming influencers on the Saturday.
Netflix also teamed with PlayStation to create a theatrically designed space that mimicked Stranger Things' Upside Down. This truly immersive VR experience drew in queues of over 4 hours, only 10 minutes from the doors opening. Here, fans were transported directly into Joyce Byer's living room, their path only lit by the eerie glow of Christmas lights.
The experience was topped off with a GIF booth where fans could dress up as characters of the show, jump on bikes and pretend to ride through Hawkins woods. Epic!
Square Enix
Square Enix hosted a sleekly polished black and white stand, topped with a giant circular hanging banner, multi-tiered playing position set-up, equipped with a stage for both games, Final Fantasy XIV and Dissidia for fans to enjoy.
Xbox
Xbox 's Player Unknown: Battlegrounds area was designed to look like a rusting industrial two-tier steel structure, with a waiting lobby in the middle, and plenty of Xbox-green spot lights, camo nets and creeping vines to enhance the atmosphere.
Bandai Namco
The Japanese giants were keen to hero their heritage and spirit of their games, by creating custom wooden playing positions to look like Japanese Shinto shrines for Naruto to Boruto: Shinobi Striker, as well as showcasing their highly anticipated games Ni No Kuni 2: Revenant Kingdom and Dragon Ball FighterZ both onstage and in themed areas.
Top 5 Moments
1. Ghost of Tsushima - InFamous developer Sucker Punch announced its exciting new IP
2. The Last of Us: Part II - Naughty Dog showcased a thrilling (and rather gritty!) new trailer
3. Detroit: Become Human - A new look into Quantic Dream's ambitious neo-noir thriller
4. Stranger Things: The VR Experience - Seeing fans come face to face with a demogorgon actor and walk through the eerie Upiside Down world entranceway, completing their adventure with a Hawkins Wood gif booth
5. Ubisoft: Just Dance - Bringing the joy and connecting gamers of all ages at their fun-filled stage, the crowd could dance along with the stage hosts, echoing a real community spirit
Final Thoughts
While E3 has its monumental digital footprint, and Gamescom its overwhelmingly large and busy show floor, Paris has something quite special about it, something you can't quite put your finger on.
There's a certain charm to the booming stage activities and ecstatic fans, but that doesn't mean to say that Paris Games Week isn't to be taken seriously. PlayStation's overwhelming presence at the show, both physically and digitally, illustrates its importance on an international scale, to other AAA publishers.
To speak to our gaming specialists, contact: kate@weareamplify.com
Brand Experience Agency of the Decade