Making the most of the moment: Arsenal sign Declan Rice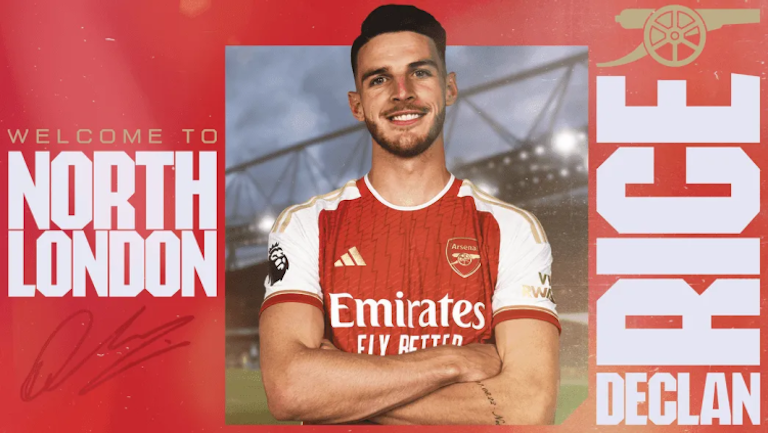 Arsenal finally announced the signing of West Ham midfielder Declan Rice. Because of the seismic transfer deal it was interesting to see that there were two transfer announcements - one from Arsenal, one from adidas - both utilising their contacts and connections to amplify the moment.
Published by: LinkedIn
Written by: Seun Areoye
Date: 28/07/2023
As a player who has consistently demonstrated his commercial value, his large price tag isn't just about what he delivers on the pitch. "Rice, rice baby!" is now his signature phrase, and works well as a tagline for his ambassadorship for Müller Rice.
After building a quiet notoriety for their interesting music choices for announcements of signings, using 1970s song 'Keep on Moving' by the Nigerian band The Hygrades, Arsenal switched it up for such a momentous occasion, enlisting Nigerian rapper Odumodublvck to create a remix of his hit track 'Declan Rice'. Met with as much appreciation as the end of the transfer saga, football fans worldwide acknowledged the intelligent song choice, contributing to the announcement reaching a wider cultural audience.
This seems to tread similar lines to one of the most successful announcements in football transfer history, when Paul Pogba's return to Manchester United was revealed by a 30-second 'Pogba x Stormzy' video. Understanding the multifaceted nature of most football fans, and facilitating authentic moments for a music and sport crossover, never goes unnoticed. Although it seems this opportunity presented itself in adidas' lap considering the track name, watchers still have acknowledged the role of Arsenal in not only spotlighting their club record signing, but also allowing Odumodublvck to be a part of that spotlight, making him an integral part of this moment.
It certainly shouldn't be done every time, but when the right moment arises, as it did in this instance, a cultural crossover can help capture attention of fringe fans and empower core members of the Arsenal fanbase.
Arsenal weren't the only winners in this scenario. Presenting a special opportunity for adidas too, they ensured the moment didn't miss them, creating a promotional video for Rice's move as he, an adidas sponsored player, moved to an adidas sponsored club. Calling upon the likes of Michael Ward, Ian Wright, Stormzy, Alessia Russo and more, the announcement leans into the agonisingly long wait Arsenal fans have had to endure for this signing to be announced.
The video, which featured a multitude of talking points (Like, what was that plate of jollof?), allowed adidas to legitimately infiltrate 'Football Twitter' and have their video be part of the conversation around a signing that dominated timelines.
Often when brands are able to authentically enter consumer-owned spaces, they must call upon stakeholders of that space in order to do so. Where in this scenario adidas called on multiple names, Arsenal were able to use an authentic voice that might not necessarily have some of the following that some of the individuals featured in the adidas ad do, but allows Arsenal to reinstate their position as the favoured club amongst music lovers and Nigerians alike.
To read the full article, visit LinkedIn.
Brand Experience Agency of the Decade