 Love is Blind,
but what about trust?
3 lessons on data and transparency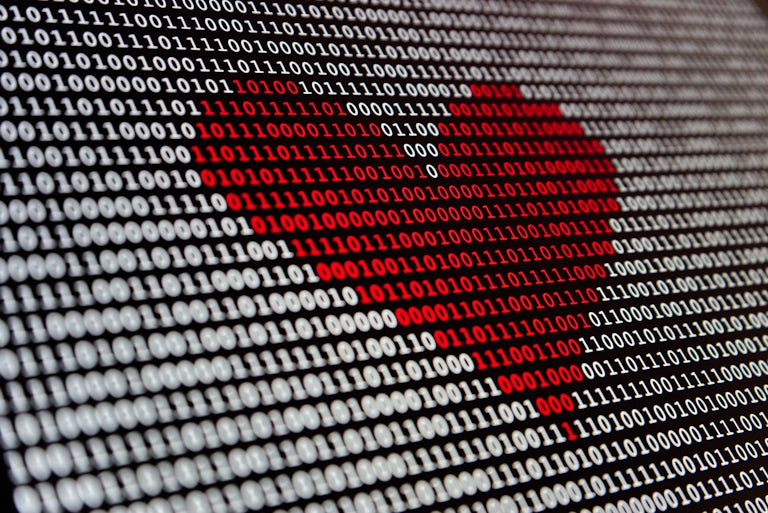 Healthy relationships are built on honesty and trust. The same goes for relationships with customers, writes Savannah Hanson of Amplify for The Drum's deep dive into data, The New Data & Privacy Playbook.
Published by: The Drum
Written by: Savannah Hanson
Date: 09/05/2023
I've just finished watching Love is Blind on Netflix. My favorite part has to be the beginning, when hopeful singles 'speed date' in pods, with a wall preventing them from seeing each other.
How do they know who they are talking to, and get to know them? They note things down, ask more, learn more and they grow closer. Trust was built and emotional barriers were broken — despite the physical barrier remaining.
What can brands learn from Love is Blind?
Brands can apply this to their relationships with customers, especially in areas where the customers are asked to give more of themselves by divulging sensitive data.
Data privacy continues to be a sensitive topic for marketers. Rightly so. Data can be used to create immersive experiences and speak to audiences in hyperpersonal ways, but the way this data is treated has become a key component of the customer experience. Customers want to trust brands to manage their data with care.
With customers gaining an ever-growing wealth of options, their expectations are higher, and their tolerance for lackluster experiences is decreasing. Discontented customers quickly move on to other brands; they want a lobster date, not a trip for fish and chips. If you want loyal, lifelong customers, you must meet their expectations.
The cornerstone of any lasting relationship is honesty and transparency. From that first blind date to when you finally meet, there is comfort in everything adding up. Trust is the bedrock of long-term customer-brand relationships; while personalized experiences are essential, they mean nothing without it. So, how can a brand show customers, "you're safe with me"?
Building trust requires picking the right moments to ask questions and dig a little deeper, without becoming too invasive, and with the hope your date doesn't fall asleep. Here are three core learnings for brands to be taken from interpersonal relationships.
1. Interdependent balance
Humans are wired for connection. The success of a long term relationship heavily depends on the quality of that connection. Brands need to think about that value exchange and whether they are providing a credible reason to extract their data, to strive for an interdependent balance in their customer relationships.
Targeted advertising is a form of brand expression that relies on clever communication, rather than the immersive experiences that truly bring a brand to life. Despite this tailored messaging in target advertising, consumers are still adblocking and ghosting.
Learning from the likes of Amazon, who tailor recommendations and incentives based on search and purchase history, making use of consumers' data and analytics can better deliver on their brand promise. In a relationship with Amazon, consumers understand the value their data brings to the table, and how it will enhance their experience with the service.

2. Moments to share
Interdependence in relationships recognizes the importance and value of vulnerability. Brands need to ensure they are designing moments in the relationship for consumers to be vulnerable: to share things that matter to them, their preferences, their needs, their wants through data.
On music streaming services like Spotify, users can share what they enjoy listening to and who their favorite artists are, with the knowledge that Spotify will curate playlists, stations and new music suggestions for them. These moments in the relationship give customers the opportunity to build trust and allow Spotify to go deeper, getting to know customers even better – using each interaction to really uncover who they are inside.
3. Maintaining the spark
Trust is hard to build and even harder to maintain. To ensure a relationship lasts, there need to be special moments: dinner dates, movie nights, or even just a takeaway on the sofa. Brands also need to consider how they keep the spark alive with their customer relationships to maintain the trust and continue to justify how they use customer data.
Uber is a great example. Initially it built trust with customers through the app by providing a human element, letting both the driver and passenger know who is on either side of the experience.
Beyond the product, the brand continues to use customers' data to elevate and cross-sell by recognizing regular trips, recommending takeaway pickups in the area, or noticing a preference in cuisine and sharing a voucher to reward loyalty. This all deepens customer relationships and maintains the spark with trust.
As in 'Love is Blind', creating long-lasting relationships with customers requires a commitment to delivering highly personalized experiences while prioritizing their trust. It all comes down to treating customers like you would on a lobster date: with care, attention, and respect.
To read the full article, visit The Drum.
Brand Experience Agency of the Decade