Interview: Horse Meat Disco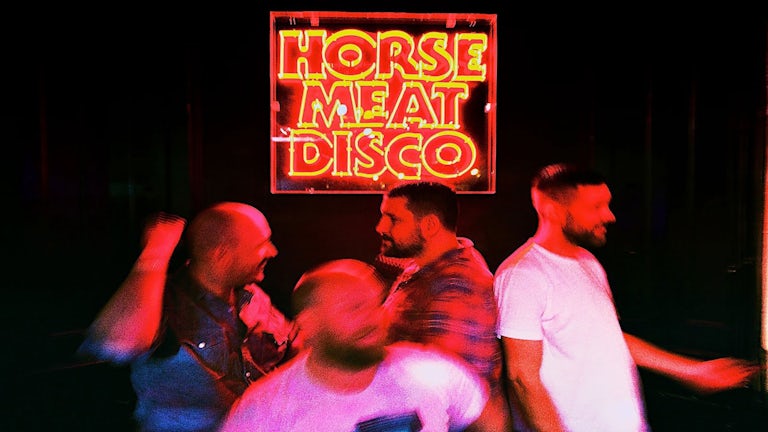 How did you guys meet?
I met James Hillard (also co-promoter and DJ at HMD) at a Basement Jaxx party in Brixton in 1999. I had met him through Severino (also one of our residents at HMD).
Where was your first gig?
Our first gig ever was at Substation South in Brixton – home of Queer Nation. Mine personally was a wedding!
Where does the name come from?
James was cleaning his flat and noticed a newspaper headline: "Horse Meat Discovered in Salami" so a bit of inventive editing and the name Horse Meat Disco was born! Horse Meat is big in France.
Where in the world do they react best to your sets?
The Parisians are, contrary to popular belief, an energetic and pretty clued up crowd. In the summer we were the DJs at The Lanvin / Acne party in the Louis XV suite of the Hotel De Crillon which is possibly the grandest hotel in all of Paris. It was an extreme glamour extravaganza I can tell you. Think of all those cliché images you have of the heady days of disco back in the seventies and magnify it tenfold – it was wild! I think people react enthusiastically to our sets everywhere we play because disco is such a release for people – even if you don't know some of the music, it doesn't matter; it is designed to make you DANCE!
What makes a great party?
Drag queens – ALWAYS. Disco music played over quality sound systems by world class talent and finally the crowd, as the dance floor is the stage and the dancers are the stars of the show.
What are your top ten tracks?
Barry Mason – Body Get Your Body (Faze Action rmx)
Lime – On The Grid
Kongas – Africanism: Gimme Some Lovin'
Revanche – 1979 It's Dancin' Time
Brainstorm – Lovin' is Really My Game
Theo Vaness – Sentimentally It's You
History Clock – Mediterraneans
Queen Samantha – Take A Chance
Dolle Jolle – Balearic Incarnation (Todd Terje rmx)
Hercules & Love Affair – Blind (Knuckles rmx)
How does playing a festival compare to your regular nights?
We played at a good few festivals in 2008: Lovebox, Glastonbury, Bestival, Electric Elephant and The Big Chill and they were all amazing as people are just ready for it the minute they step through the gates. You can just go right on and play all the heavy hitters all day and people just go crackers!Listen to Horse Meat Disco on Soundcloud
Brand Experience Agency of the Decade