Insight & Strategy: Curiosity Rooms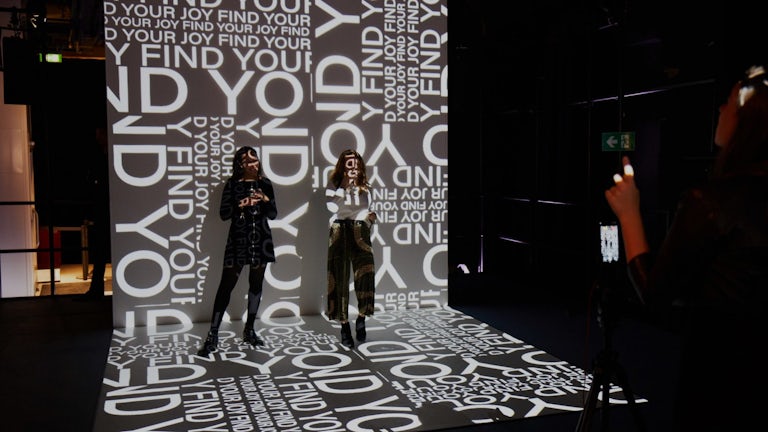 How a tech giant used an immersive space to bring to life the features and benefits of its new smartphone...
Full article published at Contagious 7th January 2019, featuring an interview with our ECD Jeavon Smith...
Developed with London's Amplify and 72andSunny, Amsterdam, each section in the three-floor hub brought different product features to life.
In a setting mimicking a stylish launderette, visitors could try the Pixel 3's Google Lens technology, using it to identify fashion products in pink washing machines and seeing similar, shoppable options the viewfinder. A car-wash-like space, meanwhile, showcased the phone's Group Selfie Cam, which captures 184% more than a regular frame.
In addition to the photo-friendly settings, Curiosity Rooms featured talks, workshops and other activities with experts and influencers from the fields of food, music, design and fashion, all of which were free to attend. Visitors were also able to buy the Pixel 3 and the Google Home voice assistant.
We caught up with Kirstyn Stark, head of hardware partnership & influencer marketing at Google, and Jeavon Smith, Amplify's executive creative director, to find out more about the project.
Give a brief overview of the sector Pixel 3 operates in and the brand's positioning.
Kirstyn Stark: We're obviously in the smartphone sector. The heritage of Google has always been about curiosity and discovery, so when we first launched Pixel three years ago we used that as our key product differentiation point. Google has traditionally been in the software market but we believe we have a really strong place in this area because it's the software and the machine learning elements that set us apart.
Who is the brand's target audience? What are their behaviours?
Stark: We are new to the market, right? We are a challenger brand. So it's really about people that see things that others don't – try new things, see magic in everyday moments and go out of their way to discover something. So a lot of the partners we enlisted for this [Curiosity Rooms] project are people who are a bit different, curious and who challenge the status quo in their day-to-day life.
Did you set a brief for this project?
Stark: Sure. Last year, for the launch of Pixel 2 we partnered with Selfridges and took over the Old Street Hotel where we had a series of events and activities that people could come to. That was only for a weekend but we felt it was really successful and in line with our values of being a digital company that works with people in physical environments. It also embodies [Google's] sense of curiosity.
Off the back of that programme, we decided we wanted to bring this to more people this year, and that's how Curiosity Rooms came about. The brief was to look at what we did last year and make it much bigger and more accessible. That's why we worked with our agency partners to bring the space to life in a way that embodied key features of the phone. We also had over 35 events and speakers coming to the space and becoming part of Curiosity Rooms, as well as media partners [GQ, Wired, Vogue, The Guardian] which helped bring it to life.
What were the key business objectives?
Stark: The primary objective was to increase brand consideration.
How did you come up with the idea?
Jeavon Smith: To Kirstyn's earlier point, we wanted to build on the success of the previous year and the response we got. The big idea this time was to make the everyday extraordinary. In terms of the rooms, we took an everyday object, setting or behaviour and then re-imagined it, so it became something really wonderful. We really tried to explore them through our Google lens, and especially through the product. One of the key things that hopefully Curiosity Rooms did successfully was marrying product features with these everyday moments and turning them into something magical.
Did you conduct any research to help inform the direction of the campaign? If so, what were the key findings?
Smith: Yes, there's a body of research that we drew upon, in addition to our own white papers. One interesting thing is the relationship between high street retail and brand experience, and where those two worlds meet. Some of the insights that we used came from the challenges retailers have, for example, and how experiences are needed to draw people back to the high street.
From the point of window design, we looked at some really lovely examples from the likes of Korean brand Gentle Monster, which has changed what traditional window design is, so it doesn't become a box closed off in the store. Quite the opposite – the windows open up and they become the store and the store becomes the window.
We've got 12 windows in the entire [Curiosity Rooms] space and were keen to animate our windows with consumers, experiences, and playful design that attracts more people and gives the space life and energy.
We also often talked about seamless design and how we create seamless transitions from physical worlds to digital and social worlds. We thought about how these experiences naturally translate and become shareable.
Stark: We also worked with 72andSunny and OMD, which drew upon other research about what really resonates with our audience and also our values, and how those marry up.
Talk us though the different rooms and experiences at Curiosity Rooms. What is the thinking behind each?
Smith: We were looking for inspiration around how to bring the camera to life and how we can bring a twist to those everyday moments. For example, that's how we came up with the launderette space and we tried to re-imagine it from a fashion-led lens. Again, we were thinking about how window design becomes store design becomes experience. This gave us a great opportunity to talk about Google Lens and to get people to search for what they see in that space. Fortunately, it's one of those spaces that got as much attention from people passing by outside as it did from people in the room.
Everything on the ground floor was about product-led, feature-focused experiences. For example, the Pixeldilly Café was all about the winding down and shush mode, which are features on Pixel 3. But it's difficult to talk about that in a busy retail context. We wanted to translate the features into an experience, so we put a twist on the traditional London café experience and went through this quiz with you to find your perfect blend of tea. And then you could make it at home, in your own time.
To showcase the wide-angle selfie mode, we created this lovely car wash setting where you could get a big group in and also the scene, which you become part of. One of our creative directors also had the brilliant idea of turning the escalator into a slide, which was a great way to show the camera features.
Visual merchandising has always been part of retail but, increasingly, physical spaces are being designed to be viewed through a smartphone camera. Was that a big consideration when you were designing the space?
Smith: Yes, that was a consideration – how the experience translates online – but it was also about how it moves back the other way around. There's a lot of social channel design but it still needs to have an amazing experience at the core. It can't just be something visual for your feed. It needs to marry both worlds. For us, this is where the power of the experience comes in. That is a signpost of where retail needs to shift to – it needs to place experiences at its heart.
I think the effects of social ha
What has been your single greatest learning from this project?
Stark: I keep going to the integrated approach. Working with our team internally and our agency partners in this way really set us up for success and that's something I'd bring back to the business.
Smith: I agree. The biggest achievement is Curiosity Rooms and it's because of that holistic way of working.ve changed product and space design. Not just how the product is presented, but experienced, unpacked and moved through those lenses.
Stark: It's also not just about photo moments. It's also about bringing value to people. One of our favourite things to do is look at the hashtag and see what people have taken away from the talks or who they met, in addition to the pictures they took together. It's that community and inspiration that we sought to inspire with the space beyond just taking photos.
Smith: We wanted to drive desirability with this campaign, so whenever a photo travelled online, we wanted that to be associated with the product, the brand, and actually engage audiences with the things they want to talk about.
Brand Experience Agency of the Decade