 Creating play with no limits: how Amplify got the world talking about PlayStation 5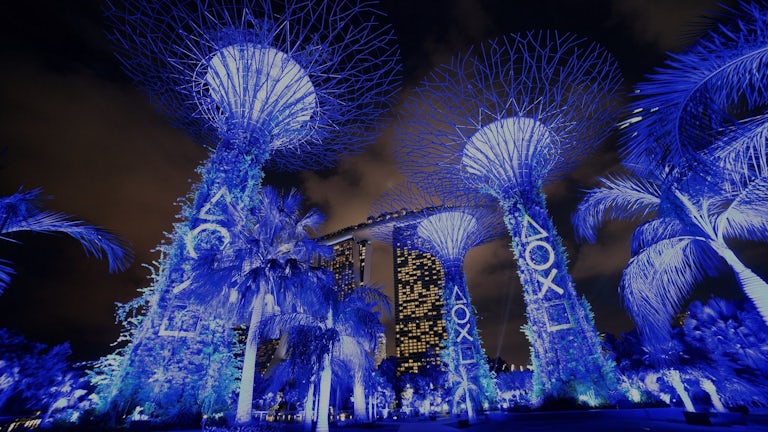 Amplify won 'Global Experiential Brand Campaign of the Year' at The Drum Awards for Experience with its campaign for Sony Interactive Entertainment.
Published by: The Drum
Date: 07/12/2021
This global project brought the PlayStation 5 to life across out-of-home and social with enchanting imagery that got the world talking. Here, the team behind this high-impact entry explains how the idea came to life.
Sony Interactive Entertainment's goal was to celebrate the arrival of PlayStation 5 around the world, bringing mass awareness and buzz around the most anticipated product release in a decade. It wanted to welcome a new generation of gamers, and gaming.
The challenge was to create a global cultural moment that was visible to the mainstream, making the iconic brand assets famous while achieving consistency of creative execution at an individual territory level.
Strategy
With the launch coinciding with a global pandemic, we needed to create a moment the world could witness as one when it couldn't experience it together, so that the launch could be experienced and shared without a large physical audience. A typical launch moment for a console is a celebration centered on the players, from those queuing for days in advance to IRL moments that the entire community can experience.
Rather than port an IRL experience online, we needed to re-imagine how to excite the audience, creating a significant cultural moment.
Our strategy was to bring the 'Play Has No Limits' global launch campaign to life, shining a light on the product and creating a colored thread that would light the world blue, one territory at a time. To create a built-for-camera approach that transformed a moment in time into a global content engine.
We needed to reimagine what a launch looks like and where it lives, with cinematic shows designed to break through the screen.
25 regions. 5 continents. 1 global launch.
An extensive worldwide campaign in which, on the eve of launch, iconic locations around the world were transformed into mesmerizing immersive shows. The launch was designed to be witnessed by few in real life, but experienced by many around the world.
We harnessed and spotlighted the anticipation of a cultural moment of the launch of PlayStation 5 in a way that magnified the global campaign through a shared experience bringing the gaming community together.
Results
We created a campaign spanning 25 regions across the world, in which we transformed iconic locations into mesmerizing shows with innovative immersive content.
Bespoke anamorphic mapped shows in 5 separate regions ran at up to 8k on 80m+ screens including the first experience of its kind on Piccadilly Lights.
The shows visually brought 'Play Has No Limits' to life, pushing the boundaries of reality by using anamorphic illusions where PlayStation 5 console and DualSense wireless controller seemingly broke through the screen.
Iconic buildings and popular sites in a further 20 regions around the world, from Dubai's Burj Khalifa to Venice's St. Mark's Square became the canvas for bespoke shows, incorporating projection mapped content and lighting to celebrate the moment of launch.
The shows took place on the eve of the launch in each region, illuminating the location in blue light with PlayStation shapes and PlayStation 5 hardware, building up to midnight at the exact point the console went on sale.
SIE + Amplify worked together with all 25 regions and their local agencies throughout the production process to ensure a premium technical delivery and consistency of execution.
Every show was filmed as it went live, using a shoot pack we developed to ensure consistency of the end content. We created a 30 second edit for each of the regions within 6 hours of activation which was posted on their social channels the next morning to celebrate the arrival of the console. Each edit was posted on a global Twitter thread to form a global sequential moment, resulting in the longest Twitter thread in PlayStation history.
The campaign culminated in a global hero film bringing all the launch moments together, which was shared on global social channels, showing how PlayStation 5's launch turned the world blue.
'PlayStation's biggest console launch ever' - PlayStation Twitter
A launch the world could experience and share as one, blurring the lines between IRL and URL with shows created and executed during the pandemic.
Innovative anamorphic content, breaking the mold of traditional projection mapping.
Assets were created for use on PlayStation channels on launch day including eCRM, PlayStation Blog, Facebook and YouTube, further extending the reach of the campaign.
The first globally coordinated social campaign in PlayStation history. The longest global sequential Twitter thread. 29 activations across 25 regions, over 5 continents. 158 social posts centrally and at territory level. 118m social post impressions. 3.5m engagements. 24.4m video views.
A truly collaborative campaign with highly effective management of production and content, spanning five continents.
Over 450 people got involved around the world, with over 400 hours of virtual meets with regions and agencies. We created over 100 design and production assets, provided 25 regions with films, media rushes and stills, and over 200 individual content assets.
From mainstream to specialist media, everyone was talking about the launch of PS5: we earned 153 pieces of global media coverage and an online readership of 860m.
This campaign was a winner at The Drum Awards for Experience.
To read the original article head to The Drum.
Brand Experience Agency of the Decade