Can IP-led
Experiences Allow Us to
'Live…More Forever'?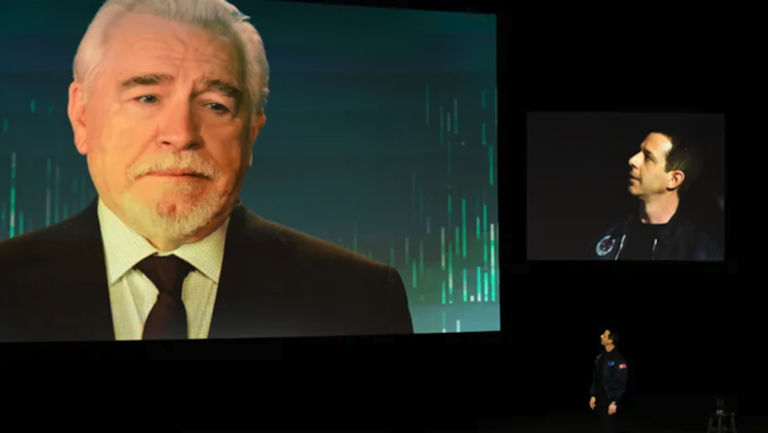 From bleeding into culture through HBO's Succession to YouTubers building their own 'hype neighbourhoods', Amplify's ECD Alex Wilson explores how IP owners and creators are inviting people to spend more time in their worlds than ever before
Published by: Little Black Book
Written by: Alex Wilson
Date: 17/05/2023
Season four, episode six of Emmy-winning show Succession entitled Living+ was an experience that had me both grinning and dealing with some hilariously hard-hitting introspection.
It's no secret it's one of, if not THE best-written show out there. But as Kendall Roy delivered his part inspirational, part cringe-inducing speech at the Waystar Investor's Day, my wife turned to me and said; "that's what you talk about".
She wasn't wrong, Living+ is the show's version of Disney's StoryLiving meets Retirement Home.
An example of in-world worldbuilding that sees Kendall describe a gated community of the future, IP driven, entertainment led, high-security living that allows you to "live...more forever", an uncomfortable parallel with Disney's; "write the next chapter of your life".
It's Walt Disney's EPCOT through the lens of a Rupert Murdoch x Elon Musk lovechild.
A somewhat cynical take on the opportunities which are out there with worldbuilding, but in doing so, Jeremy Strong's character may have inadvertently became a visionary in the world of the show as share prices rocketed and he finally had a (potentially short-lived) moment of reprieve.
But to dive a little deeper into the context of the comparison, shortly before his death in 1966, Walt Disney imagined EPCOT (Experimental Prototype Community of Tomorrow), a utopian, self-contained city that would incorporate the newest technologies and livable Disney IP. Following his passing, plans were scaled back substantially from a permanent livable community to the theme park that still lives on today.
More recently, Disney launched a short term stay storytelling experience with Galactic Starcruiser, an immersive, IRL, pick your own adventure hotel adventure that allowed you to live out actual canon and storylines from the world of Star Wars.
The worldbuilding opportunities for all of Disney's properties (Star Wars, Marvel, Pixar) is limitless.
Imagine entertainment and IP intertwined into our day-to-day lives. Picture a day where you collect your morning coffee from Darth Vader, drop your kids off with Minnie Mouse and be driven to work on a monorail by Iron Man.
That may excite the inner child in some people, but the reality of Disney's Storyliving is slightly more cynical, as once you scratch beneath the surface, you find it's less a pioneering worldbuilding project, and more a branding collaboration with property developers, that lends Disney's name and creative consultation from their Imagineer team: "Despite bearing its name, Disney will not own the communities or be the developer of record; nor will it be building or selling the homes".
Is this a wasted opportunity and a sign of things to come, or is there a glimmer of hope that one day you could actually live inside the world of your favourite movie, show or comic? How far will brands go to create livable, more permanent experiences based on their IP?
Scale of IP-led experiences is important. Whether that be a brand experience campaign to find the biggest fan of a hit show, an immersive sci-fi screening or a protagonist led studio tour experience - scale is a big consideration. Which brings us to a growing trend in theme parks not going for size, but instead for depth of experience.
Universal announced a mini theme park experience in Texas focusing on four immersive themed spaces, half of Orlando's Universal Studios eight themed spaces. Their Halloween Horror Nights attraction in Las Vegas, is an always-on experience that cycles through a variety of IP based storylines, experiences and collaborations with filmmakers such as James Wan and Jordan Peele.
In slightly stranger news, the recent announcement that YouTube sensation Mr Beast was building a 'Hype Neighbourhood' that will be occupied by his friends, families and employees is a bizarre twist to livable IP. In this instance, the IP is a man - Jimmy Donaldson aka Mr Beast, who has gradually purchased houses in the same area to create a sort of Beast-world cul-de-sac.
On one end of the spectrum something that could be considered quite cult-like, on the other, a way to help support those in his orbit and grow investment and opportunities in his hometown with the construction of Mr Beast production hubs planned in the near future.
Worldbuilding is at its most powerful when placing storytelling at the centre of everything we create. Forging connections, deep rooted experiences and memories with audiences who can be engaged across multiple touchpoints, immersing and entertaining whether they step into a world, or that world breaks into our own.
Those worlds can be a TV show, a game, the world of a creator or character, a book, movies, as long as you are placing the audience at the heart of those IPs and building the world around them, they can craft and curate their own experiences as a protagonist or voyeur. Are we inviting co-creation or simply participation?
From physical, permanent destinations like theme parks or immersive pop ups like Westworld at SXSW or even fan-driven VIP events like The Companion's Stargate Gate Tech 101 experience, IP-driven experiences across all scales are the perfect way to bring audiences closer to the things they love.
To read the full article, visit Little Black Book.
Brand Experience Agency of the Decade