UK | The Interviews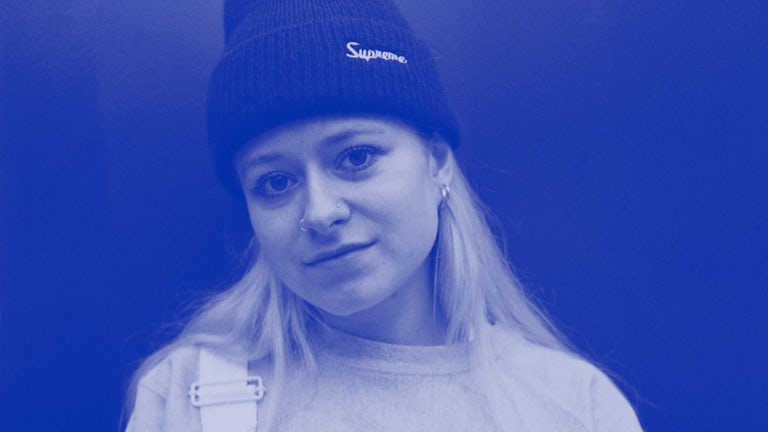 The Interviews
It's been two years since Amplify first launched the 'Young Blood' series. Ahead of the release of Young Blood 2 we look back at what six of our young creatives featured thought then, and what they've been up to since…
Vicky Grout
Then
Vicky is on track to becoming one of London's biggest lifestyle photographers. She was the official photographer on Skepta's Shutdown video shoot, worked with Stormzy for Adidas and shot the Boiler Room lookbook. She has had coverage on High Snobiety, The Daily Street, Bazaar, It's Nice That and FACT to name a few. Her recent interview with FACT magazine confirms that this woman is one to watch.
Now
Since 2016, Vicky has had her first solo grime exhibition, 'AAA' at the old Hoxton Gallery. Dazed named her 'London's go-to grime photographer', a title reflective of her raw talent that also earnt her a cover shoot for Push Magazine as well as features in Clash magazine and British GQ. She's shot some of the biggest names in the business including Drake, Skepta, IAMDDB, Kelela, Bishop Nehru, Rejjie Snow, Ibeyi and J Huss, as well as work for Clarks Originals and Red Bull.
Andres Branco
Then
Founded in 2013, Wavey Garms has become arguable the most influential fashion site in the UK and is changing the way people shop. It's dictating catwalks from Tommy Hilfiger to Calvin Klein and is in part responsible for the widespread 90's streetwear resurgence. Andres has consulted and styled shoots for Nike, Vogue and Born n Bread. Wavey Garms have been described by The Guardian as "the most influential fashion site in the UK".
Now
Since 2016, tipped as one of the best fashion boutiques in the country by The Guardian, Wavy Garms have grown their presence, retaining their shop in Peckham as well as launching their own website. They maintain an online store with daily content, covering all the usual suspects including dance music, city life, fashion, their heritage and graffiti culture. With high profile Nike and AGR clothing collaborations, the release of a coffee table book and consistent press coverage from Hypebeast to High Snob andThe Guardian, Andres and Wavy Garms have remained ones to watch.
Nellie Eden
Then
Nellie cut her teeth in the fashion world as deputy editor for ASOS before moving over to the U.S fashion and lifestyle giant Refinery 29 last year. She also freelances for Wonderland and The Debrief. She is also the co-founder the all girl collective and creative fashion agency BabyFace.
Now
Since 2016, Nellie and her creative partner, Claire Burman, have successfully turned her online community of female creatives, Babyface, into a fully-fledged agency with a client roster that boasts Champion, Evisu, Hello Kitty, Topshop, Vans and Nike. They have hosted panels for Marques Almeida and the Bodyshop and are consistent in pushing their agenda of cultural diversity and offering a genuine and relevant female perspective on wider political and cultural debates.
Bejay Mulenga
Then
Bejay Mulenga founded Supa Tuck aged 14, an enterprise programme teaching students how to run and operate their own tuck shops in school. Over three years they had reached over 5,000 young people in 100 schools. Now aged 20 he's the co–founder of Supa Academy, an experiential training company with clients such as Facebook, Barclays, River Island and EE.
Now
Since 2016, Beejay has launched his iTunes podcast series 'No More Tea' – a personal development show helping young people connect the dots with new opportunities and fulfil their creative business potential.
In 2017 he was a panellist at the Evening Standard's Young Progress Makers event at the Roundhouse, sitting alongside Mayor of London Sadiq Khan. Heralded as 'defining the future of work-based training' by the Drum and tipped in '7 of London's most inspiring young people who are changing the capital' by the Evening Standard, Beejay's Supa Network is continuing to provide unprecedented access to opportunities, connecting young ambitious talent with companies and brands.
Jessica Skye
Then
Jessica is the founder of Fat Buddha Yoga, a Nike yoga ambassador and resident DJ at Ministry of Sound and Soho House Group. In the last year she has been featured in Elle UK, Women's Health, Harpers Bazaar and has been the face for Baby-G, Nike and Coca-Cola brand.
James Massiah
Then
James is a poet and musician from South London. He has given readings of his poetry at the Tate Modern, the Southbank and the Houses of Parliament and has received commissions to produce work for the BBC and the Guardian. He was shortlisted to become Young Poet Laureate for London in 2013. He is a regular on NTS radio spinning funk, soul, disco, house and everything in between as well as being a regular DJ for the cult Dalston night 'WORK IT'.
Now
Since 2016, James has starred in a BBC TV ad campaign, been featured on the 2016 Massive Attack release 'Dear Friend', and has toured with Babyfather.
He released his first book, Euthanasia Party / Twenty Seven, capturing his experiences of growing up in South London, which was covered by the Guardian, Evening Standard and British Vogue. He has worked with Nike, Champion, ASOS and Adidas, performed at the Royal Academy and Tate Lates, and has his own poetry series at the ICA. In 2018, James officially opened London Men's Fashion Week with a live performance.
Brand Experience Agency of the Decade