 Metaverse Fashion Week comes into style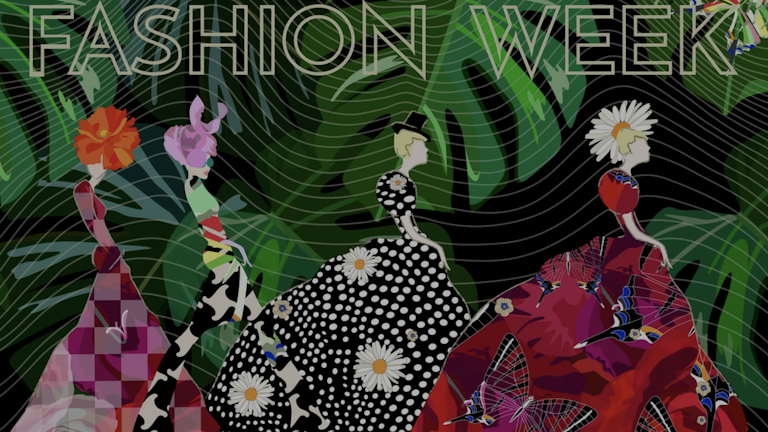 After a two-year hiatus, much of the fashion world has eagerly embraced in-person events in 2022. But as Metaverse Fashion Week prepares to make its debut, the industry may be in store for another major transformation...
Published by: The Drum
Written by: Yasmin, Arrigo
Date: 10/03/2022
New York, London, Milan, Paris... Decentraland. There's a new stop on this season's tour of the global fashion weeks, and it's not as dissimilar as it initially seems. A four-day fashion week, complete with shows, frows, stores and events – so far, so familiar. This year, as fashion month comes to an IRL close, the influence of the metaverse and its potential to disrupt physical fashion weeks in the years to come will be showcased on metaverse platform Decentraland at its inaugural Metaverse Fashion Week (MVFW) beginning on March 24.
Destination Decentraland
With no tickets required, this catapults MVFW into the realms of most-accessible fashion week upon its debut, with Dolce & Gabbana, Etro, Tommy Hilfiger and Elie Saab among the fashion houses taking part. Attendees can shop for digital looks straight off the runway and on to their customizable avatars; some collections will also offer physical purchases.
Morgan Stanley identified the metaverse as something of a fashion goldmine of the future, predicting that it could represent a $50bn+ opportunity for the luxury-end of the fashion industry by 2030, with ready-to-wear and footwear collections among the areas with the highest potential.
But make no mistake: while no one is denying the excitement surrounding the newest fashion week, NY and London both proved that after two years of events being forced online, the appetite for the IRL experience has not disappeared.
The long-awaited return to IRL
NYFW kicked off the season, embracing a return to live after two years of disruption. While masks were still in abundance, New York once again welcomed a soaring hotel occupancy, a rush for tables at the best bars and a surge in demand for Uber – all the familiar, demonstrable impacts of a citywide experience.
And while not all designers rushed to return to the in-person event – with Anna Sui and Michael Kors among those livestreaming new collections – there was no denying the power of the IRL experience when Coach brought its NYFW show to town. With Megan Thee Stallion pictured beside Angus Cloud, Rickey Thompson and Charles Melton, it was the type of headline fodder that only the frow can throw.
Meanwhile in London, not even Storm Eunice could stop the long-awaited return to IRL. The London event featured stalwarts such as Ozwald Boateng, returning to LFW for the first time since 2010, and newcomers including Harris Reed showcasing his collection in a Westminster church, while RIXO evoked the glamour of the 1930s with a dazzling presentation at Goldsmith's Hall.
So what has 2022's first global fashion month told us about the opportunities for brands as the much-craved experiences return and the metaverse opportunities augment?
No ticket necessary. How many headlines have we seen about the democratization of fashion, which essentially meant somehow involving a wider crowd for a second-tier experience – not the coveted front row? MVFW is set to make its debut as the most inclusive of all the experiences, and it's easy to see why brands are eagerly buying up those plots for the best experiences and after-parties, crucially with a potentially global audience.
Luxe fashion meets NFTs. When fashion brand John Richmond announced a partnership with cryptocurrency provider Shiba Inu, followers of digital timeless fashion earmarked the September show during Milan Fashion Week as a key moment for non-fungible token (NFT)-based fashion collections. The John Richmond x Shiba collection will include 10,000 NFTs, plus physical counterparts that will be showcased on the runway at an event dubbed 'Legends Live Forever,' and will then be shoppable right after display. It's an exciting sign of how fashion companies are experimenting with NFTs at scale.
Goodbye greenwash. We've experienced a global pandemic and faced social and environmental crises – against this backdrop, the fashion industry is understandably fighting for both cut-through in terms of purchasing patterns and IRL relevance. Pre-pandemic, we saw it targeted by organizations including Extinction Rebellion, which staged a funeral for fashion week in 2019, raising consumer awareness of the devastating impact of the overproduction in the fashion industry. There can be no better time for brands to back the growing understanding that purchasing digital styles could help reduce waste and overconsumption. Sustainability and digital fashion pair perfectly.
Fusing future and heritage. After two years of a pandemic pause forcing tech to lead the experience, now is the time to be brave and experiment boldly. Brands that can showcase their heritage while mixing in futuristic interpretations are likely to be rewarded with new audiences. Take Vault, for example – this experimental online space by Gucci includes a conceptual store where vintage finds jostle for shoppers' attention alongside the latest collections.
The rise of the mini fashionistas. For many brands, Roblox is proving to be the perfect portal to gen Z, and indeed gen A – with tweens wanting to express themselves through their avatars fueling a rise in direct-to-avatar collections. Shoppable seasonal experiences such as Ralph Lauren's Winter Escape help them experiment with new looks, not just for the duration of the experience but beyond. And these younger fashionistas are digital natives that find it entirely normal to spend real money to purchase items that only exist in the digital realm – their first major designer purchase may well be digital rather than IRL fashion. Understandable, then, that the British Fashion Council presented its inaugural fashion award for metaverse design in a virtual award ceremony on Roblox, with its chief executive Caroline Rush recognizing "the powerful global impact of digital fashion on communities around the world."
The Copenhagen conundrum. As the first major fashion week to introduce sustainability criteria, covering everything from diversity hiring to reducing greenhouse gas emissions, the city could be expected to cut back further on IRL. But it has instead embraced the return, taking lessons from pandemic years to create tech-fused experiences, lowering that footprint but reaching wider audiences – Ganni's ski slope show last September was experienced by a very lucky few but now shared and reposted across Instagram. It's a formula it has revisited again this season with its joyful concert by Danish performer Jada.
It's time to experiment and bring back the playfulness that's synonymous with fashion week. While no one wants to return to the pre-pandemic levels of jet-setting across the globe, we can acknowledge that some elements of live events should remain in place while also embracing digital experiences.
And when the virtual invite arrives, remember that your avatar has fashion needs too. You might not have a cool $5k kicking around to invest in Roksanda's digital dress, but with MVFW now firmly in diaries, all you need to do is plan that outfit – whether IRL or in the metaverse, the frow is still the frow.
Yasmin Arrigo is global brand and editorial director at Amplify.
To read the full article visit The Drum.
Brand Experience Agency of the Decade