Brands: The Patron Saints of Good Stuff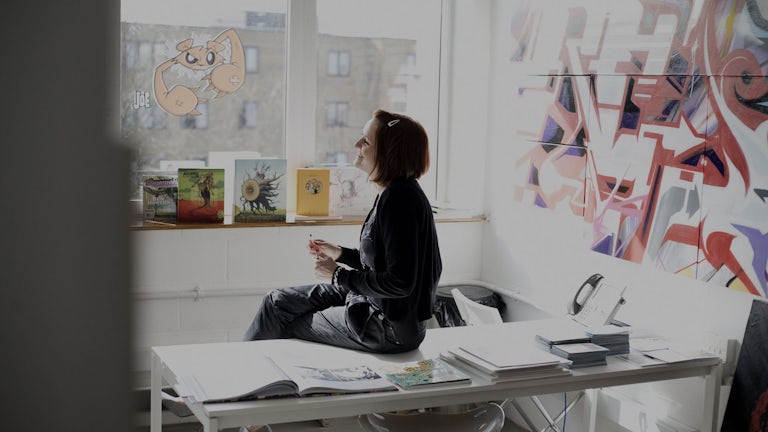 Image: Honda Dream Factory.
In days of old artists used would hope and pray for the day they received patronage from rich nobility. Their investment, or lack of it, could make or break their creative careers, and often saved them from a life of poverty and financial woe.
Fast-forward and a new league of artists, musicians and photographers are still struggling to get paid - or, at least, get paid more. It's a time when a brand - keen to engage hard-to-reach audiences and to build credibility - can take on the role of patron.
The Role of the Brand
Previously a lot of brands were guilty of what we affectionately refer to as 'chequebook marketing'. Brands were happy to pay for the privilege of slapping a logo near an artist who is considered 'hot'. Whilst the artist benefitted from a wedge of cash, consumers often got little, and knew which end of the stick they were getting.
Innovative brands now prefer to differentiate themselves within the market place by building brand platforms that are - shock horror - built from the brand up. By doing this they take the traditional awareness-building model and create something deeper that builds true affinity and holds resonance. It creates a real reason for artists to collaborate, which inspires a close association between themselves and the brand, and results in richer content to drive the brand forward.
When San Miguel found advertising wasn't reaching out to a key sector of their target audience - namely urban 25-35-year-old males - Amplify developed the Hidden Depths concept from two key insights. Firstly, San Miguel's popularity was due to its distinctive taste - refreshing but with a depth of flavour. Secondly, from an emotional perspective we knew the audience craved new content and experiences and will not only seek them out but pass it on. In short they want bright, shiny new social currency, as it defines them showing their hidden depths.
Rather than competing like any other beer, the brand behaved like a promoter, speaking in a language the audience understood. All promotion was delivered at a grass roots level, so people had to 'find out' about the events, whether in an email from a featured artist, a flyer found from our street campaigns, or a tip-off from our online influencers.
Motivating Talent
There's no doubt cold hard cash is the motivation for most contemporary artists. For many musicians, while the revenue of physical music product decreases daily, it is events and brand partnerships that often ensure they get paid. However, for the relationship to truly work, there needs to be something more fulfilling to really engage them.
The majority of artists are fiercely protective of what they do and who they do it with. They too see themselves as 'brands', and decide whether the association is viable, how much it is worth and/or what value it can deliver in other ways. Amplify is soon to launch Now Playing - a joint initiative brand platform for Three and Spotify. Rather than payment, the true value for those artists collaborating is the promotion they'll receive through these brands' communication channels - and beyond.
"Artists are notoriously picky about what they choose to do and not do. So what motivates them?"
Supporting young talent and a good cause was enough of a motivation for The Mighty Boosh's Julian Barratt and The Office's Martin Freeman to give their acting skills for free when they appeared in HIV: The Musical, one of five Christian Aid-commissioned films as part of the Ctrl.Alt.Shift/Film project.
The same altruistic streak was also shown by the six cultural leaders and twenty cultural engineers that formed Honda's Dream Factory - giving their time, experience and enthusiasm to help future talent. It was very much a relationship built on mutual respect, as reflected in much of the online coverage.
Hot Chip were on board for the launch of Wrigley's 5 chewing gum as one of five curators for its Creating Sense5 campaign. Amplify took the brand's 'Stimulating Senses' strapline and turned it into a competition to find young creatives to represent each of the senses. Hot Chip not only judged the 'Sound' category', but programmed the soundtrack to the night. In fact the band got so into the night they spent their fee on flying all their favourite artists to perform alongside them, including Berlin's Planningtorock, France's Noze, and studio collaborator Kano.
A similar spirit prevails within the Four Roses Speakeasy campaign, where curators such as dub legends Trojan Jazz Soundsystem, disco-don Bill Brewster and Bugged Out's Johnno Burgess have lined up one-off bespoke events - thanks to long-standing friendships.
What unites all the above campaigns is that the brand platforms were built with an understanding of the needs and desires of both artist and audience.
What Do The Punters Get Out Of It?
Miraculously, somewhere along the lines, it's the target audience that often get forgotten or misunderstood. The most common mistakes are that the brand platform is generic, or neither demonstrates empathy nor adds value to the target audience.
The quick test is to take away the brand logo and see whether people will still recognise the campaign as a property belonging to that brand. Does the world really need another Battle of the Bands or DJ competition? Too many brand events feature the same artists doing the same thing in the same venue. Even a simple twist can make the difference. For example, the Johnno Burgess-curated Four Roses event features DJs such playing rare sets from the year they first played Bugged Out - Erol Alkan in 2001, Justin Robertson in 1995, and Tayo in 2000.
Nissan partnered up with uber-trendy store Colette to launch their new car, the Cube. Sounds good, doesn't it? Unfortunately it felt like a trendy uncle's approximation of what they thought their nieces and nephews wanted for Christmas.
In Nissan's words: "Like the new Nissan Cube, the Cube Store is intended to invite debate, style, non-conformity and creativity in a conceptual space where creative minds come together to be inspired". In the audience's words: 'What the hell does that mean?' General bemusement permeated the event - upon receiving feedback, the genuine enthusiasm of "I loved the store" was confusingly followed by the comment. "Why is a car was parked in the corner?".
At least Nissan was in the right ball park. Festival-goers heading to Lovebox in 2009 were surprised to see Warehouse having been appointed the official style partner. You can imagine the excitement when music fans saw the addition of a new festival stage at V, courtesy of undies manufacturer Sloggi.
Amplification
So what's clear is when activating a brand platform through an experience it needs to be unique to the brand. It needs to give back. It needs to be talked about. And here's where it gets interesting.
Sometimes this requires lots of small activation, rather than one big hit of wow. This allows brands to be targeted with their comms and avoid wastage. Through collaboration, Honda's Dream Factory had 26 influential figureheads speaking on Honda's behalf to their communities, a book, a week-long exhibition, seven workshops, a website, a series of commissions, and videos underpinning a comprehensive social outreach programme. The campaign reached in excess of 5 million people, but more important to Honda was that amongst this audience, in-depth, targeted conversations took place with 368,000 of the RIGHT people.
A good brand platform drives dialogue across all channels. It tells the brand story through experience, through the talent, through media partnerships, through content and through PR and social media. And, done well, the audience do the rest...
Brand Experience Agency of the Decade